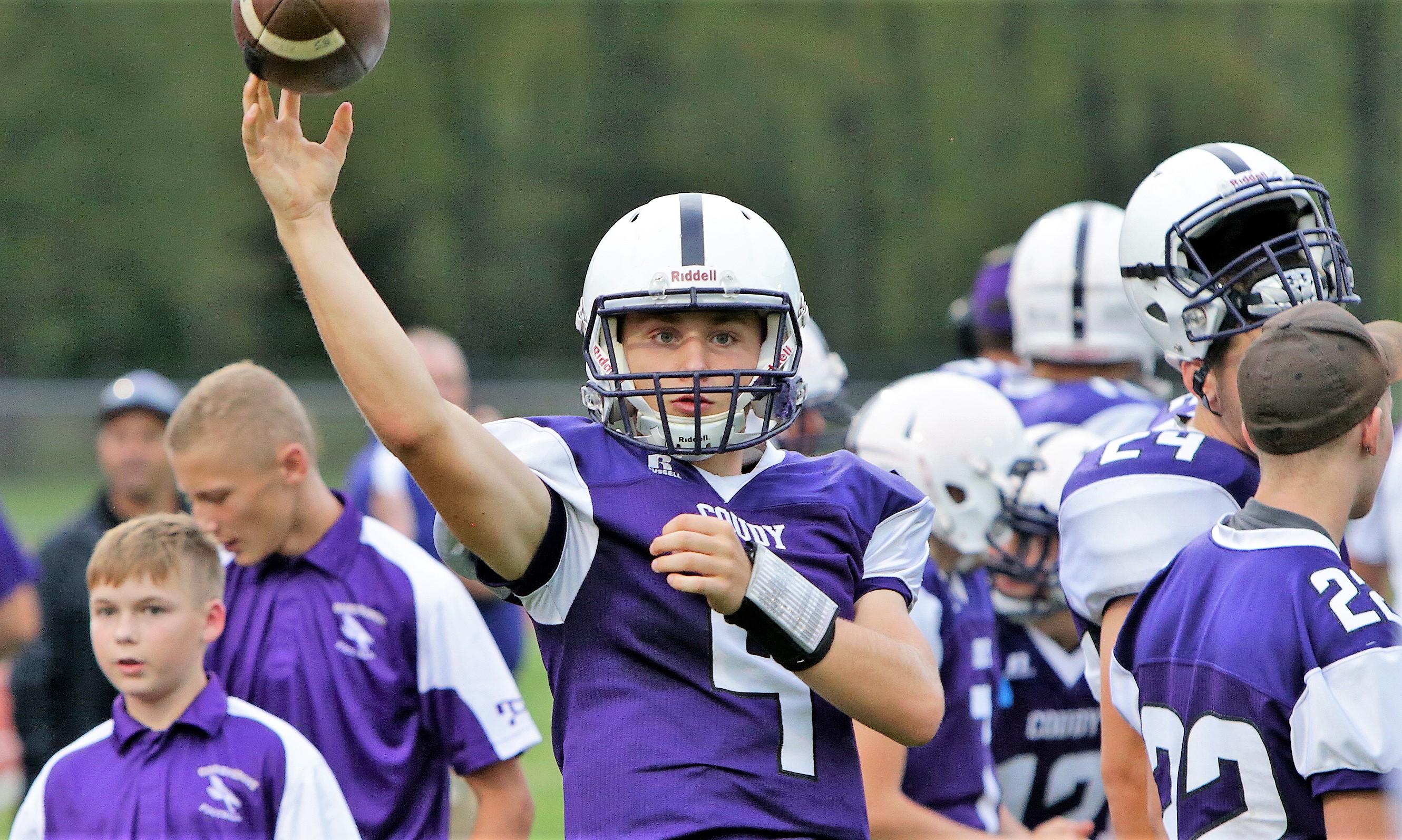 STRATTANVILLE, Pa. (EYT) – It's our second two-for-one deal on the Kerle Tire Football Game of the Week on exploreRadio this week, as our featured game will be Coudersport at Clarion-Limestone, while we will also be broadcasting the Brookville at Clarion contest.
(Photo of Coudersport's Hayden Keck. Photo by Paul Burdick. Check out more of Burdick's work here)
HOW TO LISTEN: COUDERSPORT AT CLARION-LIMESTONE
Airtime for the Kerle Tire Pregame Show for Coudersport vs. Clarion-Limestone in District 9 League crossover play is at 6:30 p.m. with Bob "The Governor" Dunkle and Pat Kahle on the call. Kickoff is set for 7 p.m. Join Chris Rossetti and Dustin Kifer for the brand new video pregame show at 6 p.m. live on exploreClarion's Facebook and Twitter feeds as well as the D9Sports.com Twitter feed. Dustin and Chris will then be updating social media throughout the game as well as highlights, interviews and much, much more.
Fans can listen to the game live on exploreClarion.com. Go straight to the website and the player will work on any mobile device (you may need to hit the play button in order to get the stream to play) or click here to listen.
HOW TO LISTEN: BROOKVILLE AT CLARION
Airtime for the Kerle Tire Pregame Show for the Brookville at Clarion game is at approximately 6:45 p.m. with Mike Kalinowski on the call. Kickoff is set for 7 p.m.
Fans can listen to the game by going to exploreJeffersonpa.com, clicking here or by going to D9Sports.com.
ABOUT THE GAMES
C-L and Coudersport look to be in the running for the District 9 Class 1A title.
Coudersport is unbeaten and really untested at this point in the season at 3-0 overall while outscoring its opponents 160-6. Stephen Kelly and Hayden Keck make the Falcons go. Coudy rolled past Sheffield last week.
C-L is 2-1 on the season with a pair of District 9 League Small School Southern Division wins but a loss in crossover play at Smethport. Austin Newcomb is the top player for the Lions. C-L had little trouble with Keystone a week ago.
Clarion is unbeaten on the year a 3-0, and the Bobcats are coming off a 21-7 win at Karns City. Ethan Burford as emerged as a downfield threat for quarterback Archer Mills, while the Minich twins of Sam and Logan, as well as Cutter Boggess, also play key roles.
Brookville is majorly banged up. The Raiders (1-2) have lost two in a row and are without the services of starting quarterback Jack Krug, who injured his shoulder two weeks ago. Without Krug, the Raiders went to the ground with Cabe Park, also an excellent receiver, and Tucker Wolfe. Brookville hopes for the return of all-state wideout Bryan Dworek this week, who has missed the entire season so far with an ankle injury.
The following local sponsors have signed on to make this year's Kerle Tire KSAC Game of the Week possible: