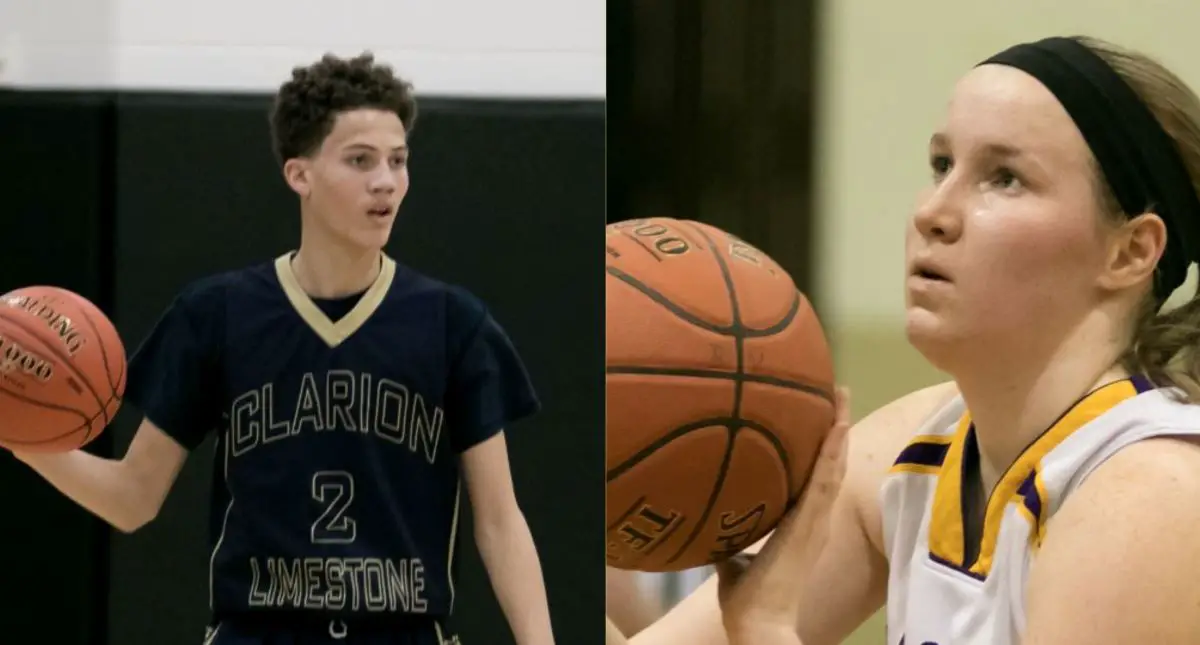 CLARION, Pa. – The KSAC boys' and girls' basketball titles will be decided Saturday night at Clarion University's Tippin Gym, and EYT Media/D9Sports.com has all the action covered on Laurel Eye Clinic High School Basketball.
(Photo: Deion Deas (left) of C-L and Abby Gatesman (right) of North Clarion are each making their fourth appearance in a KSAC Title Game Saturday. Photo by Jared Bakaysa of JB Graphics. See more of Bakaysa's work here)
The boys' game will tip-off at 6 p.m. and feature defending champion Clarion-Limestone taking on Keystone in a rematch of last year's championship game.
The Lions (19-3), the champions of the KSAC North, have won five of the last six KSAC titles including last year's 57-52 win over Keystone at Clarion High School. It was C-L's second straight KSAC Championship and the sixth overall for the Lions, who also won in 2012. They are making their seventh straight appearance in the KSAC Championship contest.
Keystone (20-2), the champions of the KSAC South, are the only team other than C-L to win a KSAC Title since 2014  beating then three-time defending champion C-L, 55-42, in 2017. It was the Panthers' third KSAC title since the inception of the KSAC Title Game in 2007.
The girls' game will follow at approximately 8 p.m. with KSAC North champion North Clarion taking on KSAC South champion Redbank Valley.
North Clarion (22-0) is looking to regain the title after seeing its two-year reign as champions come to an end at the hands of A-C Valley last year at Keystone High School, 38-35.
The She-Wolves, who finished an unbeaten regular season for the second time in three years, are making a fifth straight appearance in the KSAC Title game having lost the title in 2016, won it in 2017 and 2018 and lost it last year.
Redbank Valley (16-6) is making its first-ever appearance in the KSAC Title game after winning a three-way tiebreaker for the KSAC South title over Cranberry and Keystone. All three teams finished KSAC play at 7-3.
Mike Kalinowski, Dustin Kifer and Bob "The Governor" Dunkle, will have all the action with Chris Rossetti handling pre- and post-game interviews, and Rossetti and Jess Quinn bringing you postgame analysis with another edition of the Coach and the Scrive Powered by the Rehab Centres.
BOYS GAME: KEYSTONE VS. CLARION-LIMESTONE, 6 P.M.
This is the second meeting of the year between these teams with Keystone rallying to beat C-L, 48-46, Jan. 7 at C-L.
The Lions led by 13, 30-17, in the second half only to watch the Panther storm back to take a 47-42 lead.
C-L got back within a point late and was down two at the end of the game when Curvin Goheen's 10-foot shot wouldn't fall.
Troy Johnson finished with 11 points and eight rebounds for Keystone with Brandon Pierce adding 12 points, Isaak Jones nine points and Alex Rapp seven.
Deion Deas paced all scorers with 13 points, nine in the first half, for C-L with Hayden Callen recording a double-double of 11 points and 12 rebounds and Goheen adding nine points and nine rebounds.
Relisten to that game here:
Keystone is a well-balanced offensive team with six players averaging at least 5.4 ppg led by Johnson's 13.7 ppg. Marc Rearick adds 9.4 ppg, Jones 8.4 ppg, Pierce 7.9 ppg, Andrew Lauer 7.4 ppg and Alex Rapp 5.4 ppg.
C-L is paced by a pair of 1,000-point scorers – Deas and Callen.
Callen, a junior, is the team's leading scorer at 20.3 ppg with Deas adding 19.7 ppg. Goheen chips in 8.6 ppg, freshman Jordan Hesdon 6.4 ppg and Mitch Knepp 5.4 ppg.
GIRLS GAME: NORTH CLARION VS. REDBANK VALLEY, 8 P.M.
North Clarion and Redbank Valley will also be meeting for the second time this season with the She-Wolves have earned a 70-56 win at North Clarion Jan. 21.
In that contest, Redbank Valley led 25-21 before North Clarion used a barrage of 3-pointers to go on a 28-4 run that all but put the game away.
The She-Wolves hit 10 3-pointers in the game, including seven in the first half, and led 52-29 midway through the third quarter.
Redbank Valley tried to make things interesting getting within 12, 52-40, with an 11-0 run. But North Clarion started the fourth quarter on a 6-0 run and never looked back.
North Clarion put four players in double digits led by Mackenzie Bauer's 15 points. Gabby Schmader added 13 points, Abby Gatesman 12 and Haley Sherman 11 on 11 of 15 from the line. Sherman added seven rebounds with Bauer dishing out seven assists and Gatesman five assists and at least three blocks.
Trinity Thompson added seven points and a game-high 12 rebounds while also blocking at least four shots.
Tara Hinderliter led all scorers with 28 points for Redbank Valley with Lauren Smith adding 22 points. Alivia Huffman had a team-best six rebounds to go with four points.
Relisten to that game here:
North Clarion, which is an incredible 101-9 in the regular season since 2016 while winning three consecutive District 9 Class 1A titles, has rarely been tested this season winning all but two of its games by double digits while winning games by an average of 34.3 points per game. That number has actually grown to 35.9 ppg over the She-Wolves last 11 contests.
North Clarion spreads the wealth around with Gatesman leading the way at 14.3 ppg. Bauer adds 11.5 ppg and Sherman 10.3 ppg. Schmader chips in 8.3 ppg and Thompson 4.7 ppg.
Sherman's availability is in question for Saturday after she was hurt in a win over Venango Catholic Tuesday. Her replacement Wednesday vs. Cranberry was Gwen Siegel, who scored a team-high 13 points in a win over the Berries nad is averaging 4.4 ppg.
Redbank Valley limps into the KSAC Title game having lost its last two regular-season games to Brockway and Moniteau. The Lady Bulldogs are just 3-4 in their last seven games.
Hinderliter is one of the top scorers in all of District 9 at 22.6 ppg while freshman Alivia Huffman adds 8.6 ppg and Lauren Smith 7.3 ppg. Madison Foringer gives the Lady Bulldogs an inside presence and scores at a 5.9 ppg pace.
The following local sponsors have signed on to make this year's Laurel Eye Clinic Games of the Week possible: