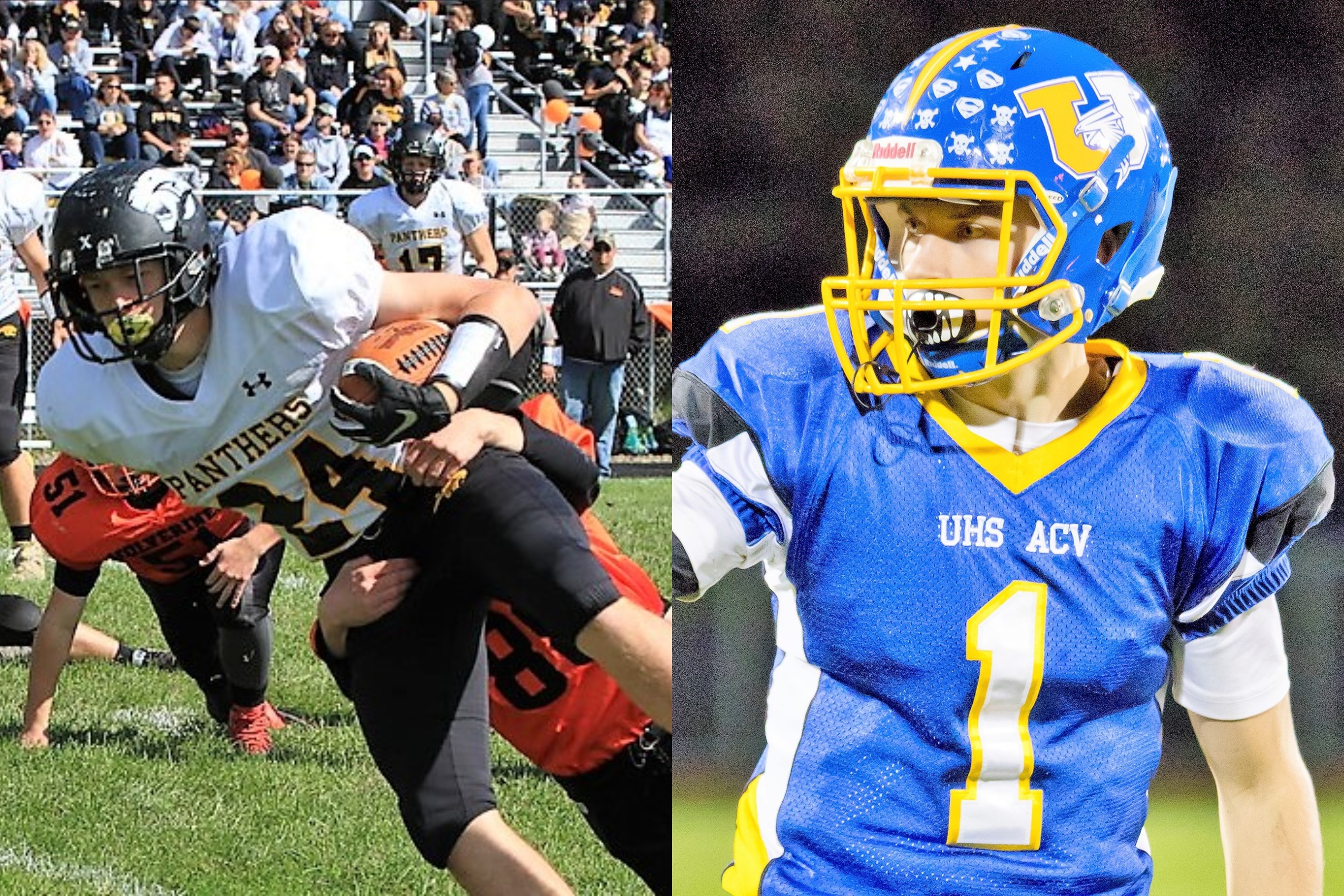 KNOX, Pa. – It's a special Autumn Leaf Festival Thursday night edition of Explore Radio's Kerle Tire Game of the Week when Union/A-C Valley makes the short trek to Knox, Pa., to take on the Keystone Panthers.
(Photo of Nick Weaver (left) of Keystone and Tanner Merwin (right) of Union/A-C Valley. Weaver photo by Diane McMunn; Merwin photo by Kyle Yates)
HOW TO LISTEN: UNION/A-C VALLEY AT KEYSTONE
Airtime for the Kerle Tire Pregame Show in District 9 Small School South Division play is at 6:30 p.m. with Bob "The Governor" Dunkle and Mike Kalinowski on the call. Kickoff is set for 7 p.m.
Fans can listen to the game live on exploreClarion.com. Go straight to the website and the player will work on any mobile device (you may need to hit the play button in order to get the stream to play) or click here to listen.
ABOUT THE GAME
This game has possible playoff implications for each squad – Union/ACV in Class 1A and Keystone in Class 2A.
Both teams are coming off big wins over D9 League Small School North opponents last week with Union/ACV taking down Port Allegany at home to improve to 2-4 on the year, while Keystone (3-3) went up to Sheffield and rolled past the Wolverines Saturday.
If both teamsm, who are under first-year head coaches (Brad Dittman at Union/ACV and Ryan Smith at Keystone) want to stay in the playoff hunt, a win Thursday night is imperative.
Union/ACV is paced by quarterback Luke Bowser as well as freshman playmaker Caden Rainey.
Keystone looks to quarterback Isaak Jones and running back Nick Weaver to run the offense.
The following local sponsors have signed on to make this year's Kerle Tire KSAC Game of the Week possible: