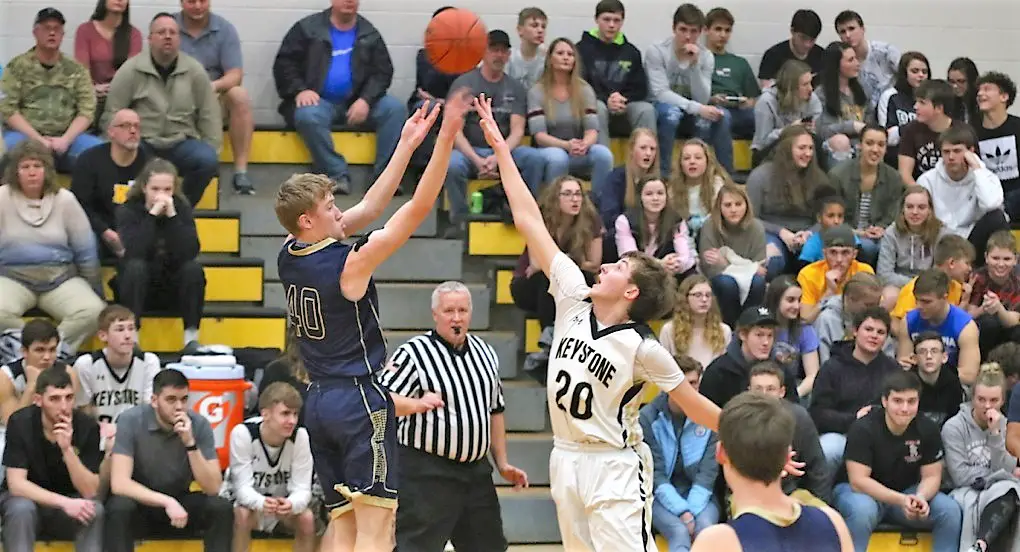 CLARION, Pa. – Two of the most successful KSAC boys' basketball programs of the last decade plus will meet Saturday night at Clarion High School in the KSAC Boys' Championship Game when Clarion-Limestone takes on Keystone, and all the action can be heard right here on Laurel Eye Clinic Friday Night Hoops.
CLICK HERE TO LISTEN • CLICK HERE TO WATCH
(Photo of C-L's Hayden Callen (left) and Keystone's Andrew Lauer during the first meeting between the team's this season February 4 in Knox. C-L won that game, 47-45. Photo by Mary Rearick)
Fans can listen to the game live on exploreClarion.com. Go straight to the website and the player will work on any mobile device. (You may need to hit the play button in order to get the stream to play) or click here to listen. A video broadcast of the game will also be available on the ExploreClarion Facebook page.
The Kerle Tire Pre-Game Show starts a 6:20 p.m. with tipoff happening at 7 p.m. with Mike Kalinowski and Bob "The Governor" Dunkle on the call with Chris Rossetti providing pre- and post-game interviews and Dustin Kifer running the video feed.
C-L is the defending KSAC champions having beaten Karns City, 51-32, in last year's title game. It was the Lions fourth KSAC crown in the last five years and its fifth since 2012. C-L is making its sixth straight appearance in the KSAC Title Game.
Keystone last won a KSAC title two years ago when it knocked off the then three-time defending champion C-L Lions, 55-42. It was the Panthers third KSAC title since the inception of the KSAC Title Game in 2007.
This is the second meeting of the season between these two teams with C-L taking the first one, 47-45, 12 days ago at Keystone High School when Troy Johnson's 3-pointer at the horn rattled in and rattled out.
But despite that game being less than two weeks ago, many things have changed for both teams.
Start with C-L. The Lions leading scorer Deion Deas (21.6 ppg), who had eight points in that win, has since been lost for the season with a broken foot.
On the other hand, Keystone's second-leading scorer, Isaak Jones (9.6 ppg) didn't play in the game against C-L as he recovered from a hand injury. Jones missed four straight games with that injury but returned two days after the loss against C-L against Redbank Valley and helped Keystone clinch the KSAC South title.
Without Deas, the MVP of last year's championship game, C-L is going to have to count even more on senior Ian Callen. The 1,000-point scorer missed the first 11 games of the season due to a football injury but has returned to peak form averaging 19.5 points per game while also adding a strong rebounding and defensive presence. He had 24 points, seven steals and five rebounds in the February 4 win over the Panthers.
Ian Callen's younger brother, Hayden Callen (16.9 ppg) is another serious scoring threat for the Lions. He had 10 points and six rebounds in the regular-season win over Keystone. Curvin Goheen (8.5 ppg) and Julian Laugand (5.0 ppg) also could play key roles. Laugand is coming off a 12-point game, his second-best output of the season, in a win over Brockway Wednesday. He had five points and six steals in the win over Keystone 12 days ago.
Having Jones back as well as Conner Exley, who also missed the first C-L game, gives Keystone a deep roster that features five players averaging at least 6.3 ppg.
Johnson leads the way at 11.5 ppg followed by Jones and Dawson Steele who are both at 9.6 ppg. Andrew Lauer adds 8.0 ppg and has been especially strong in the second half of the season scoring at a 12.0 ppg pace in his last seven games. Brooks LaVan is an outside sharpshooter who averages 6.3 ppg.
In the loss to C-L, Johnson had a double-double with 15 points and 10 rebounds while adding three steals. Steele and Lauer each added 13 points with Lauer grabbing nine boards.
Turnovers cost Keystone greatly in that early February loss, as the Panthers gave the ball away 29 times including on 22 C-L steals. That helped the Lions overcome a dreadful 3 of 20 start from the floor.
This is the 13th edition of the KSAC Title Game. C-L's five titles are the most by any school, while Keystone is second with its three championships. North Clarion has won twice with Venango Catholic and Rocky Grove, which is no longer in the conference, each having one win.
KSAC BOYS' TITLE GAMES YEAR-BY-YEAR
2018 – Clarion-Limestone 51, Karns City 32
2017 – Keystone 55, Clarion-Limestone 42
2016 – Clarion-Limestone 64, Union 39
2015 – Clarion-Limestone 61, Redbank Valley 35
2014 – Clarion-Limestone 62, Redbank Valley 50
2013 – North Clarion 59, A-C Valley 54
2012 – Clarion-Limestone 56, Union 54
2011 – Venango Catholic 65, Union 61
2010 – North Clarion 56, A-C Valley 53
2009 – Keystone 46, North Clarion 41
2008 – Rocky Grove 67, Union 53
2007 – Keystone 62, Clarion
The following local sponsors have signed on to make KSAC Hoops possible: