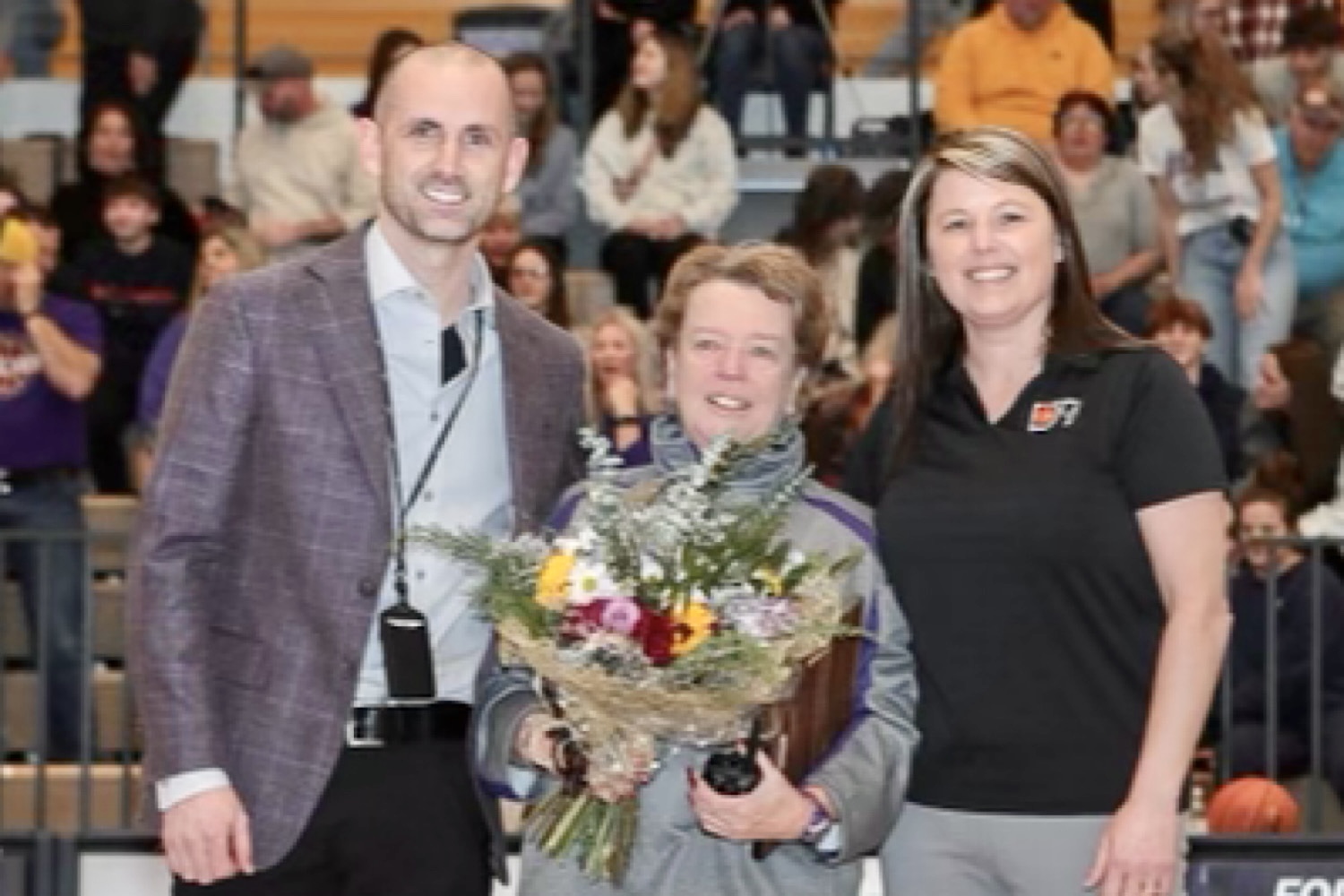 CLARION, Pa. (EYT/D9) – Longtime North Clarion teacher and athletic director Bonnie Wolbert was honored during a special presentation at Tippin Gymnasium on Friday evening.
(Pictured above, longtime North Clarion teacher and athletic director Bonnie Wolbert, center, was honored for her years of service. With her is North Clarion principal and KSAC president Ed Baumcratz and Forest Area athletic director Missy Hartle/photos by Dave Cyphert of ProPoint Media Photography)
The presentation, which took place during halftime of the KSAC girls semifinal game between North Clarion and Moniteau, sought to honor Wolbert in light of her recent retirement announcement.
As the teams headed to the locker room, Wolbert was escorted to center court as the lights went out and a video began on the big screen.
Wolbert, born in Oil City, has been a staple at North Clarion for the past 44 years, 32 years as a junior high English teacher and 12 years as the athletic director. Throughout her career, she spent many years as the cheerleading advisor, helped run the scoreboard, officiated track and cross-country, and assisted for all the announcing for volleyball and basketball.


North Clarion sports on Explore and D9Sports.com are brought to you by First United National Bank – The FUN Bank!
Everyone at North Clarion looks at Bonnie as a mentor in professional, or even personal, matters. If you ask her, North Clarion is part of her heart and part of her immediate family and she wouldn't want it any other way.
Wolbert has had thousands of students who she treated as if they were her own. She also has a following of people who enjoy watching her sing the National Anthem, from media members, to opposing coaches and officials.
If you drive past NCHS late at night throughout the week, there's a good chance she's still in there, working away. She preaches sportsmanship and doing the right thing for all student-athletes.

(Wolbert poses with several North Clarion cheerleaders)
As a veteran athletic director, she has mentored many athletic directors. Wolbert is a sister to Roger and Betty. A great aunt to Ally, Trey, and Aubrey and Ally.
Wolbert will continue to maintain her positions on the District IX committee and as a female officials rep for the PIAA State Board of Directors.
"We all wish for your good health, safety, and protection for you in your retirement and we want you to know it's been a true blessing working with you," the video tribute stated. "If you see Bonnie throughout the rest of the KSAC Championship week and the District IX playoffs, please stop her and thank her for everything she has done."
A standing ovation followed the presentation before Missy Hartle, Forest Area Athletic Director, and Ed Baumcratz, North Clarion High School Principal and KSAC President, presented Wolbert with a plaque and flowers.