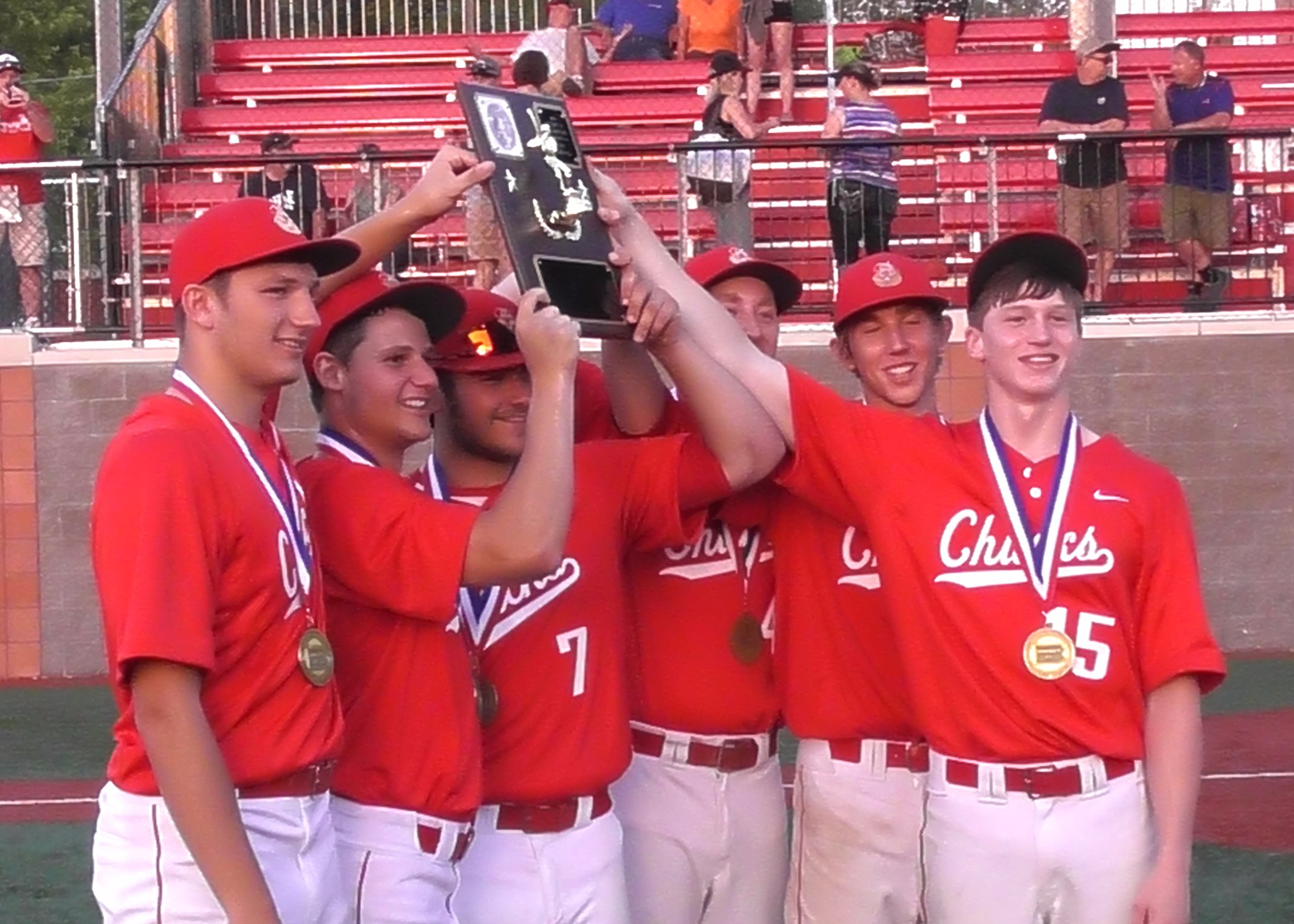 By Scott Shindledecker
DuBOIS, Pa. – In District 9 high school baseball, there are the Punxsutawney Chucks and then there is everybody else.
Thursday evening at Showers' Field in DuBois, the Chucks claimed their 13th straight D9 Class AAA championship with an 8-1 win over the Clearfield Bison. The Chucks started their current run of title in 2004. Overall, Punxsy has 17 titles after three-peating from 1983-85.
"It never gets old and we never stop enjoying them," Chucks head coach Mike Dickey said. "This team kept battling all year. We were 1-3 after our Georgia trip and our backs were kind of against the wall to get the top seed. But the kids just kept getting better and better."
Punxsutawney receives it's championship medals.
The Chucks have lost just once since that Georgia trip and are 16-1 since. The only loss came to Williamsport, 6-4, in eight innings April 18. The Millionaires enjoyed a good year, finishing 15-6 and with a 6-4 loss in the semifinals of the District 2-4 Class AAAA semifinals Wednesday.
Dickey, the head coach since 2011, got a standout pitching performance from ace John Matthews, who tossed a complete game with eight strikeouts. Matthews did hit a pair of batters and he allowed one unearned run on three hits.
"I don't think John would tell you it was his best game, but he's a grinder, a real bulldog and he deserves to pitch in championship games," Dickey said.
The Chucks, befitting a championship team, leaned on the lower part of their batting order to provide the bulk of the offensive production.
With their Nos. 3-5 hitters combining to go 0-for-10, the 6-9 hitters delivered big-time. The last four in the lineup, Dylan Huey, Peyton Graham, Lucas Ambler and Brandon Matthews combined to finish 6-for-12 with two doubles, five runs and five runs batted in.
"We try to get production up and down the lineup and today, the kids at the lower end really stepped up," Dickey said. "Graham's double was huge and really got us going."
The double that Dickey referred to came with two outs in the bottom of the second inning. It was over Bison right fielder Ty Bender and it scored Huey, who was hit by a pitch by starting and losing pitcher Will Myers.
Myers cruised through the first five batters he faced with just one ball hit out of the infield. But when he hit Huey, it opened the door for the Chucks, who ended up scoring three runs in the second.
After Graham's double, Ambler singled to center to score Graham and Ambler went to second on the throw home. Then Brandon Matthews hit a flair toward short on the second base bag side. Bison shortstop Thayne Morgan got a glove on it, but couldn't hang on and Ambler raced home to make it 3-0.
The Bison (12-9) tallied their only run in the top of the third inning.
First baseman Logan Lykens led off with a single to left, then took second on an errant pickoff throw by Matthews. Two groundouts later, Lykens scored with Morgan knocking him in to trim the Chuck lead to 3-1.
But Punxsy was quick to respond with two runs in the third and one each in the fourth, fifth and sixth innings.
In the bottom of the third, John Matthews led off reaching on an error. But after a caught stealing, Lance Pennington walked and took second on a passed ball. Two batters later, Huey cracked a double over the right fielder's head to score Pennington.
The lead grew to 5-1 when Graham singled to right to score Huey.
In the fourth, Braxton Giavedoni scored on a fielder's choice grounder by John Matthews. An inning later, Brandon Matthews singled in Huey, who reached on an error. In the sixth, Lucas Burkett singled and later scored on an error to make it 8-1.
The Chucks will face Obama Academy in a play-in game next week.
DISTRICT 9 CLASS AAA CHAMPIONSHIP
PUNXSUTAWNEY 8, CLEARFIELD 1
Score by Inning
Clearfield 001 000 0 – 1
Punxsy 032 111 x – 8
Clearfield – 1
Thayne Morgan ss 3011, Justin Fedder 2b 3000, Zane Morgan c 1000, Will Myers p-3b 3000, Eli Glass 3b-lf 2000, Jarrit Wagner lf 1000, Ty Bender rf 3000, Jacob Sorbera p 0000, Brandon Orsich dh 3000, Reese Wilson cf 0000, Tommy Hazel p 0000, Logan Lykens 1b 2120, Seth Bumbarger 1b 1000, Jon Trimpey lf-cf 2000. Totals: 24-1-3-1.
Punxsutawney – 8
Braxton Giavedoni cf 2110, Lucas Burkett 2b 4120, John Matthews p 3001, Dylan Bender cr 0000, Lance Pennington rf 3100, Joey DiPietro c 4000, Dylan Huey 3b 3311, Peyton Graham 1b 3122, Lucas Ambler dh 3121, Jacob Weaver lf 3121, Brandon Matthews ss 3011. Totals: 28-8-9-6.
Errors: Clearfield 5, Punxsy 2. LOB: Clearfield 4, Punxsy 8. 2B: Lykens, Graham, Huey,
<strongPitching
Clearfield: Will Myers-3 IP, 4 H, 5 R, 4 ER, 1 BB, 1 SO; Tommy Hazel-1.2 IP, 4 H, 2 R, 2 ER, 0 BB, 1 SO; Jake Sorbera-1.1 IP, 1 H, 1 R, 0 ER, 1 BB, 1 SO.
Punxsy: John Matthews-7 IP, 3 H, 1 R, 0 ER, 0 BB, 2 HB, 8 SO.
Winning pitcher: Matthews. Losing pitcher: Myers.