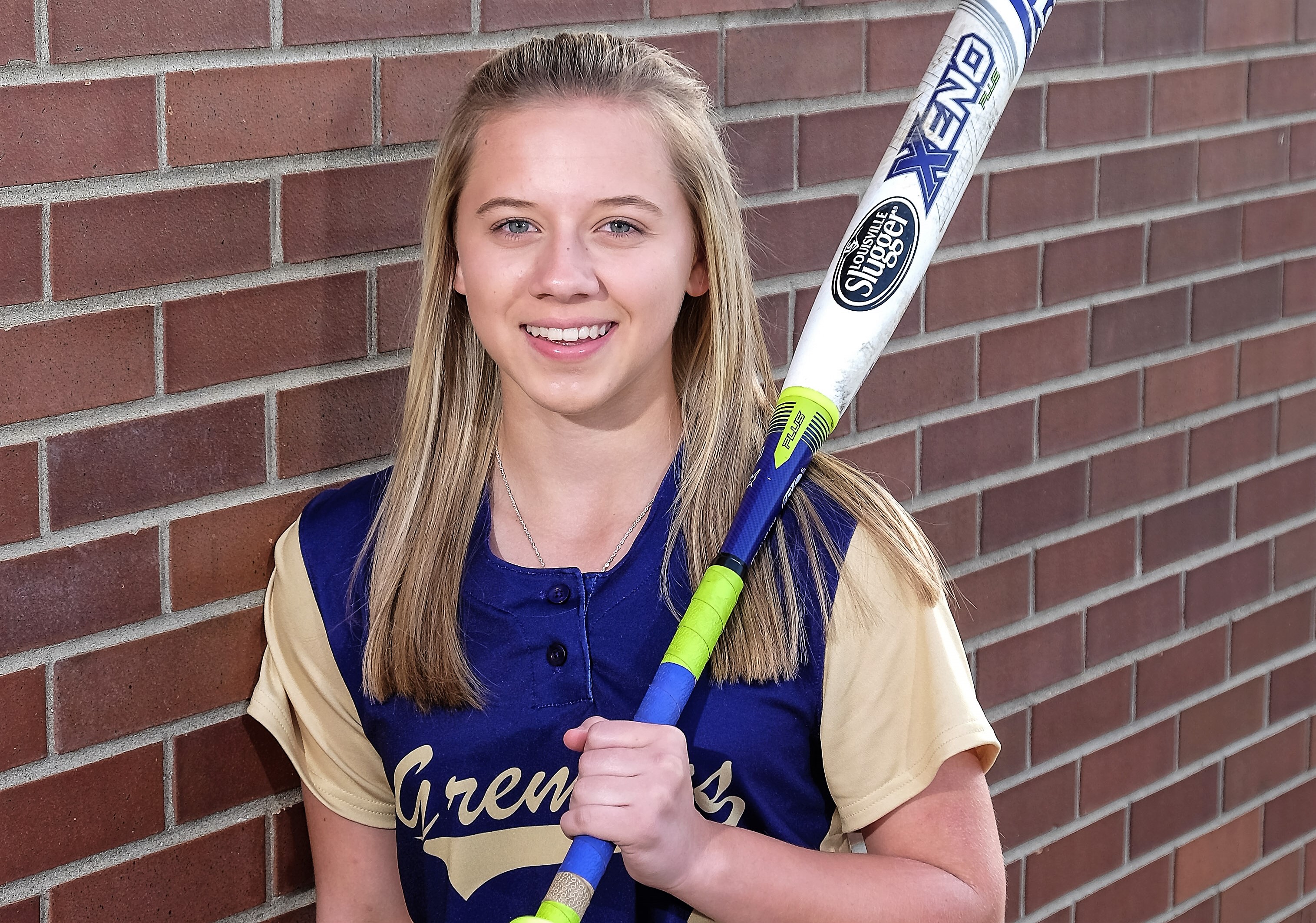 March 28 baseball and softball roundup.
(Cover photo of Karns City's Alyssa Stitt. Photo by Mike Schnelle. Check out more of Schnelle's work here)
SOFTBALL
KARNS CITY 8, KEYSTONE 4
BUTLER, Pa. – Karns City built an 8-0 lead after three innings and then held off a Keystone rally to pick up an 8-4 win at Kelly Automotive Park in Butler.
Winning pitcher Mackenzie Dunn was 2-for-4 with a triple, two runs scored and an RBI. She also allowed three runs on three hits, a walk and a hit batter in four innings of work while striking out four.
Emily Huff added a pair of hits, a run scored and a stolen base for the Lady Gremlins (2-0), while Emily Huff and Alyssa Stitt each scored two runs.
Stitt, who was 1-for-2 with a walk, an RBI and a stolen base, talked about the victory.
Keystone, which trailed 8-0 after three innings, mounted a comeback attempt scoring three runs in the fourth and one in the fifth thanks to back-to-back RBI doubles by Dani Larrow and Karly Berkery and a suicide squeeze by Alyssa Dunlap in the fourth and an RBI triple by Berkery, who was 2-for-4 with the double, triple, an RBI and a run scored, in the fifth. Jessi Phillipi, who had a single, a walk and two stolen bases, scored twice for the Lady Panthers.
McKenna Stiller was strong for Keystone in the circle with only two of the eight runs against her earned. She struck out six of the final seven batters she faced and seven of the last 10 while recording nine strikeouts in the game.
The game wasn't without controversy, as Karns City's eighth run scored on what turned out to be a misinterpretation of the rules by the umpires.
With Katie Neff on second and two outs in the third, Dunn hit a ball into the left-center field gap that appeared to score both Neff and Dunn when Keystone mishandled the ball. But the Lady Panthers appealed at third saying Neff failed to touch the bag, and the umpire agreed making her the third out.
But after a discussion, the umpires determined that Dunn's run should still score even though Neff was out ahead of her.
"He told me the second run scores because it's an appeals play after the run scores," Keystone manager John Stiglitz said. "I don't think so. You could do that on purpose. Neither run should have scored. I'm sure of it. It was one run. I can't say it cost us the game. If it had been a one-run game, I probably would have been upset. I can't get thrown out of the game for it."
Stiglitz said he was told there was no appeals process even though it was a rulebook decision.
Karns City manager Mike Stitt said the explanation he got was similar.
"The runner behind her hit the bag and went in," Stitt said. "So they said the run had to score, then they called the out."
A quick look at the rulebook showed that Stiglitz was correct. The umpires missed the call.
Article 8 of Section 3 "Touching the Bases in Legal Order" of Rule 8 "Batter-Runner and Runner" reads:
"Failure of a preceding runner to touch a base or to legally tag up on a caught fly ball, and who is declared out, does not affect the status of the succeeding runner who touches bases in proper order. If the failure to touch a base in regular order or to legally tag up on a caught fly ball is the third out of the inning, no succeeding runner may score a run."
Because Neff was the third out, Dunn's run shouldn't have counted according to the rule book.
BASEBALL
HARLAN (Ky.) 7, MONITEAU 5
MYRTLE BEACH, S.C. – Harlan County (Ky.) scored three times in the top of the seventh after two outs to beat Moniteau, 7-5, in baseball action at the Cal Ripken Experience in Myrtle Beach, S.C.
The Warriors (1-2) were one out away from picking up their second straight win when Jake Jewart issued a two-out walk followed by back-to-back singles that tied the game at five. Cameron Nease then tripled home the go-ahead runs.
Moniteau had grabbed a 5-4 lead in the bottom of the sixth with some two-out lighting of its own.
Jared Lominski tripled to center with two outs and scored on a Jewart base hit to center.
Jewart was 2-for-2 with a run scored and two RBIs to lead the Warriors' offense. Wyatt Geibel also had a triple.
Lake Pry started and allowed four runs, three earned, in five innings of work. He gave up five hits and two walks while also hitting a batter and striking out five. Jewart took the loss going two innings allowing three runs, all earned, on four hits and a walk while striking out four.
KARNS CITY 15, KEYSTONE 0, 3 INNINGS
BUTLER, Pa. – BUTLER, Pa. (D9Sports) – Karns City broke out the bats rolling to a 15-0, three-inning win over visiting Keystone at Kelly Automotive Park in Butler.
A five-run first and nine-run third fueled the Gremlins (2-0) victory.
Senior catcher Cullen Williams led the way going 2-for-2 with four RBIs and two runs scored.
Winning pitcher Eric Dodd also had a strong outing going 2-for-2 with a double, a walk, a stolen base, three RBIs and two runs scored. He got the three-inning shutout allowing just one hit and two base runners over the three innings while facing just one batter over the minimum. He struck out four.
Williams talked about the win.
Marcus Lantz also had a strong day at the plate for Karns City going 2-for-3 with a pair of singles, two stolen bases and three runs scored – he also reached on an error. Tyler Young was also 2-for-3 while a pair of singles and an RBI while reaching on an error as well. Colton Hutchinson was 2-for-2 with thre double and two RBIs.
Corey Rapp had Keystone's lone hit, a one-out double in the first but got doubled off first when Sawyer Reed flew out to center. Skylar Kagle also drew a walk for the Panthers.
Devin Dunkle took the loss for Keystone allowing 10 runs, eight earned, on nine hits and three walks while striking out one in two-plus innings of work.