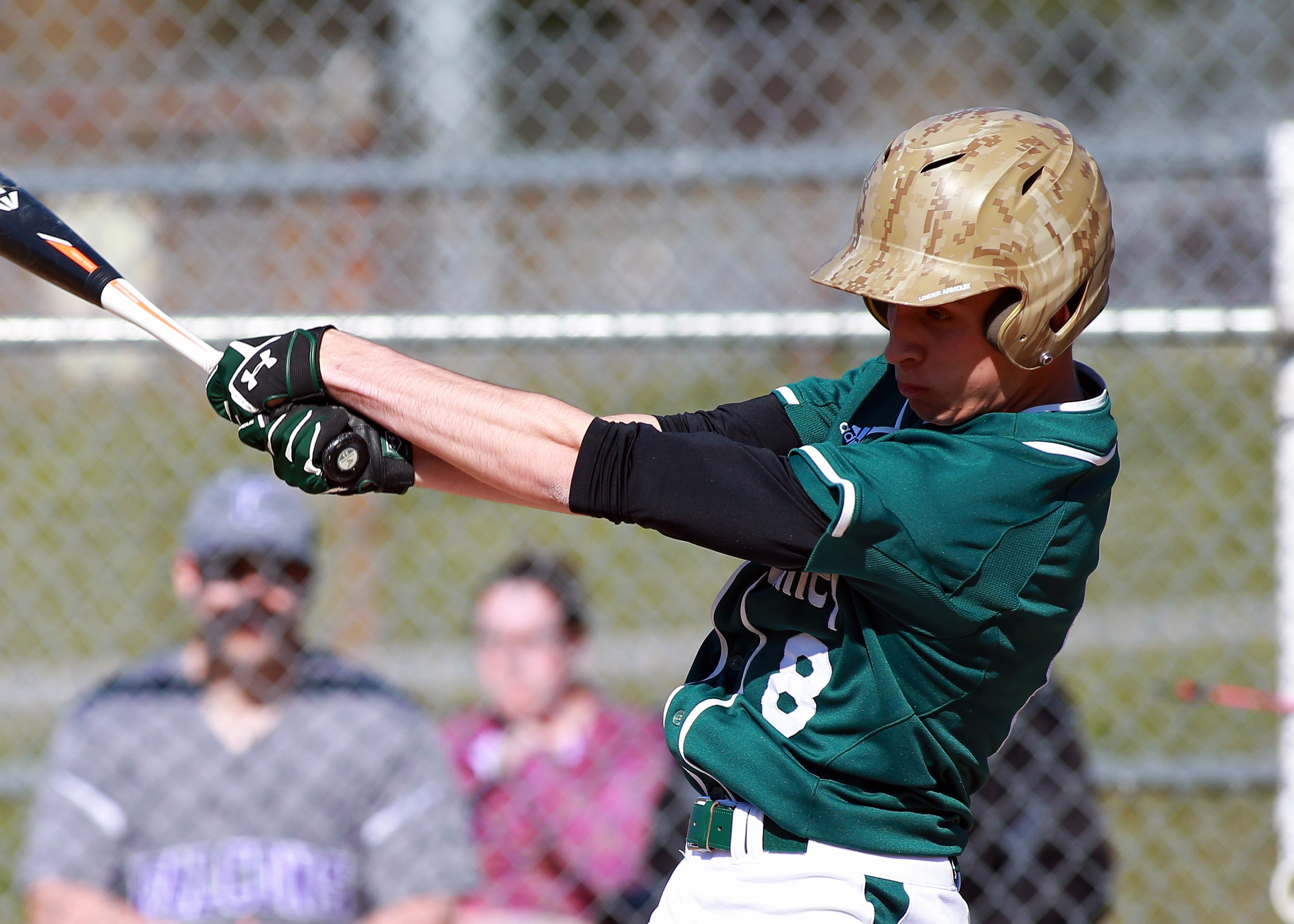 March 29 baseball roundup.
(Cover photo of Oswayo Valley's Garret Babcock. Photo by Paul Burdick. Check out more of Burdick's work here)
PUNXSUTAWNEY 3, ST. MARYS 0
PUNXSUTAWNEY, Pa. – Brandon Matthews, Tyler Richardson and Logan Johnston combined on a four-hit shutout to lead Punxsutawney to a 3-0 win over visiting St. Marys.
Matthews started and gave up one hit in two innings of work before Richardson went four innings allowing two hits to get the win with Johnston picking up the save giving up one hit in an inning of work. Matthews struck out five.
The Chucks offense, which also managed just four hits, benefited from six St. Marys errors that led to three unearned runs against Michael Beimel, who took the loss going four innings giving up three runs on three hits and a walk while striking out four.
Matthews, Alec Greenblatt and Jacob Weaver each scored runs for Punxsy.
BRADFORD 3, BROOKVILLE 1
BRADFORD, Pa. – Dan Manion threw five innings of one-hit baseball to help Bradford down visiting Brookville, 3-1.
Manion walked three and struck out seven in getting the win. Peyton Manion came in with the bases loaded in the seventh and induced a flyout and a groundout to pick up the save.
Kyle Kirk was 1-for-1 with two walks, an RBI and two runs scored for the Owls. He had a double as did Peyton Manion.
Bryan Dworek took the loss for Brookville going 3 ⅔ innings allowing three runs, two earned, on four hits and three walks while striking out four.
Ben Caun scored the Raider's run in the seventh on a wild pitch.
OSWAYO VALLEY 11, PORT ALLEGANY 1, 6 INNINGS
SHINGLEHOUSE, Pa. – Garret Babcock and Grant West each had three hits to pave the way for an 11-1, six-inning win by Oswayo Valley over visiting Port Allegany.
Garret Babcock was 3-for-4 with a double, a triple and three RBIs, while West went 3-for-3 with a double and two RBIs. Gage Babcock and Garren Black each added a pair of hits for the Green Wave.
Gage Babcock picked up the win going scoreless five innings allowing two hits and a walk while striking out seven.
Howie Stuckey, who took the loss, was 2-for-3 with an RBI single for Port Allegany. Tyler Phillips added a double.
OTTO-ELDRED 5, COUDERSPORT 2
COUDERSPORT, Pa. – A strong season-opening outing from Sawyer Drummond helped Otto-Eldred grab a 5-2 road win over Coudersport.
Drummond went 6 ⅓ innings giving up two first-inning runs, striking out five and walking three to get the win. Chase Sebastian picked up the save.
The Terrors scored three runs in the second to take the lead for good with Andrew Sheeler and Cameron Magee each delivering RBI singles and Chris Connelly getting a run-scoring double.
Coudersport took the 2-0 lead on consecutive hits from Eli Ayers, Hunter Redmond and Kolby VanWhy.
VanWhy suffered the loss going 3 innings allowing three runs. He walked one and struck out five.
DUBOIS 10, BELLEFONTE 2
DUBOIS, Pa. – Nick LaBrasca was 3-for-4 with a double and three RBIs to help DuBois roll past visiting Bellefonte, 10-2.
Ryan Pasternak added a 2-for-4 performance with a double and an RBI.
Noah Schneider got the win going five innings and giving up one run. He walked three and struck out three.
JOHNSONBURG 5, ELK COUNTY CATHOLIC 4
JOHNSONBURG, Pa. – Johnsonburg held off a late Elk County Catholic rally to get a 5-4 win over visiting Crusaders.
The Rams took a 5-1 lead into the top of the seventh but watched ECC score three times and have the bases loaded before Justin Kasmierski came in to strike out Nate DaCanal to get the save.
Johnny Mitchell started and got the win going 6 ⅓ innings allowing one run, it was earned, on two hits and four walks while striking out five.
ECC got to Ben Ames tagging him for three unearned runs in ⅓ of an inning. He walked three and gave up a pair of hits.
Mitchell was also 4-for-4 with an RBI and two runs scored, while Kasmierski hit a home run and went 3-for-4 with three RBIs and a run scored. Ames was 1-for-3 with a double and an RBI.
Ryan Heary went 2-for-3 with a double and three RBIs for ECC.
Jordan Nassi took the loss going three innings and allowing five runs, all earned, on eight hits and two walks while striking out three.