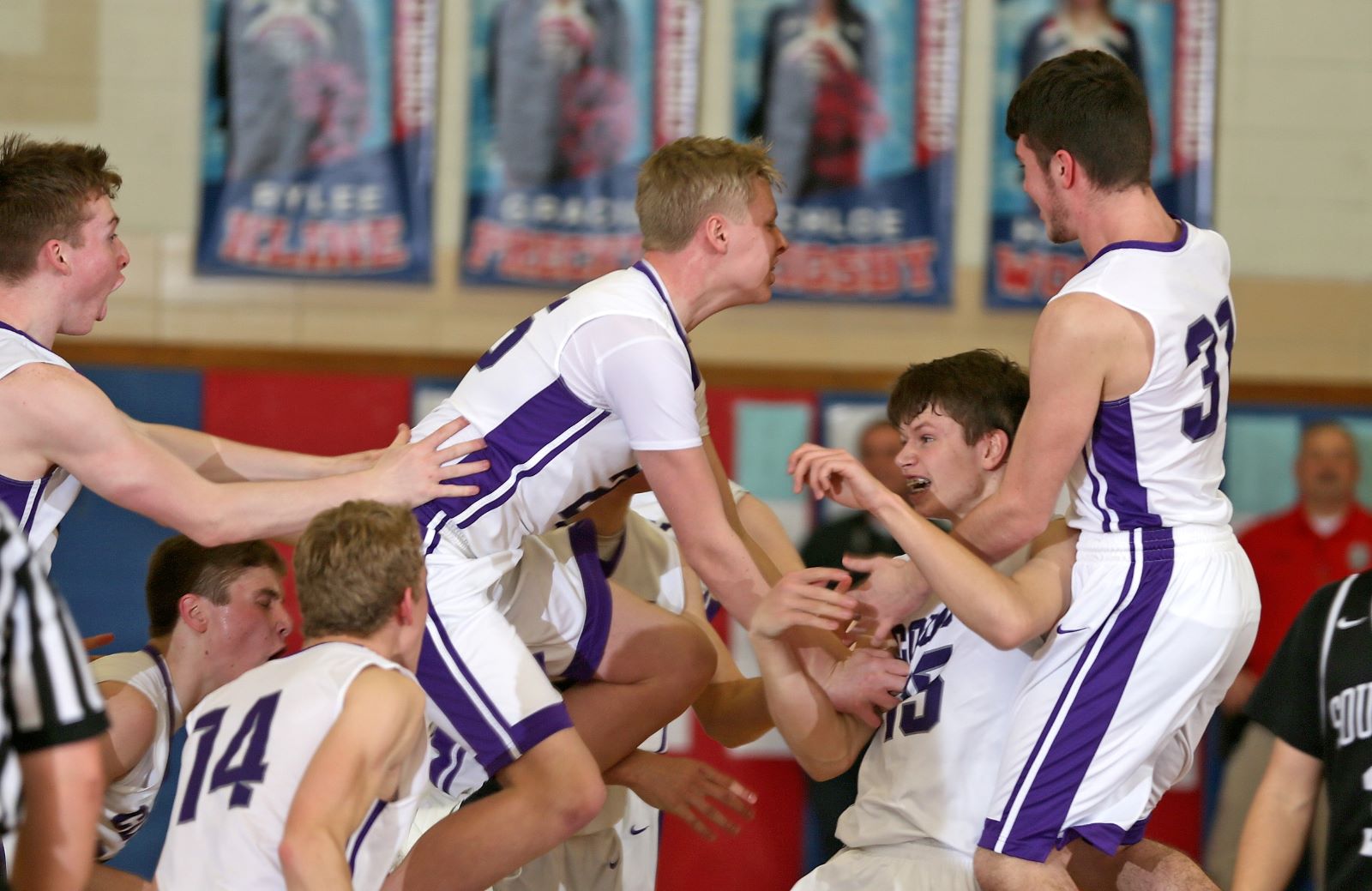 March 9 boys' basketball recaps for District 9 teams in the PIAA playoffs.
(Photo: Coudersport players mob Owen Chambers after his game-winning steal and 3-pointer Saturday night. Photo by Paul Burdick. Check out more of Burdick's work here)
COUDERSPORT 73, SOUTH SIDE BEAVER 70
ST. MARYS, Pa. – Owen Chambers' steal and pull-up 3-pointer just before the horn gave Coudersport a 73-70 win over South Side Beaver in the opening round of the PIAA Class 2A playoffs at St. Marys High School.
Trailing 70-68, Travis Gleason knocked down a pair of free throws with 19 seconds left to tie the game at 70.
South Side Beaver worked the ball up and court and passed it around trying to hold for the last shot. But Chambers stepped in front of a pass from Nate Statler intended for Jake McDougal and stole the ball with about three seconds left. He drove down the court and got a shot up from the right wing with 0.4 seconds left that found nothing but net after the horn sounded setting off a wild celebration from the Coudersport's bench and fans.
Watch the play via the Coudersport team video.
Watch the play from both the Coudersport team video from up high followed by video taken by Chase Azzato and shared with D9Sports.com.
"We were trying to steal the ball, trap them, get a turnover or something, not let them get a good shot off," Chambers said. "Luckily, I got my hand on it and let the shot fly. As soon as it left the hands, it looked and felt good."
Watch Chamber's full postgame interview.
Chambers was held to only eight points in the first half but exploded for 14 of his game-high 27 points in the fourth quarter. That gives him 2,239 career points, just 18 shy of tying the District 9 career record of 2,257 set by Johnsonburg's Calvin Grumley.
After leading 50-48 heading to the fourth quarter, Coudersport found itself down four, 68-64, with 2:05 to play following a 3-pointer by Statler, one of 12 in the game for the Rams. Statler triple came after a missed free throw by South Side Beaver that saw the Rams get the offensive rebound and kick the ball out to Statler for the long ball.
The Falcons, though, tied the game when Chambers hit a pair of free throws and Dillon Keglovits got a field goal off a steal to tie the game at 69 less than a minute later.
A Logan English field goal with 1:10 left put the Rams back up 70-68, but a missed free throw from McDougal gave the Falcons a chance to tie with 35 seconds left.
Gleason ended up getting fouled with 19 seconds left and knocked down the two shots to set up the wild ending.
"They needed to do the little things defensively," Coudersport head coach Brian Furman said. "We were able to get some stops and give us a position to come back and win."
The game was close throughout with English scoring nine of South Side Beaver's 13 first-quarter points, but even with that effort, the Rams trailed 14-13 after eight minutes.
South Side Beaver (18-8), the third-place team out of the WPIAL, outscored the Falcons (24-2), the second-place team out of District 9, 21-19 in the second quarter take a 34-33 halftime lead. Four 3-pointers in a span of two minutes from McDougal and five points from English in the last minute of the half helped the Rams take the lead.
A 12-5 run in the third quarter then helped South Side Beaver take its biggest lead, 46-38, with 2:37 to play in the third.
But 3-pointers from Hayden Keck, who finished with 10 points, and Chambers cut the deficit to two, 46-44, and Kolby VanWhy tied the game at 48-48 with 12 seconds left in the third. VanWhy added a layup following a steal as time expired to give the Falcons a 50-48 lead heading into the fourth and the momentum thanks to a 12-0 run.
McDougal and English each netted 22 points for South Side Beaver with Trevor Roach adding 13 and Statler 11.
VanWhy finished the game with 16 points for the Falcons with Gleason adding 13.
Coudersport will play the District 6 Champion Bishop Guilfoyle, who defeated Sto-Rox 100-64, on Wednesday, March 13 at place and time to be determined.
"We get to play again," Furman said. "We knew this was a game that if we played well we could win, and I think we feel the same way going forward in the next game."
COUDERSPORT 73, SOUTH SIDE BEAVER 70
Score by Quarters
South Side Beaver 13 21 14 21 – 70
Coudersport 14 19 17 23 – 73
SOUTH SIDE BEAVER – 70
Daniel Hickman 0 0-0 0, Jake McDougal 7 2-3 22, Nate Statler 4 1-2 11, Brandon Barber 0 0-0 0, Trenton Seik 1 0-0 2, Logan English 8 5-5 22, Trevor Roach 5 0-0 13, Seth Robertson 0 0-0 0. Totals 25 8-10 70.
COUDERSPORT – 73
Daniel Frame 1 0-0 3, Owen Chambers 9 3-4 27, Hayden Keck 4 0-0 10, Kolby VanWhy 6 2-3 16, Derek Easton 0 0-0 0, Dillon Keglovits 2 0-0 4, Trevor Gleason 5 3-4 13. Totals 27 8-11 73.
Three-pointers: South Side Beaver 12 (McDougal 6, Roach 3, Statler 2, English). Coudersport 11 (Chambers 6, Keck 2, VanWhy 2, Frame 1)
RIDGWAY 60, SEWICKLEY ACADEMY 51
ST. MARYS, Pa. – Ridgway overcame an 11-point second-half deficit and then watched as Sewickley Academy lost its collective mind down the stretch to pick up a 60-51 win over the Panthers in the opening round of the PIAA Class 2A tournament at St. Marys High School.
The D9 champion Elkers (25-3) trailed 30-19 at halftime and were still down 10, 38-28, late in the third quarter before outscoring Sewickley Academy (13-10), the fourth-place team out of the WPIAL, 32-13 the rest of the way.
"The kids don't quit," Ridgway head coach Tony Allegretto said. "We told them at halftime, stick to the game plan. We don't have to score fast. We just have to make stops. I thought in the first half we gave up too many layups. We were getting beaten inside. We corrected a couple of those problems, and in the second half we stuck to what Ridgway basketball and kept at it."
Watch all of Allegretto's postgame thoughts.
Down 47-45 with 1:20 to play, Daunte Allegretto, Tony's son, hit a clutch 3-pointer to put Ridgway ahead, 48-47, the Elkers first lead since 5-2 early in the first quarter.
Isiah Warfield, Sewickley Academy's super junior guard, tied the game at 48 when he split a pair of free throws, but Matt Dush split a pair of charity shots to give Ridgway the lead back, 49-48, with just under a minute to go.
After an empty possession by Sewickley, Zach Zameroski drove to the basket and got fouled with 30 seconds on the clock. Zameroski made both free throws which put the Elkers up 51-48.
Things then went completely bonkers after that.
Sewickley Academy missed a shot, and Zameroski collected the rebound and was fouled. The Sewickley Academy player was then whistled for a technical foul, and Zameroski proceeded to hit 3 of 4 free throws to make it 54-48.
"That basically puts it out of reach for them," Tony Allegretto said.
If that didn't put it out of reach what happened in the ensuing seconds surely did.
In a chaotic turn of events, Sewickley Academy head coach Win Palmer received a technical foul, and Panthers senior Donald Belt was also called for a flagrant foul and ejected from the game. The end result was a 60-48 Ridgway lead with Jake Reynolds making a basket and one of two free throws and Zameroski splitting two free throws and Dush hitting 2 of 2 from the line.
Lost in the craziness of the final minute was the big play of Reynolds and Will Thompson in the fourth quarter.
Both players had key baskets earlier in the quarter to keep the Elkers hopes alive before Zameroski tied the game at 45 when he hit one of two free throws with two minutes to play.
Warfield gave the Panthers the lead back on a basket with 1:45 to play, 47-45, before Allegretto's three pushed Ridgway in front.
Thompson led the Elkers with 18 points with Allegretto adding 11 before fouling out late, Reynolds 10 and Dush eight, all from the free-throw line.
Warfield had a game-high 23 points for Sewickley Academy with John DelVecchio adding 11.
RIDGWAY 60, SEWICKLEY ACADEMY 51
Score by Quarters
Sewickley 12 18 8 13 – 51
Ridgway 5 14 14 27 – 60
SEWICKLEY ACADEMY – 51
George Zheng 0 0-0 0, Isiah Warfield 7 6-7 23, Rees Blaylock 3 0-1 6, John DelVecchio 3 4-4 11, Sal Laure 0 0-0 0, Max Belt 3 1-2 7, Cole Karlik 0 0-0 0, Donald Belt 2 0-0 4. Totals 18 11-14 51.
RIDGWAY – 60
Matt Dush 0 8-11 8, Jake Reynolds 4 1-2 10, Parker Rohr 2 0-0 6, Daunte Allegretto 3 3-4 11, Zack Zameroski 0 7-10 7, Will Thompson 8 2-3 18. Totals 17 21-30 60.
Three-pointers: Sewickley Academy 4 (Warfield 3, DelVecchio). Ridgway 5 (Rohr 2, Allegretto 2, Reynolds)
Note: Donald Belt was ejected from the game in the fourth quarter
WILMINGTON 42, KEYSTONE 24
SHARON, Pa. – Keystone couldn't buy a bucket in the second half making just three of them, and the end result was a 42-24 Panthers' loss to District 6 runner-up Wilmington in the opening round of the PIAA Class 2A playoffs at Sharon High School.
After a strong first half that saw Keystone trailing by just one, 18-17, things started to fall apart for the Panthers (18-8) in the third quarter when they mustered just a lone field goal from Dawson Steele.
But Wilmington (17-8) wasn't any better in the third quarter scoring just six points to extend its lead to five, 24-19, going to the final eight minutes.
The Greyhounds, however, rode the play of Tage Kelliher in the fourth quarter to break the game open. Kelliher scored 12 of his game-high 15 points in the fourth to help Wilmington outscored Keystone 18-5 in the frame.
Troy Johnson paced Keystone with seven points with Dawson Steele adding five and Isaak Jones four.
Robert Pontius and Jacob Yohman each added eight tallies for Wilmington.
Wilmington will take on Ridgway in the second round Wednesday, March 13, at a time and place to be announced.
WILMINGTON 42, KEYSTONE 24
Score by Quarters
Keystone 8 9 2 5 – 24
Wilmington 3 15 6 18 – 42
KEYSTONE – 24
Troy Johnson 3 0-0 7, Max Thompson 0 0-0 0, Luke Hurrelbrink 1 0-0 3, Isaak Jones 2 0-1 4, Alex Rapp 1 0-0 2, Dawson Steele 2 1-2 5, Andrew LAuer 0 0-2 0, Conner Exley 0 0-0 0, Brandon Kapp 0 0-0 0, Brooks LaVan 1 0-0 3. Totals 10 1-5 24.
WILMINGTON – 42
Cameron Marett 1 3-4 5, Daniel Hanssen 1 0-0 2, Tage Kelliher 5 5-6 15, Robert Pontius 3 1-2 8, Colton Richards 1 0-0 2, Jacob Yohman 2 2-5 8, Shane Cox 1 0-0 2, Bryce Endrizzi 0 0-0 0. Totals 15 11-17 42.
Three-pointers: Keystone 3 (Johnson, Hurrelbrink, LaVan). Wilmington 1 (Pontius)
DEER LAKES 56, BROOKVILLE 52, OVERTIME
HYDE, Pa. – Brad Perrotte's 22 points and game-saving charge draw at the end of regulation helped WPIAL sixth-seed Deer Lakes escape Brookville with a 56-52 overtime win in the first round of the PIAA Class 3A playoffs at Clearfield Area High School.
With the score tied at 47-47, Perrotte drew a charge on what appeared to be a game-winning basket on a baseline drive by Aaron Park, but Park was called for the foul with 1.2 seconds left.
From there, Deer Lakes outscored Brookville 9-5 in overtime, all of its points coming from the foul line as Perrotte went 5-for-6. He wound up going 12-for-16 from the line overall, leading Deer Lakes' 22-for-33 effort. The Lancers were just 2-for-7 from the field in the fourth quarter and overtime periods, scoring 14 of their 18 points over the span from the line.
The Raiders (16-9), who fell behind 7-0 to start the game before tying it at 15-15 after the first quarter, led just one time in the game and that came in an odd sequence that came with the Raiders trailing 45-42 with 1:07 left in the game.
With Deer Lakes up three points and the ball while moving up the court, Raiders head coach Dalton Park was whistled for a warning — PIAA officials may issue warnings in lieu of technical fouls. With play stopped and Deer Lakes apparently misunderstanding the reason for the stoppage, Lancers' Colin Kadlick was whistled for a technical fall after firing the ball and hitting one of the officials.
Aaron Park hit both free throws and 31 seconds later, David Cable hit the second of two fourth-quarter 3-pointers to put the Raiders up for the first time 47-45 with 38.1 seconds left. Deer Lakes tied it with 15 seconds left on Zac Herbinko's floater putback on a Lancers missed shot, setting up the end of regulation and overtime win by the Lancers.
Park led the Raiders with 18 points while Jace Miner, who fouled out in overtime, finished with 13 points. Robert Keth scored eight points.
Jack Hollibaugh fouled out with 13 points and Herbinko added 10 points for the other double-figure scorers for Deer Lakes, which meets District 6 third-place Forest Hills on Wednesday and a site and time to be announced. Forest Hills beat WPIAL runner-up North Catholic, which beat Deer Lakes 75-65 in the WPIAL quarterfinals.
Deer Lakes forced 23 Brookville turnovers and won the rebound battle, 30-23.
DEER LAKES 56, BROOKVILLE 52, OT
Score by Quarters
Deer Lakes 15 13 10 9 9 – 56
Brookville 15 8 10 14 5 – 52
DEER LAKES – 56
Zac Herbinko 3 4-6 10, Jack Hollibaugh 6-9 1-2 13, Colin Kadlick 0 0-0 0, Jared Colton 1 2-4 4, Brad Perrotte 5 12-16 22, Aris Hasley 2 3-5 7, Josh Darsie 0 0-0 0, Ryan Butler 0 0-0 0. Totals: 17 22-33 56.
BROOKVILLE – 52
Jace Miner 4 5-6 13, Bryce Baughman 0 1-2 1, Jack Krug 0 0-0 0, Aaron Park 4 9-11 18, Logan Byerly 1 0-0 2, Robert Keth 3 0-0 8, Trenton Gilhousen 2 0-1 4, David Cable 2 0-0 6. Totals: 16 15-20 52.
Three-pointers: Brookville 5 (Park, Keth 2, Cable 2). Deer Lakes 0.