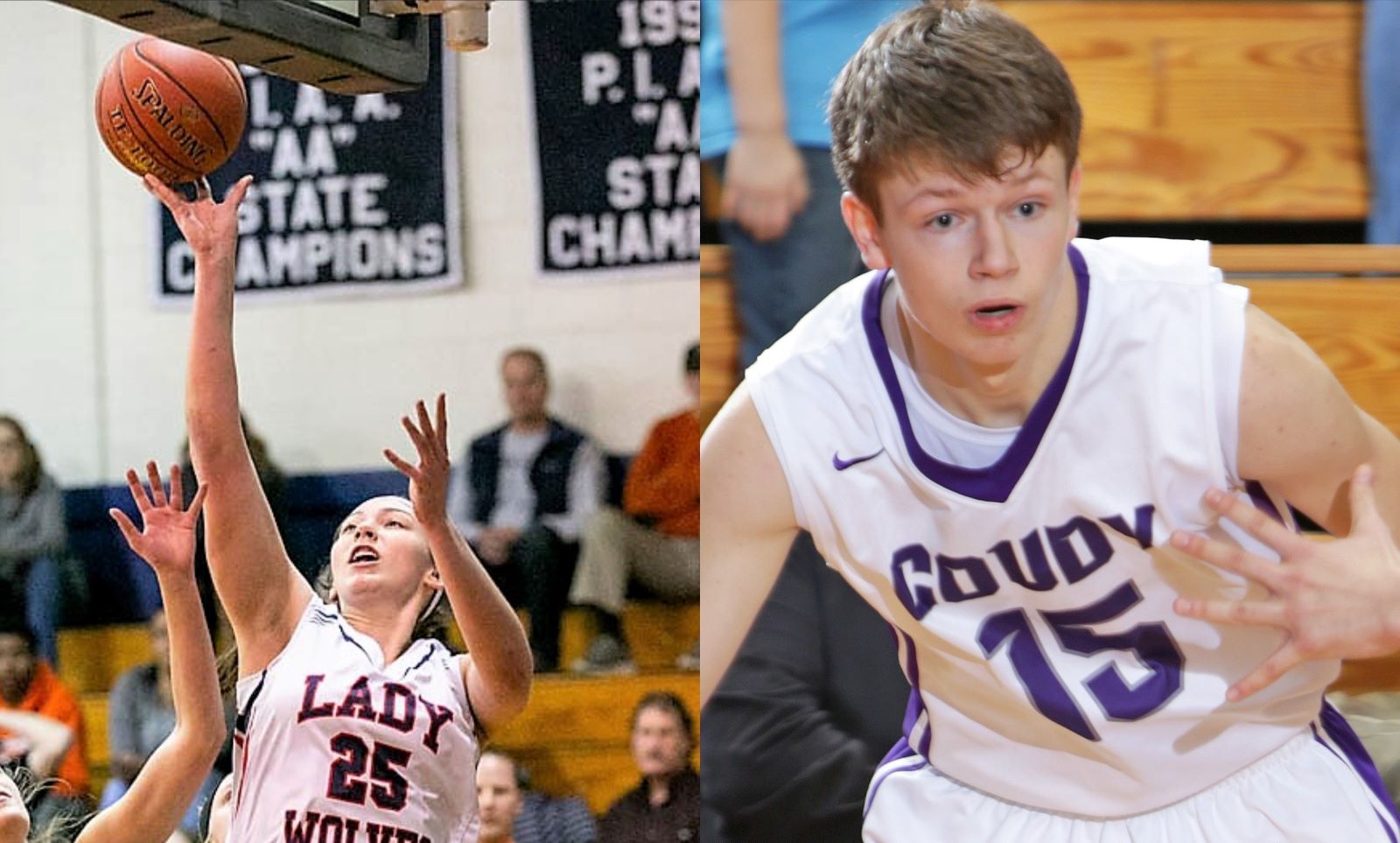 KANE, Pa. – Heading into the PIAA basketball playoffs, which begin Friday, March 8, Kane's Ella Marconi and Coudersport's Owen Chambers, are the leading scorers in District 9.
(Photo of Kane's Ella Marconi (left) and Coudersport's Owen Chambers. Marconi photo by Tessa Boschert. Chambers photo by Paul Burdick)
Marconi is the leading girls' scorer at 23.2 points per game and is one of three girls' players averaging at least 20 points per contest.
Chambers is the leading boys' scorer and is on the verge of becoming the first boys' player in the D9Sports.com Era (2001-present) to score over 30 points per game averaging 30.9 points per game. He is one of five boys' players averaging at least 20 points per contest.
In addition to Marconi, who led Kane to the District 9 Class 2A title for the first time in school history, the other 20 ppg scorers in girls' basketball are Curwensville's Madi Weber (20.9 ppg) and Clearfield's Alayna Ryan (20.5 ppg). Both Weber's and Ryan's seasons are over.
Joining Chambers, who helped Coudersport to a D9 Class 2A runner-up spot, in scoring at least 20 points in boys' basketball are DuBois Central Catholic's Justin Miknis (20.9 ppg), Clarion-Limestone's Deion Deas (20.5 ppg), Venango Catholic's Ben Gillispie (20.4 ppg) and A-C Valley's Levi Orton (20.2 ppg). Deas and Chambers will be playing in the PIAA playoffs, while the rest of the players' seasons are over.
See the District 9 Boys' Top 25 Scorers List
See the District 9 Girls' Top 25 Scorers List