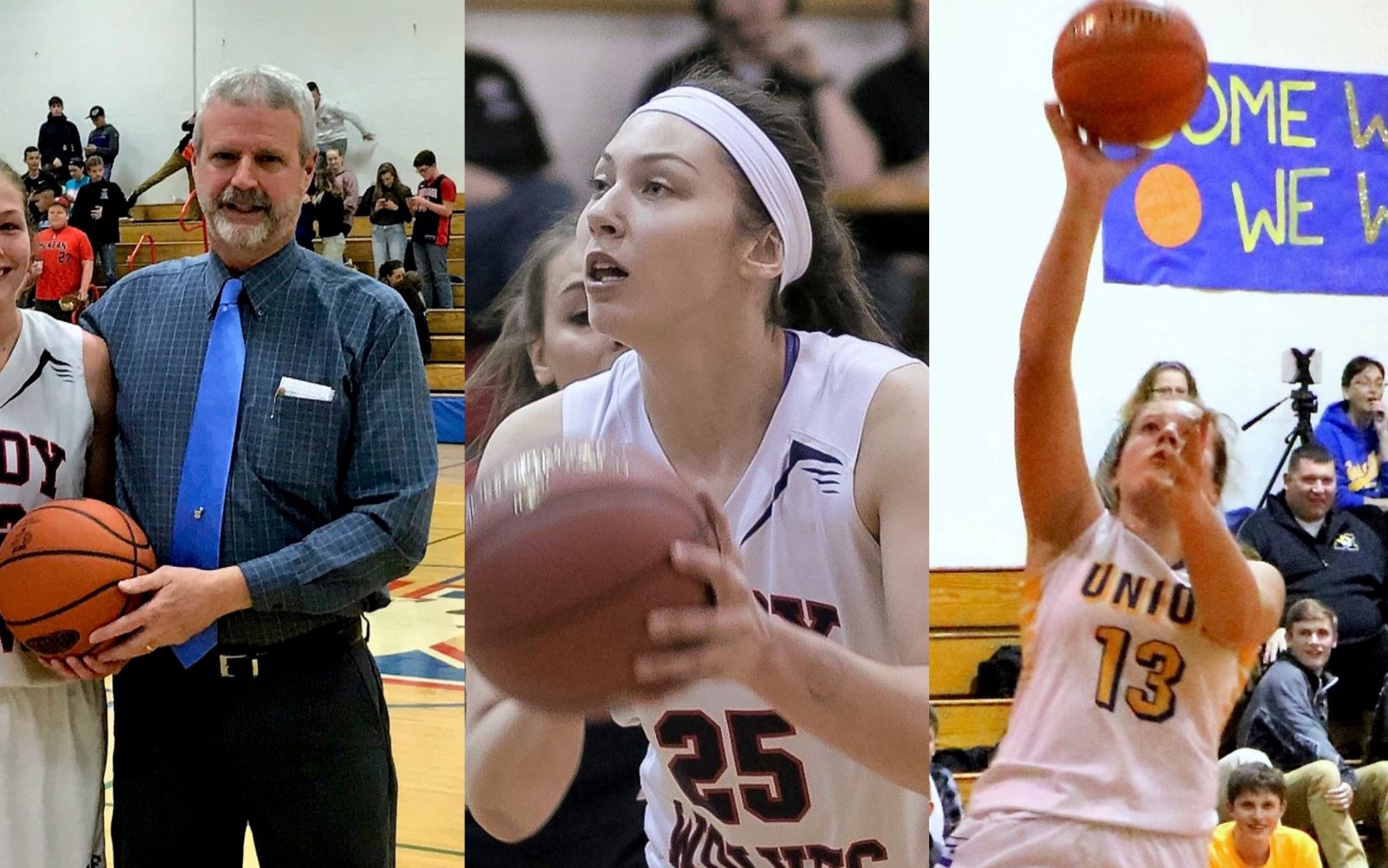 SHIPPENVILLE, Pa. – Kane's Ella Marconi and Dave Kiehl and Union's Dominika Logue are the major All American Awards & Engraving D9Sports.com District 9 girls' basketball award winners for the 2019 season.
(Photo from left: Dave Kiehl of Kane, Ella Marconi of Kane and Dominika Logue of Union. Marconi photo by Jared Bakaysa, Logue photo by Shelly Atzeni)
Marconi, a senior, is the All American Awards & Engraving D9Sports.com District 9 Player of the Year, Logue, a freshman, is the All American Awards & Engraving D9Sports.com District 9 Rookie of the Year, and Kiehl is the Chuck Daly Coach of the Year Presented by the Chuck Daly Foundation.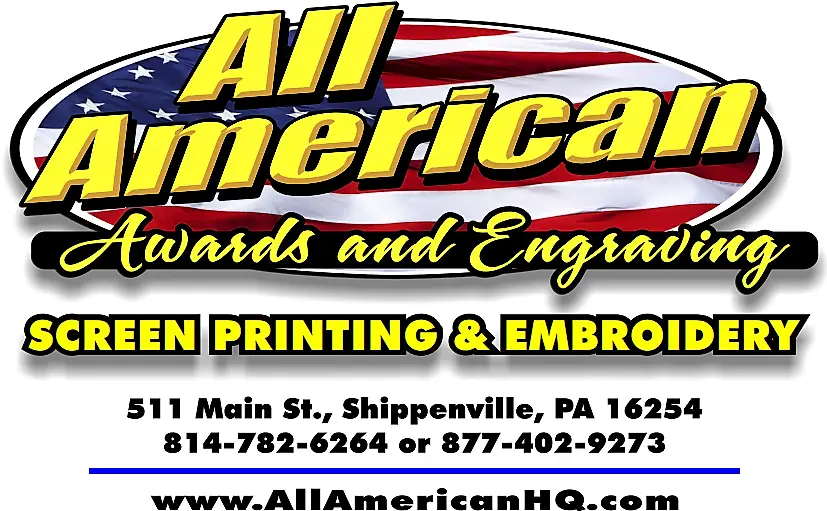 In addition to the major awards, first-, second- and third-team All American Awards & Engraving D9Sports.com All-District 9 teams were chosen.
Joining Marconi on the first team were Olivia Boocks of A-C Valley, Marcy Schindler of Brookville, Alayna Ryan of Clearfield, Malliah Schreck of Cranberry, Taylor Newton of Elk County Catholic and Abby Gatesman of North Clarion.
On the second team were A-C Valley's Kylee Eaton, Curwensville's Madi Weber, Johnsonburg's Cassidy King, Kane's Hannah Buhl and Punxsutawney's Kate Horner and Sarah Weaver.
The third team consisted of Cami McNany of A-C Valley, Morgan Johnson of Brookville, Kait Constantino of Clarion, Shae Black of Coudersport and Tara Hinderliter of Redbank Valley.
This is the 20th year of the postseason District 9 awards and the 19th they have been housed at D9Sports.com (the first year, 2000, the awards were awarded by the Tri-County Sunday out of DuBois). It marks the 11th consecutive year All American Awards & Engraving has been the title sponsor of the awards.
The 2012 Clarion Area Chamber of Business and Industry Business of the Year in the Economic Development Division, All American Awards & Engraving is located on Route 322 in Shippenville.
The company, which specializes in all kinds of awards, trophies and engraving products as well as screen printing and embroidery, will put just about anything on just about anything. It can be found on the web at www.allamericanhq.com or by calling 1-877-402-9273.
D9Sports.com is in its 19th year of covering athletics within the PIAA's District 9. The independent media site, which became part of the EYT Media family of sites (www.exploreClarion.com, www.exploreJeffersonPa.com, www.exploreVenango.com) in December 2015 is not affiliated with the PIAA or PIAA District 9 in any way.
NOTES – In order to be eligible for the award or the all-district team, a player must participate in at least 60 percent of her team's total games. In order to be eligible for Rookie of the Year, a Player must be either a freshman or a sophomore who saw limited or no time as a freshman.
ALL AMERICAN AWARDS & ENGRAVING PLAYER OF THE YEAR: Ella Marconi, Senior, Kane
Marconi led Kane to its first-ever District 9 championship (Class 2A), its first-ever PIAA Playoff win and a spot in the PIAA Class 2A Quarterfinals by averaging 22.9 points, 12.0 rebounds, 4.2 blocks and 1.0 assists per game. She also had 22 steals and shot 64.9 percent (255 of 393) from the field and 71.0 percent (152 of 214) from the free-throw line.
She scored 20 or more points 20 times while topping 25 13 times including a pair of 30-point contests while becoming Kane's all-time leading scorer with 1,723 career points.
ALL AMERICAN AWARDS & ENGRAVING ROOKIE OF THE YEAR: Dominika Logue, Freshman, Union
Logue burst onto the scene and quickly became Union's top players by averaging 13.4 points, 7.3 rebounds, 4.3 blocks, 3.2 steals and 3.0 assists per game.
In 22 contests, she scored 25 or more points three times, 20 or more points four times.
ALL AMERICAN AWARDS & ENGRAVING CHUCK DALY COACH OF THE YEAR PRESENTED BY THE CHUCK DALY FOUNDATION: Dave Kiehl, Kane
Kiehl led the Lady Wolves to the AML Title and then to their first-ever District 9 (Class 2A) title and an overall record of 25-4. It was Kane's third straight appearance in the D9 title game.
Kane then won the first PIAA playoff game in school history before eventually reaching the PIAA Quarterfinals where it lost to eventual PIAA Class 2A runner-up West Middlesex.
ALL AMERICAN AWARDS & ENGRAVING FIRST-TEAM ALL-DISTRICT
Olivia Boocks, Sr., A-C Valley (12.9 ppg, 5.3 rpg, 4.5 apg, 4.3 spg)
Marcy Schindler, Jr., Brookville (12.5 ppg, 9.2 rpg, 2.4 spg, 1.9 bpg)
Alayna Ryan, Sr., Clearfield (20.5 ppg, 6.3 rpg, 5.8 spg, 3.8 apg, 9 blocked shots; Finished her career with 1,165 points)
Malliah Schreck, Sr., Cranberry (18.8 ppg, 14.0 rpg, 3.0 spg, 1.5 apg, 21 blocked shots; Finished her career with 1,366 points)
Taylor Newton, Jr., Elk County Catholic (17.0 ppg, 10.5 rpg, 2.2 apg, 1.7 spg; Shot 48 percent from the field)
Ella Marconi, Sr., Kane (Player of the Year; 22.9 ppg, 12.0 rpg, 4.2 bpg, 1.0 apg, 22 steals; Shot 64.9 percent from the field; Shot 71.0 percent from the free-throw line; Finished her career with 1,723 points, the school's all-time leading scorer)
Abby Gatesman, Jr., North Clarion (14.3 ppg, 8.7 rpg, 3.5 apg, 2.8 spg, 1.2 bpg; Shot 47.7 percent from the field; Shot 43.5 percent from 3-point range; Shot 76.4 percent from the free-throw line)
ALL AMERICAN AWARDS & ENGRAVING SECOND-TEAM ALL-DISTRICT
Kylee Eaton, Sr., A-C Valley (11.7 ppg, 11.2 rpg, 1.6 spg, 1.5 rpg)
Madi Weber, Sr., Curwensville (20.9 ppg, 7.5 rpg, 3.3 spg; Finished her career with 1,309 points)
Cassidy King, Sr., Johnsonburg (15.3 ppg, 6.1 spg, 3.8 apg; Finished her career with 1,262 points)
Hannah Buhl, Sr., Kane (9.6 ppg, 6.1 spg, 2.5 to 1 assists-to-turnover ratio; Shot 40.1 percent from 3-point range while making 69 3-pointers)
Kate Horner, Sr., Punxsutawney (9.9 ppg, 3.0 apg, 2.5 spg, 2.0 rpg; Hit 40 3-pointers)
Sarah Weaver, So., Punxsutawney (10.1 ppg, 3.2 rpg, 3.0 apg, 2.5 spg, Hit 27 3-pointers)
ALL AMERICAN AWARDS & ENGRAVING THIRD-TEAM ALL-DISTRICT
Cami McNany, Sr., A-C Valley (12.3 ppg, 5.8 rpg, 3.6 apg, 2.3 spg)
Morgan Johnson, Jr., Brookville (13.4 ppg, 2.7 apg, 2.4 spg; Hit 39 3-pointers while shooting 36.1 percent from 3-point range; Shot 42.3 percent from the field)
Kait Constantino, Jr., Clarion (12.9 ppg, 5.0 rpg, 2.9 spg, 1.5 apg)
Shae Black, Sr., Coudersport (14.0 ppg, 7.0 rpg, 2.1 spg, 1.5 bpg, 1.1 apg; Shot 53.9 percent from the field)
Tara Hinderliter, Jr., Redbank Valley (18.2 ppg, 9.8 rpg, 6.6 spg; Hit 41 3-pointers)