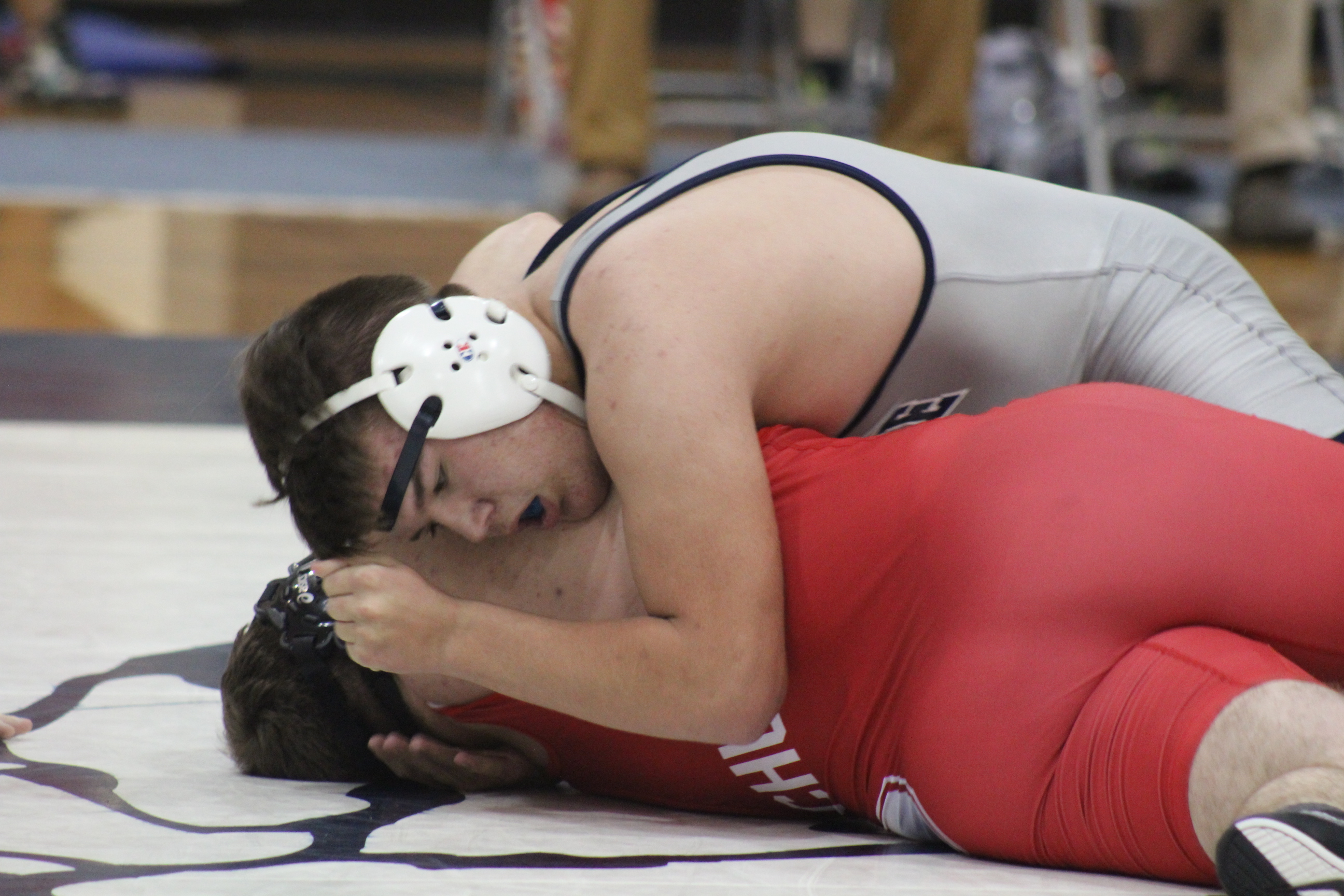 DUBOIS, Pa. — District 9 Wrestling Chairman Randy Cathcart announced the pairings for the District 9 Team Championships Saturday, Feb. 3, at DuBois Area High School.
(Photo by Alli Zacherl)
In Class 2A, the quarterfinals will begin at 10 a.m. with Redbank Valley opposing Ridgway on Mat 1 and Port Allegany facing Johnsonburg on Mat 2.
The semifinals will begin around 12:30 p.m. with the Redbank-Ridgway winner facing Brockway on Mat 2 and the Port-Johnsonburg winner facing top-seeded Brookville on Mat 1.
The winners will compete for the championship around 3 p.m. on Mat 1 with the losers in the consolation finals on Mat 2.
If a true second-place match is needed, it will be wrestled at 5:30 p.m.
The top two Class 2A teams will qualify for the state tournament with the second-place finisher taking on the District 4 runner-up Monday and the champion facing either the District 11 runner-up or the District 3 third-place finisher Thursday in Hershey.
In Class 3A, the District 4-9 champion will be decided as well.
The quarterfinals begin at 11:15 a.m. with Selinsgrove facing Williamsport. The winner of that match will take on top-seeded DuBois in the semifinals on Mat 1 at about 1:45 p.m.
The other semifinal will feature Clearfield battling Shikellamy on Mat 2.
The semifinal winners will wrestle for the championship around 4:15 p.m. on Mat 1.
Only the champion advances in 3A and it will play the District 10 champion Thursday in Hershey.
Start times are subject to change, depending on the length of the matches.
DISTRICT 9 CLASS 2A AT DUBOIS HIGH SCHOOL
Two PIAA Qualifiers
Quarterfinals
Redbank Valley vs. Ridgway – 10 a.m. Mat 1
Port Allegany vs. Johnsonburg – 10 a.m. Mat 2
Semifinals (Times are approximate)
Port Allegany/Johnsonburg winner vs. Brookville – 12:30 p.m. Mat 1
Redbank Valley/Ridgway winner vs. Brockway – 12:30 p.m. Mat 2
Championship (Time is approximate)
Semifinal winners – 3 p.m. Mat 1
Consolation (Time is approximate)
Semifinal Losers – 3 p.m. Mat 2
True-Second Mat (If needed, time is approximate)
Winner of the consolation match vs. loser of the championship match only if they did not meet in the semifinals
DISTRICT 4/9 CLASS 3A AT DUBOIS HIGH SCHOOL
One PIAA Qualifier
Quarterfinals (Time is approximate)
Selinsgrove vs. Williamsport – 11:15 p.m. Mat 1
Semifinals (Times are approximate)
Selinsgrove/Williamsport winner vs. DuBois – 1:45 p.m. Mat 1
Clearfield vs. Shikellamy – 1:45 p.m. Mat 2
Championship (Time is approximate)
Semifinal winners – 4:15 p.m. Mat 1