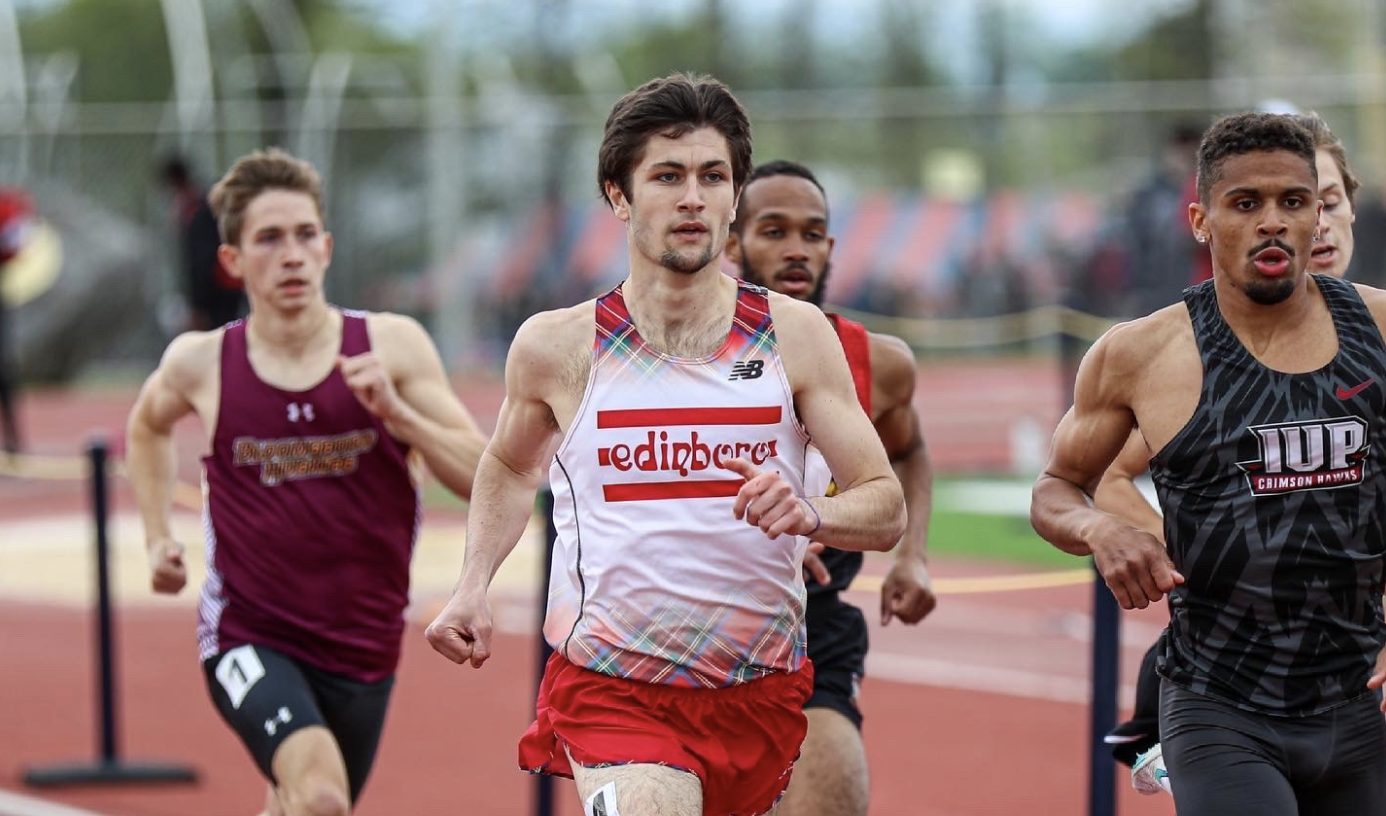 EDINBORO, Pa. (EYT/D9) – In case you didn't know, the Pennsylvania State Athletic Conference (PSAC) runs through Edinboro, literally.
(Photo courtesy of Slippery Rock University Athletics Sports Information)
In the NCAA, there are few better running traditions than the Edinboro University Fighting Scots. This is a program that has won six national titles (two in the NAIA and two in the NCAA) in its storied history. It is also a program that regularly wins the PSAC, the Atlantic Region, and appears in the NCAA DII Cross-Country Championships. For Punxsutawney Area High School product Matt Wehrle, running has become a strong part of his family tradition.
Mixing the traditions of Edinboro cross-country and track and field with the tradition the Wehrle family has built for themselves in the sport seems obvious, but for oldest son Matt, it was not as direct as it may seem from the outside.
Wehrle was a four-sport athlete for the Chucks as he took part in basketball, indoor track and field, soccer, and outdoor track and field. With this in mind, it's unique to see that he never ran high school cross-country despite becoming a college cross-country runner and even having his father, George, as his potential high school cross-country coach.
Instead, Wehrle played soccer, something he does not regret and excelled in. He accumulated 27 goals and a UAVSL All-Star selection in four years, but it was track and field where Wehrle made his biggest mark at Punxsutawney Area High.
He was a five-time state qualifier between indoor and outdoor track and field while adding three District 9 titles in the 800-meter run. He also added two district titles as a part of a 4×800 relay team and one more as a 4×400 relayer. For his consistency, he was named Boys Track MVP in 2017 and 2018.
"I like to think I did what I could during that time," said the Edinboro University senior. "I would trade none of my titles or experiences for anything."
Back in his recruiting process, he was contacted by former Edinboro Cross-Country Head Coach Ryan Foster through a handwritten letter after Coach Foster caught the last 20 seconds of one of his high school races. Prior to this, Wehrle had no prior knowledge that an institution in Edinboro in the bitter winter cold of Erie County was home to such a sustained cross-country tradition.
"I knew where Edinboro was, but that was about it," said Wehrle. "I had little enticing mail to that point, but Coach Foster made me feel valued and that he really wanted me. He's a great recruiter and a really nice guy who cares about his runners."
Where the story gets interesting is despite being recruited by Ryan Foster, his Head Cross-Country coach in his first three seasons ended up being Clayton Foster. Now, he's running for his third Head Coach in Nathan Meeuwenberg. Despite coaching changes and the challenges of a pandemic during his peak years of college running, Wehrle believes he's still climbing to his peak as a runner.
"We can only play the hand we are dealt," said the four-time PSAC Cross-Country champion. "I redshirted freshman year in cross-country because I trusted 22 or 23-year-old me more than I trusted 18-year-old me."
"At points, it has sucked, and it has felt like the world was falling apart through this pandemic, but I truly believe there are people out there that have it and have had it much worse than me. We got an extra year to compete and we still all took the time as runners to get better. All the good teams raced themselves during the toughest times in order to get better."
Wehrle has helped Edinboro win the last four PSAC titles as a team and will have a chance to make it five straight later this year. He placed 35th in the PSAC, 70th in the Atlantic Region, and 238th in the nation during the 2021 cross-country season. 2021 was a year in which he helped the Fighting Scots win two PSAC Cross-Country titles as the PSAC cancelled the 2020 season due to COVID-19 and moved the PSAC Championships to the spring of 2021. His times have also improved significantly over the last four years.

In high school, Wehrle ran a time of 4:31.0 in the 1600 meter run, but has improved his time to 3:57.1 in the 1500 meter run. He has also lowered his time from high school in the 800 meter from 1:57.9 to 1:54.18. Track and field has been strong for him too as he finished second in the PSAC in 2021 in the 1500 meter run and placed third in the conference as a member of a 4×400 relay team. 
"I have really grown and I am so proud of how far I have come," said the Rossiter, Pennsylvania native. "Looking back to when I was a high school senior, there's no way I could imagine running in a 10,000-meter race."

While Wehrle came into college not sure of what direction he wanted to take his career, he realized growing up in a rural setting helped him to appreciate the natural world, making environmental science a solid fit for his studies at Edinboro. Now, he is just one semester shy of finishing his degree before likely moving on to finishing a master's program someday. He hopes someday to either work a government job or as someone whose workday involves going out into the field to conduct research.
With one semester left, it could mean the end of his time as a Fighting Scot is coming despite having a full year of eligibility remaining for the 2022-23 school year. If indeed this is his last hoorah as a collegiate runner, he will always cherish being a part of some excellent relay teams in both his high school and college days.
"There is nothing more exhausting than running a relay and expelling all your energy either running or screaming for a teammate. It is the euphoria of all the training that four individuals have done as runners."
To become the runner and person he is today, it has taken a few key individuals to propel him to continue to up his ability year after year. His high school coaches, his father George Wehrle and John Snyder, helped him reach the top of the Division II level, while his coaches through the years Clayton Foster, Nathan Meeuwenberg, and Anne Cleary have built upon the strong foundation that he had coming to Edinboro.
His teammates at Edinboro have welcomed him to the Edinboro cross-country brotherhood, something he tries to do for all the younger guys and newcomers now as a fourth-year member of the program. These teammates and his younger brother Andrew, a runner for the Lock Haven University Bald Eagles, have all pushed him to give it his all and been there to be his biggest supporters on even the toughest days.
Despite never running cross-country in high school, his knowledge and passion for the sport helped him to get noticed by one of the nation's best programs. Attending Edinboro has changed his life, but now, it is his turn to finish his career strong to help keep the strong tradition alive as a Fighting Scots distance runner.