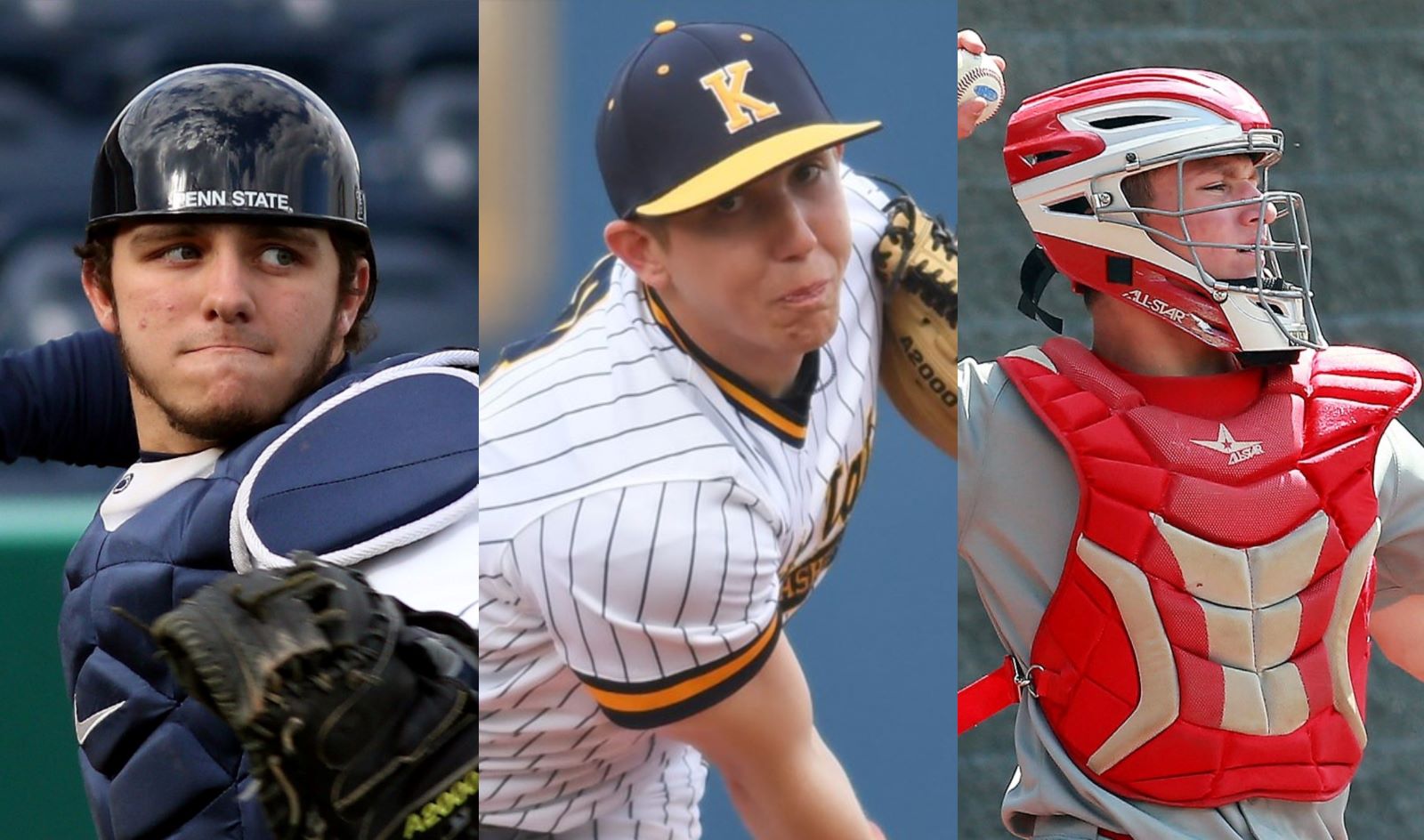 PUNXSUTAWNEY, Pa. – Three players with District 9 ties, including two from Punxsutawney, were selected in the annual Major League Baseball amateur draft this week.
(Photo (L-R): Ryan Sloniger, John Matthews and Justin Miknis. Sloniger photo courtesy of Penn State Athletics, Matthews photo courtesy of Kent State Athletics, Miknis photo by Paul Burdick)
John Matthews, a 2016 Punxsutawney graduate, was taken in the eighth round with the 235 overall pick by the Texas Rangers, Ryan Sloniger, a 2015 Punxsutawney graduate, was taken in the 38th round by the Toronto Blue Jays, and DuBois Central Catholic senior Justin Miknis was taken in the 35th round by the Baltimore Orioles.
Matthews, a junior pitcher at Kent State, went 7-6 this season for the Golden Flash with a 5.45 ERA. He earned Mid-American Conference All-Defensive team honors.
On the season, Matthews ranked in the top-10 in the MAC in opposing batting average (.245), innings pitched (77.2), strikeouts (91), batters struck out looking (25) and wins (7).
Sloniger, who caught Matthews when both were at Punxsutawney, became the seventh catcher drafted in Penn State history and the first since Ben Heath was a fifth-round draft pick by the Houston Astros in 2010.
A four-year starter behind the plate, Sloniger made 162 starts in 166 games and ranks fourth all-time at Penn State in career putouts with 1,080. He broke out as a junior in 2018, leading the team in batting (306), RBIs (31), home runs (5), on-base percentage (.404) and slugging percentage (.494). He totaled 30 doubles, five triples, nine home runs and 81 RBIs for his career while batting .246. He recently graduated with a degree in broadcast journalism.
"I am beyond thankful for the opportunity to be a part of the Blue Jays organization," Sloniger told D9Sports.com. "It is an unbelievable feeling having my childhood dreams come true."
Miknis, who is committed to playing at Kent State next year, helped DCC to a 15-3 mark this year and the District 9 Class 1A semifinals after leading the Cardinals to the 2018 D9 title.
In 2019, he hit .500 (27 of 54) with eight doubles, four home runs and 17 RBIs while scoring 23 runs.