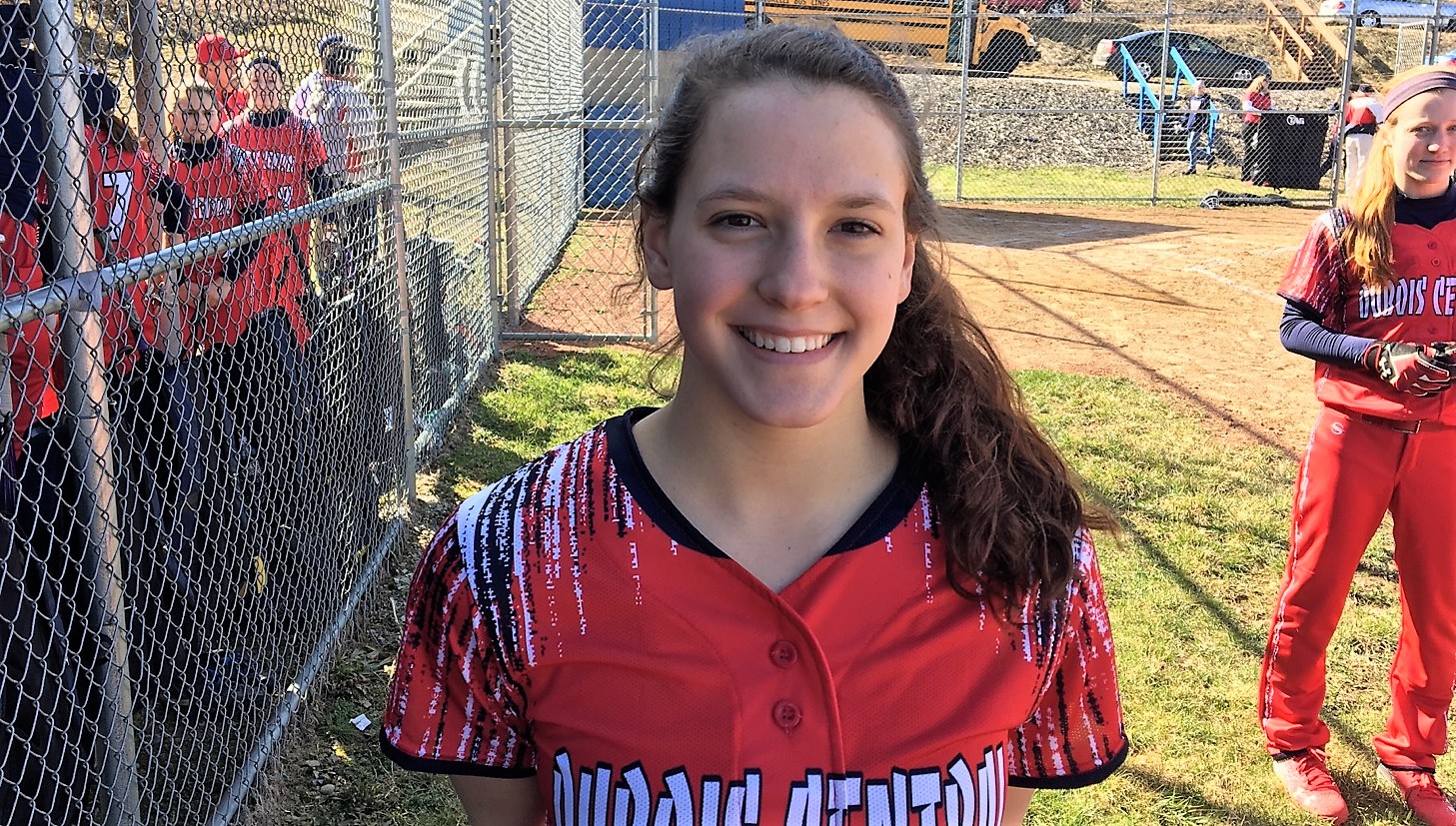 May 17 softball roundup.
(Cover photo: Jordy Frank, DuBois Central Catholic)
DUBOIS CENTRAL CATHOLIC 15, CURWENSVILLE 0, 3 INNINGS
DUBOIS, Pa. – Jordy Frank went 3-for-3 with two home runs, a double, two runs scored and six RBIs to lead DuBois Central Catholic to a 15-0, three-inning win over visiting Curwensville bouncing back in grand fashion from its first loss of the year Tuesday at Punxsutawney.
Macey Hanes was also 3-for-3 with three runs scored for the Lady Cardinals, while Riley Assalone went 2-for-3 with three runs scored, Shay Gulvas 2-for-3 with a double, two runs scored and three RBIs, Ashley Wruble 1-for-3 with three runs scored, Libby Maurer 1-for-2 with a run scored and two RBIs and Alyssa Bittner 2-for-2 with two RBIs.
Hannah Dixon and Kayley Harnett each had singles for Curwensville.
Wruble got the win going three innings allowing two hits while striking out four.
PUNXSUTAWNEY 13, BRADFORD 1, 5 innings
BRADFORD, Pa. – In a five-inning game stopped by the 10-Run Rule, visiting Punxsutawney put up eight runs in the second inning in its 13-1 rout of Bradford.
The Lady Chucks banged out 13 hits as Kylee Lingenfelter, Morgan Adamson, Morgan VanLeer and Grace Aikens each finished with two. Abby Gigliotta homered, Adamson tripled twice and drove in three runs, Aikens doubled and VanLeer drove in three runs.
Alli Ishman got the win on the mound, giving up four hits and striking out one.
Kaylee Brown had two hits for Bradford.
ELK CO. CATHOLIC 5, BROCKWAY 3
ST. MARYS, Pa. – Michelle Gerber tossed a five-hitter with seven strikeouts and hit a solo home run to lead Elk County Catholic to a 5-3 win over visiting Brockway.
ECC led 3-0 after three innings and after Brockway got within 3-2 going into the bottom of the sixth before Gerber homered and Brianna Weisner singled home a run, both after two outs.
Emily Evers had two hits and Rosina Nero doubled for the Lady Crusaders.
Kaitlyn Morelli, Leah Lindemuth and Morgan Uhl singled and scored runs for Brockway.
Kayla Dowdall was the losing pitcher, giving up seven hits while walking three and striking out three.
DUBOIS 3, BROOKVILLE 1
DuBOIS, Pa. – Katie Zameroski's one-out, pinch-hit triple drove in two runs in the top of the sixth inning, propelling visiting DuBois to a come-from-behind 3-1 win over Brookville.
Brookville starter Abby Sunealitis took a 1-0 lead into the sixth before the Lady Beavers rallied for the win. They added an insurance run in the seventh when Laura Fatula singled and came around to score on a wild pitch.
Brookville's lone run came in the third inning when Hannah Kirkwood tripled home a run. Kirkwood had two of the Lady Raiders' four hits off DuBois starter Molly Nosker, who struck out four and walked just one. Sunealitis allowed seven hits, walking four and striking out one.
Sarah Snyder doubled twice and Danessa Allison tripled for DuBois.
CLARION 11, C-L 0, 5 INNINGS
CLARION, Pa. – Sadie Rudesyle tossed a one-hitter over five innings in Clarion's 11-0 10-Run Rule win against visiting Clarion-Limestone.
Rudesyle struck out four and walked one, the lone hit she gave up a single to Karleigh Aaron.
Carly Best, Kaitlyn Constantino and Sydney Kiser each had two hits for Clarion. Constantino tripled and drove in three runs. Kiser doubled and tripled, and MacKenzie DiTullio doubled.
ALTOONA 18, CLEARFIELD 8, 6 INNINGS
ALTOONA, Pa. – Caitlyn Palazzi led a 19-hit attack with a 5-for-5 day, home run, double and four RBIs in Altoona's 18-8 win over Clearfield in six innings.
Montana Feathers and Alexa Young each had three hits and drove in four runs as the Lady Lions scored in all but one inning, including five in the sixth inning that ended the game.
Erica Hanes and Abby Fedder each had two hits for Clearfield. Both of Hanes' hits were doubles and she drove in four runs. Brooke Cline scored four runs and Makayla Ross doubled.
FRANKLIN 11, REDBANK VALLEY 2
FRANKLIN, Pa. – Gracie Streyffler tossed a five-hitter with three strikeouts and Kielie Hawke had four hits and scored three runs to lead Franklin to an 11-2 win over visiting Redbank Valley.
Kara Hicks had two hits and Kristen Shaffer singled in a run for Redbank Valley.
Franklin touched up Lady Bulldogs starter Alyssa Burkett for 10 hits. She gave up two walks and struck out six.
OTTO-ELDRED 2, PORT ALLEGANY 1
DUKE CENTER, Pa. – Otto-Eldred held off visiting Port Allegany for a 2-1 win as Alyssa Shelander threw a six-hitter with three strikeouts and no walks while tripling in a run at the plate.
Erin Stauffer had two hits while MacKenzie Burr and Hannah Lathrop had hits for Port Allegany. Burr was the hard-luck loser, giving up three hits while striking out three with no walks.
KEYSTONE 16, A-C VALLEY 6, 5 INNINGS
KNOX, Pa. – Cora Black had four hits, two RBIs and three runs scored to lead Keystone to a 16-6, five-inning victory over visiting A-C Valley.
Carly Beckery added a 3-for-4 day with a double, three runs scored and three RBIs, while MaKena Stiller was 3-for-4 with three runs and Reagan Lecker added a pair of hits, including a double, and four RBIs.
Emma Wetzel was 3-for-3 with a double and two runs scored for A-C Valley, while Kylee Eaton was 2-for-3 with a double, a run scored and an RBI.
Stiller got the win going five innings allowing six runs. She struck out seven and walked one.
Sydnie Schmidt took the loss going 2 ⅓ innings allowing eight runs, four earned.
FOREST AREA 15, OIL CITY 13
OIL CITY, Pa. – Jasmine Ginnery went 4-for-5 with a double and four RBIs to lead Forest Area to a 15-13 win at Oil City.
Allison Lencer added a 4-for-5 day as well with an RBI, while Jaycee Redick was 3-for-5 with three RBIs, Sarah Lander was 2-for-5 with a double and three RBIs and Jennifer Lander was 2-for-4 with two RBIs.
Emily Goughler paced Oil City going 2-for-4 with a two-run double. Kylee Gonzalez was 2-for-5 with an RBI, and Morgyn McBride had a hit and three RBIs.