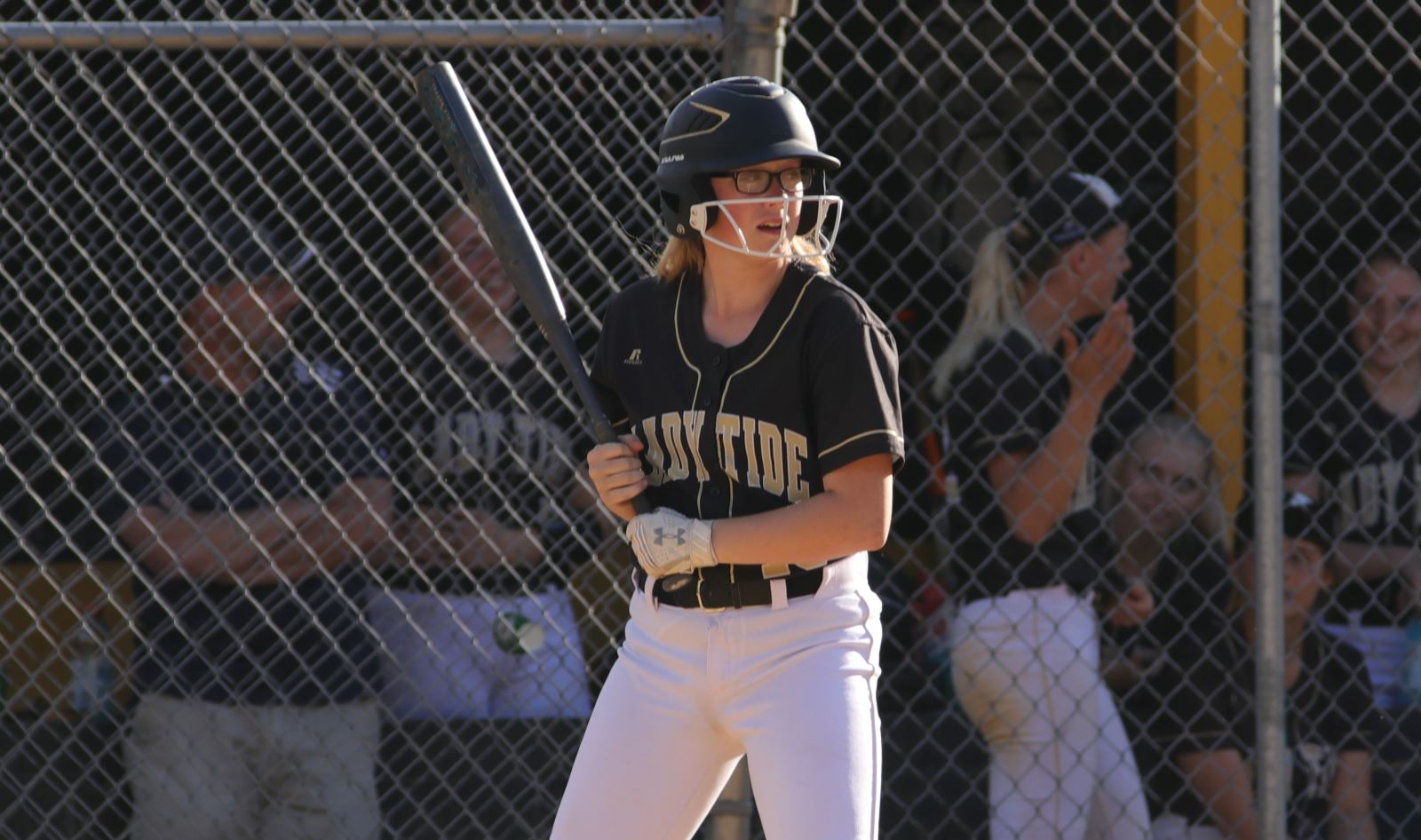 May 20 softball playoff recaps.
(Photo of Curwensville's Mackenzie Wall. Photo by Jared Bakaysa of JB Graphics. See more of Bakaysa's work here)
CURWENSVILLE 8, KANE 7, 8 INNINGS
CURWENSVILLE, Pa. – Freshman Mackenzie Wall walked on a full count with the bases loaded and one out in the bottom of the eighth inning to give fourth-seeded Curwensville an 8-7 victory over fifth-seeded and visiting Kane.
The Lady Tide entered the bottom of the eighth trailing Kane 7-6 after Kane had taken the lead on a Mia Smith bunt that brought home Rachel Haight in the top of the inning.
But Abby Pentz kicked off the bottom of the eighth hitting a fly ball that turned into her reaching first on an error. Logan Sheeder walked and Bailey Bloom hit a ground ball to center field which drove in Pentz to tie the game 7-7.
Watch Wall and Bloom talk about their eighth-inning heroics.
Following the Bloom hit, Alexandria Zattoni pinch ran for Sheeder at second base, and Bella Giuffre singled to advance Zattoni to third and Bloom to second setting up Wall to hit with the bases loaded.
Kane forced extra innings with two runs in the top of the seventh.
Emma Ely doubled to drive in Smith to make the score 6-5 and Katlyn Young grounded out to drive in Ely to tie the game 6-6.
The Lady Wolves scored six of their seven runs in their final four at bats after trailing 5-1 going to the fifth.
Curwensville scored its five runs in the second to take a 5-1 lead with Wall, Ally Hess, Kelsi Bumbarger, Maddie Butler and Pentz scoring for the Lady Tide.
Kane, which took an early 1-0 lead in the second inning on a run-scoring double by Madie Stahi, fought back with a pair of runs in the fifth when Stahi and Jenny Crowley scored to make it 5-3. Crowley came home on a wild pitch.
Curwensville extended the lead to 6-3 with a run in the bottom of the fifth when Butler drove home Hess with a single.
The Lady Wolves got another run off a wild pitch in the sixth inning with Young scoring to make it 6-4.
Butler led the Lady Tide offense going 2-for-3 with a run scored and two RBIs while Hess had a single with two runs scored. Pentz had a single and pair of runs scored with Lauren Tozer hitting a triple in the fourth inning.
Ely paced the Lady Wolves offense driving in two runs while going 2-for-5 with a double and run scored. Stahi also doubled and went 2-for-4 with a run scored and an RBI while Smith went 2-for-3 with a run scored and an RBI.
Joslynne Freyer earned her first career playoff win with 11 strikeouts while giving up seven runs, five earned, on six hits, five walks and three hit batters in eight innings of work.
Rachel Danielson struck out eight in the loss for Kane. She gave up the eight runs, three earned, on seven hits and nine walks in 7 ⅓ innings in the circle.
Curwensville will face the top seed, Redbank Valley, at 4 p.m. Wednesday, May 22, at the Redbank Valley Elementary School.
CRANBERRY 9, MONITEAU 3
SENECA, Pa. – All nine Cranberry starters either had a hit or a run scored, as the third-seeded Berries, the defending champions, knocked off sixth-seeded Moniteau, 9-3, in the District 9 Class 2A softball quarterfinals Monday afternoon at a windswept Cranberry Softball Field.
Andrea Watson, Malliah Schreck and Jenna Reynolds each had multiple-hit games for Cranberry, and Rachel McCauley helped break the game open early with a two-run, two-out single in the second inning that gave the Berries a 5-1 lead.
McCauley talked about her hit and the victory during a postgame interview.
McCauley was 1-for-4 in the contest with the two RBIs, while Watson led the way going 3-for-4 with three bunt base hits and three runs scored. Schreck was 2-for-4 with a double and a run scored with Reynolds going 2-for-3 with an RBI.
Schreck's double came during a quick two-out rally in the fourth inning by Cranberry, which got back-to-back doubles from Schreck and Megan Hadden followed by an RBI single by Maria Anderson to turn a 5-2 advantage into a 7-2 lead.
It was one of three multiple-run innings for the Berries who also scored four in the second to break a one-all tie and two in the fifth to set the final score.
Cranberry was clutch with two outs in the contest going 5-for-10 in those situations.
Moniteau, meanwhile, left 10 runners on base, including eight in scoring position.
Abby Rottman had a strong game for the Lady Warriors going 3-for-4 with a double, a run scored and an RBI. Lexi Miller added a double and an RBI, and Amanda Dailey scored twice while going 1-for-2.
Watson got the win going seven innings allowing three runs, two earned, on seven hits and seven walks while striking out four.
Courtney Stewart took the loss going two-plus innings allowing five runs, one earned, on five hits and four walks. Amanda Dailey pitched the final four innings allowing four runs, two earned, on six hits and a walk.
Cranberry will play at second-seeded Johnsonburg in the semifinals at 4 p.m. Wednesday at Knothole Park in Johnsonburg. It is a rematch of last year's District 9 Class 2A title game won by Cranberry.