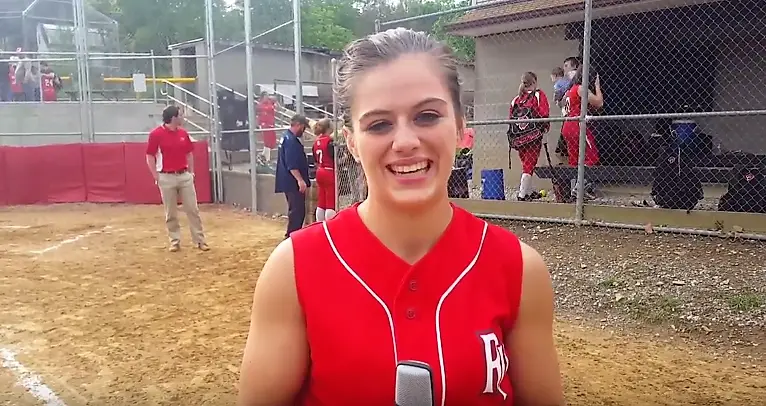 May 22 District 9 softball playoffs roundup.
(Cover photo: Alyssa Burkett, Redbank Valley)
REDBANK VALLEY 4, BROOKVILLE 0
NEW BETHLEHEM, Pa. – Alyssa Burkett tossed a two-hit shutout, and Redbank Valley scored single runs in four of its six plate appearances to beat visiting Brookville, 4-0, in the District 9 Class 2A softball playoffs Monday afternoon at the New Bethlehem Elementary School.
Burkett tossed 4 ⅓ innings of no-hit ball before Lauren Hergert broke up her no-hit bid with a solid single to left with one out in the fifth. But Hergert was one of only three bases runners on the afternoon for the Lady Raiders, who also got a second-inning walk from Carlie McManigle and a sixth-inning single from Marcy Schindler.
Redbank Valley, meanwhile, scored solo runs in the first, fourth, fifth and sixth to grab the win and advance to the semifinals for the second straight year where it will meet top-seeded and three-time defending champion Moniteau at 4 p.m. Wednesday at Moniteau.
Burkett, who struck out seven, talked about her strong performance after the game.
Macyee Shumaker and Kristen Shaffer were both 2-for-3 with an RBI apiece for Redbank Valley, while Lauren Rearick had the Lady Bulldogs' lone extra-base hit among their 10 hits with a run-scoring sixth-inning double to center.
Kaia Rearick, who was 1-for-3- with an RBI as well, Kara Hicks, Tori Sayers and Sami Leasure scored the runs for Redbank Valley.
Carlie McManigle took the loss for Brookville allowing the four runs, all earned, on 10 hits and no walks while striking out two in six innings of work.
Redbank Valley is no 12-6 on the year, while Brookville finishes the season at 8-12.
JOHNSONBURG 10, CURWENSVILLE 0, 5 INNINGS
JOHNSONBURG, Pa. – Getting the majority of the damage from the bottom of its lineup, Johnsonburg dispatched visiting Curwensville, 10-0 in five innings, in the District 9 Class 2A quarterfinals Monday afternoon.
The eighth and ninth spots in the Ramettes batting order combined to go 5-for-6 with four runs scored and five RBIs in the victory.
No. 9 hitter Maddie Herzing was 3-for-3 with a double, two runs scored and three RBIs, while No. 8 hitter Kylee Wall went 2-for-3 with two runs scored and two RBIs.
That played a big role in leadoff hitter Nicole Myers driving in a pair of runs while going 2-for-4. Maria Jones added two runs scored and was 1-for-3, while courtesy runner Alyssa Kasmierski scored three times and pitcher Skylar Sherry was 1-for-3 with a pair of RBIs.
Sherry allowed just seven base runners, three by error, three by walk and one hit, while striking out five in getting the five-inning complete-game shutout.
Johnsonburg took advantage of seven Curwensville errors to score five unearned runs off Clerissa Cole, who gave up 10 runs on 11 hits while striking out two in 4 ⅓ innings of work.
Five of the Ramettes runs came in the second inning and then four more came in the fifth when Johnsonburg ended the game with the 10-run Mercy Rule.
Kayley Harnett had Curwensville's lone hit.
Johnsonburg, which moves to 14-4 with the win, takes on second-seeded Cranberry in the semifinals at 4 p.m. Wednesday at Cranberry.
Curwensville ends the season at 9-12.
DUBOIS 19, HOLLIDAYSBURG 4, 4 INNINGS
DUBOIS, Pa. – DuBois wasted little time vanquishing winless Hollidaysburg from the District 6-9 semifinals with a 19-4, four-inning win.
The Lady Beavers scored multiple runs in all four innings including an eight-run second and five-run four that invoked the 15-run Mercy Rule.
Rachel Gildersleeve drove in five runs while going 2-for-2 with a double, a run scored to lead the way for DuBois while winning pitcher Sarah Snyder was 3-for-4 with three runs scored and two RBIs. Laura Fatula chipped in with a pair of RBIs and three runs scored, while Maddie Smith had two RBIs and two runs scored and Danessa Allison two RBIs and a run scored. Marissa Torretti also went 2-for-2 with an RBI and two runs scored for the Lady Beavers, and Kylee Bundy scored three times.
Kelly Marchi was 2-for-2 with a triple and an RBI for Hollidaysburg, which scored three of its runs in the first inning. Emily Baker added a hit, a run scored and two RBIs.
Snyder got the win going four innings allowing four runs, three earned, on six hits, a walk and a hit batter while striking out two.
Oakley Fox-Kern took the loss lasting two innings and giving up 11 runs, six earned, on eight hits and four walks.
The Lady Beavers will meet Central Mountain at noon Wednesday at Penn State University for the right to play District 10's Meadville to go to the PIAA playoffs.