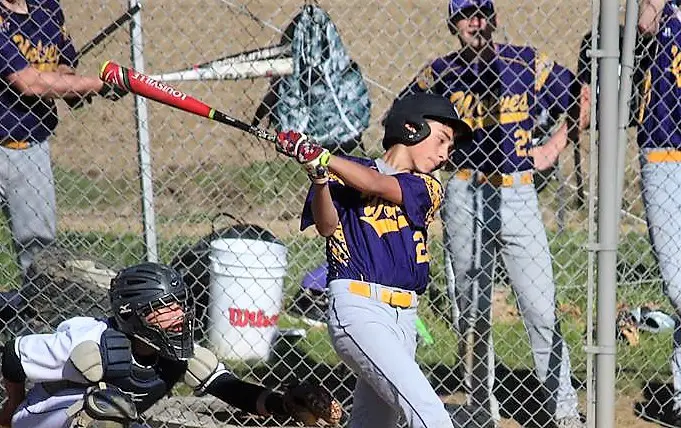 May 23 playoff baseball roundup.
(Cover photo: North Clarion's Matson Higgins. Photo by Christie Datko)
NORTH CLARION 10, CLARION-LIMESTONE 9, 9 INNINGS
FRILLS CORNERS, Pa. – Devon Walters' walk-off single to left scored Matson Higgins from third in the bottom of the ninth, and North Clarion beat visiting Clarion-LImestone, 10-9, in the opening round of the District 9 Class 1A baseball playoffs.
Higgins, who got the win after throwing six innings of relief, started the rally by getting hit by a pitch. He moved to second on a groundout and to third on a wild pitch before scoring the winning run that sends North Clarion up against top-seeded Clarion at 4:30 p.m. Thursday at the Clarion County Park.
Walters and Higgins, both freshman, talked about the victory.
It was a game of spurts with North Clarion taking leads of 4-0, 5-1 and 6-2 before a five-spot in the fourth put C-L up 7-6. The Lions then scored twice more in the fifth to take a 9-6 lead before the Wolves scored three times in the bottom of the fifth to tie the game at nine.
Zander Hargenrader had a two-run triple, and Sam Minich knotted the contest with a sacrifice fly.
C-L got a leadoff double in the sixth from Leadbetter, who was at third with one out following a balk, but a lineout and a nice running catch in center by Korey Mills kept the game tied.
Zander Hargenrader was 2-for-5 in the game with three RBIs and a run scored. He also pitched two-plus innings allowing two runs on three hits, four walks and a hit batter while striking out one. But he only threw 47 pitches meaning he is eligible to come back and pitch against Clarion Thursday.
Zyler Hargenrader added a 2-for-5 day with a pair of RBIs, while Mills was 2-for-5 with two runs scored and Tyler-McCord Wolbert was 2-for-5 with a run scored. Sam Minich chipped in a 1-for-2 afternoon with an RBI and two runs scored.
Drew Beichner was 3-for-4 with two RBIs out of the nine hole and saw his courtesy runner Cole Grenci score a run for CL. Colby Himes went 2-for-4 with a two-run double, a run scored and three RBIs, while Hummell was 2-for-4 with an RBI and two runs scored. Curvin Goheen and Zane Summerville both scored twice as well.
Higgins got the win needing just over 70 pitches to go six innings allowing four runs on seven hits and two hit batters while striking out two. Noah Meyers also pitched for North Clarion going one inning allowing three runs on one hit and three walks.
Christian Smith took the loss going 2 ⅓ innings allowing one run on one hit, one walk and a hit batter while striking out one. Leadbetter started and went 6 ⅓ innings allowing nine runs, eight earned, on 11 hits, three walks and a hit batter while striking out four. He was removed after reaching 100 pitches with one out in the seventh, although there was a conflict on the number of pitches he threw. C-L had him at 99 after he recorded the first out in the seventh meaning he could have pitched to one more batter, but North Clarion, which as the home team had the official count, listed him at 100.
BROCKWAY 4, REDBANK VALLEY 2
OAK RIDGE, Pa. – With one out in the bottom of the seventh, the bases loaded and his team up a pair, Brockway manager Terry Moore turned to Santino Inzana, and the junior came up big with a little luck when he got Bryan Layton to line the ball to second baseman Andrew Trunzo who flipped to shortstop Tyler Serafini to end the game.
The game-ending double play featured the two players other players who had seen the mound in the seventh for the Rovers.
Serafini, who got the win going 6 ⅓ innings allowing two runs on four hits and five walks, started the inning by getting a fly out before walking a batter reaching his 100-pitch limit with 104.
Trunzo relieved and was wild walking two to load the bases for Layton. That's when Moore made the change to Inzana, who got the save throwing just four pitches.
Brockway led 4-0 through four thanks in large part to a 3-run first inning that featured a three-run, two-out double by Angelo Inzana.
Redbank Valley battled back with a pair of runs in the fifth on a Grayson Harman bases-loaded walk and a Blaney Brooks single.
Trunzo was 2-for-3 for Brockway with a run scored, while Jesse Johnson scored twice including on a solo home run in the third.
Layton took the loss going 6 ⅔ innings allowing four runs on four hits and three walks while striking out 11.
Brockway will take on third-seeded Cranberry at 4:30 p.m. Thursday at Cranberry.
BROOKVILLE 8, COUDERSPORT 1
COUDERSPORT, Pa. – Leading 3-1 going into the seventh, fifth-seeded and visiting Brookville batted around scoring five times to put the game away in getting an 8-1 win over fourth-seeded Coudersport at Coudersport.
Aaron Park had the big hit in the inning, a two-run triple.
But the biggest hit of the game for the Raiders came in the fourth with runners on second and third and two outs and Brookville trailing 1-0. That's when Bryan Dworek doubled to give the Raiders the lead.
Park was solid on the mound going six innings allowing one unearned run on five hits and two walks while striking out three.
Tanner LaBenne had three hits to lead the Brookville offense while Park and Dworek each added two.
Blake Burgett paced Coudersport with a pair of hits, while Kullen Crosby had a double.
Burgett took the loss going four innings allowing two runs.
Brookville will take on top-seeded Johnsonburg at 4:30 p.m. Thursday in Johnsonburg.
BRADFORD 3, ST. MARYS 2
ST. MARYS, Pa. – Danny Manion outdueled Michael Beimel, and fourth-seeded Bradford upset top-seeded St. Marys, 3-2, at Berwin Park in St. Marys.
Manion needed 97 pitches to throw a complete-game six hitter allowing two runs, both earned. He walked one and struck out five.
Beimel tossed 95 pitches in throwing a complete-game, seven-hitter. He allowed three runs, two earned. He walked two and struck out six.
Manion's biggest pitch came with the tying run on second with two outs in the seventh when he induced a flyout to right by Michael Beimel to end the game.
The Owls, who scored twice in the first, got a big insurance run in the sixth Adam Boyer scored on an error on a ball hit by Kyle Kirk.
Boyer, who scored twice, was running for Danny Manion, who started the inning with a leadoff double.
Thomas Guay and Peyton Manion each had a pair of hits for Bradford with Peyton Manion also driving in a run. Jack Pecora added a 1-for-3 day with a run scored and an RBI.
Michael Beimel was 2-for-4 with a run scored for the Dutch, while Brendon Rolley was 2-for-3 with a run scored. Tim Beimel and Hayden Tettis had RBIs, and Jeff Wehler added a double.
Bradford will play for the District 9 title next week against the winner of Wednesday's other semifinal between Punxsutawney and Clearfield.