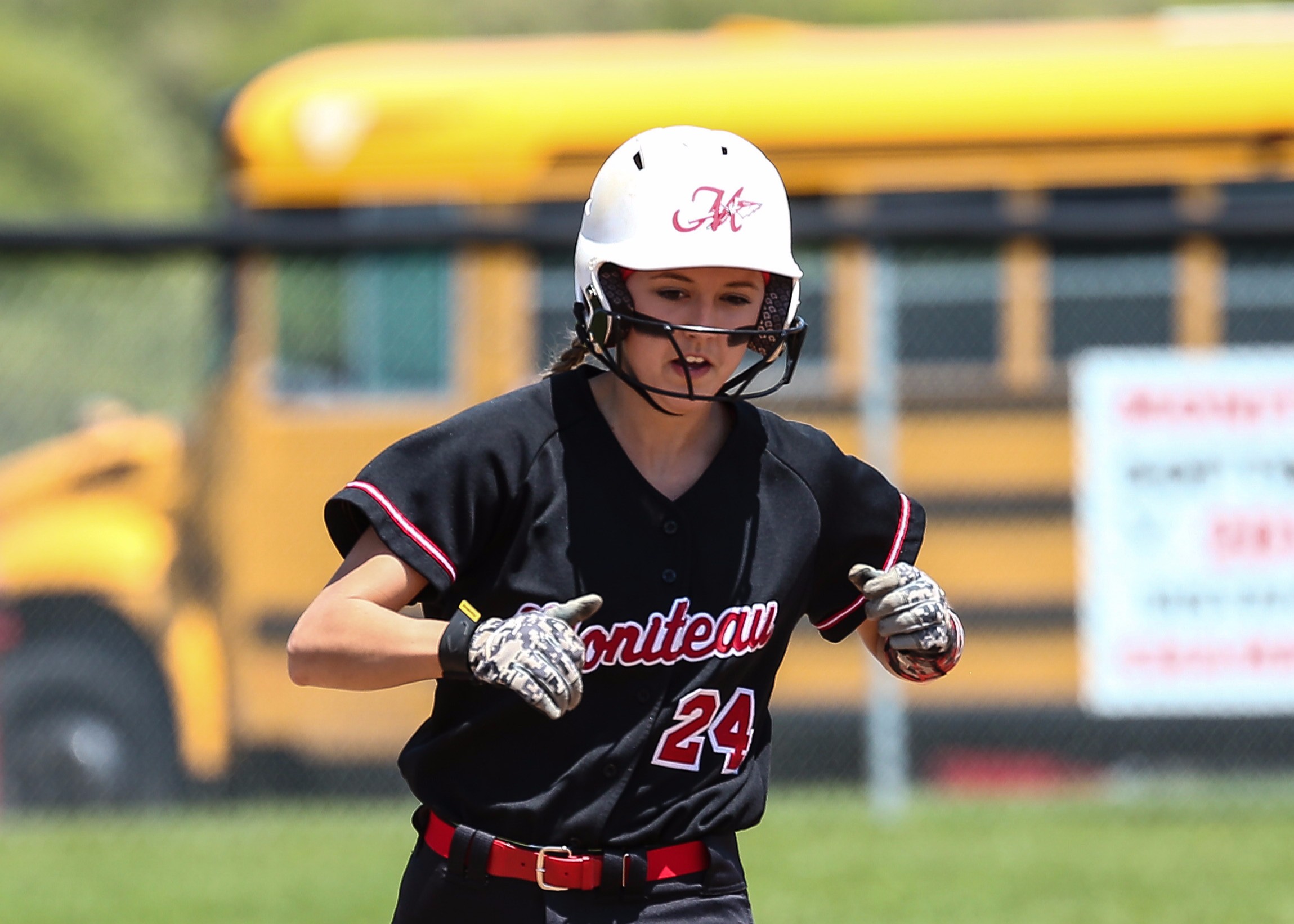 Wednesday's District 9 softball playoff recaps.
Read baseball recaps from Wednesday. 
CLASS AA
(1) MONITEAU 10, (5) REDBANK VALLEY 0, 5 INNINGS
WEST SUNBURY, Pa. – Cortney Claypoole homered and drove in three runs, and Kennedy DeMatteis allowed one hit, as top-seeded Moniteau rolled to a 10-0, five-inning win over fifth-seeded Redbank Valley in the District 9 Class AA semifinals.
Claypoole had two of Moniteau's 11 hits on the day including a two-run home run over the centerfield fence in a six-run fifth inning for the Lady Warriors that ended the game.
Gabby Stewart was on base four times out of the leadoff spot going 3-for-3 with w walk, three runs scored and two RBIs. Her RBI single in the fifth ended the contest scoring Alyssa Dailey, who was 2-for-3 with two runs scored.
Megan Hepler added a two-run double in the deciding fifth inning.
That run support was more than enough for DeMatteis, who gave up her first hit in three outings against Redbank Valley this season but little else. She walked one and struck out eight in getting the shutout win.
Moniteau manager Dan Beebe talked about the win.
Alyssa Burkett held Moniteau in check to an extent for the first four innings before the Lady Warriors got to her in the fifth.
She gave up a run in the first and then three more in the second and finished the day going 4 ⅔ innings and allowing 10 runs on 11 hits, a walk and a hit batter. She struck out six, although one of those reached on a wild pitch.
Maycee Shumaker had Redbank Valley's lone hit, a two-out single to center in the fourth.
Moniteau (20-1), the two-time defending champion, will take on Cranberry in the title game at a date, time and site to be announced.
Redbank Valley ended the year 10-8.
(2) CRANBERRY 8, (3) JOHNSONBURG 5
SENECA, Pa. – Andrea Watson had three hits and two RBIs to lead second-seeded Cranberry to an 8-5 win over third-seeded Johnsonburg in the District 9 Class AA semifinals at Cranberry.
Watson, who was 3-for-4 with a pair of runs scored, singled and scored in a three-run first inning that put the Berries up 3-0, a lead they never relinquished.
Cranberry, which also got a pair of hits from Malliah Schreck, including a two-run single in the first, added a four-spot in the fourth that put it ahead 8-2.
Watson had a two-run single in the fourth, while both her and Schreck, who also had a single in the inning and went 2-for-4 with two RBIs and two runs scored, scored the other two runs.
Libby Kiefer added a 2-for-4 day with two RBIs for the Berries, while Tori Flinspach was 2-for-3 with a walk.
Trailing by six with just three at-bats left, Johnsonburg tried to rally cutting the lead to 8-4 on a two-run single by Lindsey Kocjancic in the fifth and then getting an RBI double by Skylar Sherry with two outs in the sixth.
Kocjancic, who was 3-for-4 with two RBIs, added a two-out single in the seventh, but Ashton Watts popped up ending the game.
Sherry added a single to her double and was 2-for-3 with a run scored and an RBI.
Sarah Barcinas got the win going seven innings allowing five runs, three earned, on eight hits and six walks while striking out six.
Hannah Park took the loss allowing eight runs, six earned, on 10 hits and five walks while striking out one in six innings.
Cranberry (16-3) will take on top-seeded and two-time defending champion Moniteau in the title game at a time, date and place to be announced.
Johnsonburg finished the year 13-7.
CLASS A
(3) CLARION 4, (2) COUDERSPORT 2
ST. MARYS, Pa. – Clarion built a 4-0 lead after 5 ½ innings then held off a late Coudersport rally to move into the District 9 Class A championship game for the first time since 2011 with a 4-2 win over the second-seeded Lady Falcons at Benzinger Park in St. Marys.
The Lady Cats grabbed an early 1-0 lead on a two-out single to right by Sydney Kiser in the second that scored Alexis Constantino from second.
Clarion then added three runs in the top of the sixth on back-to-back RBI doubles by Constantino and Maya Thornton, and another RBI single by Kiser.
Coudersport fought back plating two runs in the bottom of the sixth thanks to some shaky Clarion defense and some heads-up baserunning.
Joplin Osgood for the rally started when she reached third on an error by Kiser, the centerfielder. She came home on an RBI groundout by Bianca Rousell-Gooch.
Macy Gleason then singled to center and went all the way to third on another error by Kiser before scoring on a Shaelyn Black groundout.
But Black's groundout started a string of five in a row retired by Sadie Rudesyle to finish the game for the Lady Cats.
Rudesyle threw a complete-game three-hitter allowing two unearned runs. She walked one and struck out seven, as Clarion won its ninth straight game to move to 15-7 on the season.
Constantino, Thornton and Kiser, the six, seven and eight hitters in the lineup, each had two hits for Clarion with Constantino going 2-for-3 with a double, two runs scored and an RBI, Thornton 2-for-3 with a double, a run scored and an RBI and Kiser 2-for-3 with two RBIs.
Osgood was 1-for-3 with a run scored for Coudersport.
EmmaRae Easton took the loss allowing four runs, two earned, on seven hits and a walk while striking out three.
Clarion, which is looking for its second girls' title of the school year having won the volleyball crown in the fall, will face the winner of Thursday's other semifinal game between top-seeded and unbeaten DuBois Central Catholic and fifth-seeded A-C Valley, in the title game at a date, time and site to be determined.
Coudersport ended the season 13-5.
CLASS AAA
(3)CLEARFIELD 6, (2) ST. MARYS 5
ST. MARYS, Pa. – Clearfield's Aspen Bishop gunned down Brittany Geitner trying to score the tying run on a base hit Cheyanne Sarnoski with one out in the bottom of the seventh inning to help third-seeded Clearfield hold on for a 6-5 win over second-seeded St. Marys in the District 9 Class AAA semifinals at St. Marys.
Geitner had singled home a run earlier in the inning and was at second base with the Lady Dutch trailing 6-4 when Sarnoski singled to left scoring Sara Newell to make it 6-5. Geitner also tried to score on the play, but Bishop's throw beat her for the second out of the inning. Raeleigh Redden, who had only given up four hits and two runs prior to the seventh, then recorded her fourth strikeout of the game to send Clearfield to the District 9 title game since the Lady Bison won the 2007 title with a 4-0 win over Punxsutawney.
In fact, that title-game win over the Lady Chucks, who Clearfield will play in the 2016 title game at 4:30 p.m. Tuesday at the Highland Elementary School Field in DuBois, in 2007 was the last time Clearfield won a postseason game.
On Wednesday, it looked like it would be easy sailing for the Lady Bison, who led 6-2 going to the bottom of the seventh with Redden apparently in cruise control having given up just the two hits.
But St. Marys strung together five hits in a row in the inning and six in all, to get within striking distance.
Run-scoring singles by Geitner and Allie Vollmer made it 6-4 before Sarnoski came to the plate. Even after Geitner was thrown out at home, St. Marys had the winning run at second before Redden shut the door with the strikeout.
Bishop also added two singles on offense for Clearfield, while Nikki Brossard had a pair of base hits as well and Makayla Ross a two-run single.
Morgan Krug, Sara Newell and Sarnoski each had two singles for St. Marys with Sarnoski also picking up an RBI. Vollmer had two RBIs.
St. Marys went up 1-0 in the third on a Vollmer RBI, but Clearfield scored four times in the fourth with all the runs coming after two outs including Sierra Jones scoring the tying run on a two-out throwing error. Ross then put Clearfield ahead for good with a two-run single to left-center before Brooke Cline singled home the Lady Bison's fourth run.
St. Marys got a run back in the bottom of the fourth when Bekka Bauer hit a sacrifice fly scoring Sarnoski, who had singled.
Clearfield added two, what turned out to be important, insurance runs in the seventh on RBI singles by Brossard and Redden.
Redden got the win going seven innings allowing five runs, four earned, on 10 hits, a walk and two hit batters. She struck out four.
Bauer took the loss going seven innings allowing six runs, two earned, on eight hits, three walks and a hit batter while striking out six.
Clearfield is now 9-12. St. Marys ended the season 11-9.