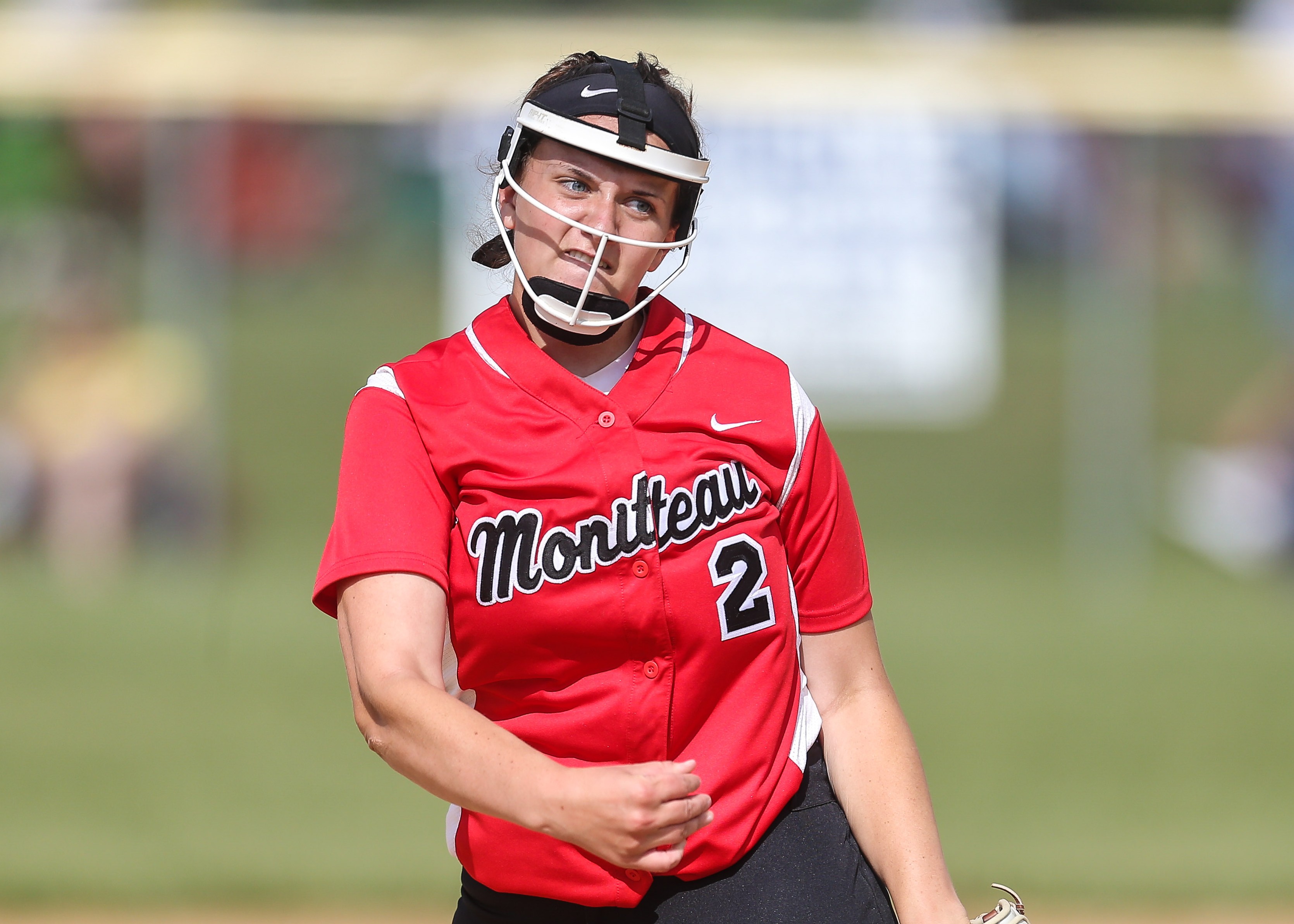 Thursday's baseball and softball recaps.
SOFTBALL
DUBOIS CENTRAL CATHOLIC 12, BROCKWAY 1, 5 INNINGS
DUBOIS, Pa. – Ashley Wruble had three hits, including a double, and drove in four runs to lead DuBois Central Catholic to a 12-1, five-inning win over visiting Brockway.
Libby Maurer and Macey Hanes each added two hits for the Lady Cardinals.
Riley Assalone got the win in relief of Wruble. She pitched 2 ⅔ innings and struck out six of the eight batters she faced.
Wruble started and went 2 ⅓ walking two and hitting a batter.
CLEARFIELD 3, CURWENSVILLE 1
CURWENSVILLE, Pa. – Raleigh Redden out pitched Rylee Young, as Clearfield made the short trip over to Curwensville a happy one with a 3-1 victory over the Lady Tide.
Redden went the distance giving up one run on eight hits and three walks while striking out four.
Young also went seven innings allowing three runs on five hits and three walks while striking out nine.
Erica Hanes had the big hit for Clearfield, a two-run double in the sixth inning. Abby Fedder added a pair of knocks for the Lady Bison, while Lindsey Hand scored as a pinch runner in the fourth on a Makayla Ross single to left.
Abby Fedder had a pair of hits for Clearfield, while
Kaylee Harnett paced Curwensville with two hits.
MONITEAU 17, KARNS CITY 0, 4 INNINGS
CHICORA, Pa. – Visiting Moniteau made quick work of rival Karns City with a 17-0, four-inning victory.
There were plenty of accolades to go around for the Lady Warriors starting with pitcher Kennedy DeMatteis, who tossed a one-hit shutout.
DeMatteis struck out nine and walked three and also helped herself with a pair of hits, including a triple, three RBIs and two runs scored.
Cortney Claypoole also drove in three runs while scoring twice, Gabby Stewart had two singles and two runs scored, Kristina DeMatteis added three hits, including a double, two runs scored and two RBIs, Alyssa Dailey had two hits, two RBIs and two runs scored, Alazia Greaves added two hits, two RBIs and a run scored and Bailey Hoffman had a single, a run scored and two RBIs.
Alyssa Stitt had Karns City's line hit, a leadoff double.
Moniteau is now 14-1 on the year.
BASEBALL
DUBOIS CENTRAL CATHOLIC 4, BROCKWAY 0
BROCKWAY, Pa. – Jake Miknis, Nick Szczerba and Justin Miknis combined on a one-hit shutout, as visiting DuBois Central Catholic beat Brockway, 4-0.
Jake Miknis started and went three hitless innings. He walked one and struck out four.
Szczerba followed and got the win going three innings and allowing a hit and a walk while striking out three. Justin Miknis pitched a scoreless seventh allowing two walks and striking out two.
Jake Miknis added a double and was 1-for-1 with an RBI while also walking three times. Austin Cogley also doubled and was 1-for-4 with a run scored and an RBI. Jack Frank added a pair of runs scored, and Mike Misiewicz picked up an RBI.
Braden Martini had Brockway's lone hit.
Mike Martino was the hard-luck loser going seven innings and allowing four runs, two earned, on four hits and six walks while striking out four.
BROOKVILLE 5, CURWENSVILLE 0
CURWENSVILLE, Pa. – Ben Reitz's 3-hit gem lifted visiting Brookville to a 5-0 win over Curwensville.
Reitz needed just 61 pitches to shutout the Golden Tide. He didn't walk a batter and he struck out three.
Reitz aided himself by going 2-for-4 at the plate with two RBIs. Jordan Tosh was also 2-for-4 with an RBI, while Brady Caylor was 2-for-4 and Kyle Dunkle 1-for-2 with three walks and two stolen bases. Gavin Park added an RBI for the Raiders.
Noah Vangunden, Jake Terry and RJ Olson had the hits for Curwensville.
Olson suffered the loss despite pitching well. He allowed two runs on seven hits and four walks while striking out three in five innings of work. Brookville then tagged reliever Noah Strickland for three runs in the seventh to open the game up.
MONITEAU 2, KARNS CITY 1, 10 innings
BUTLER, Pa. – Wyatt Ifft's one-out single in the top of the 10th inning drove home JJ Waid with the go-ahead run, and Moniteau pulled out its second one-run win over rival Karns City this year, 2-1, at Kelly Automotive Park in Butler.
Waid led off the 10th by getting hit by an Eric Dodd pitch and was sacrificed to second by Nick Sosigan before taking third on a wild pitch and scoring on Ifft's line-drive single to left.
The game was a classic pitcher's duel between Moniteau's Derek Boben and Karns City's Holden Martin, but neither pitcher was around to figure in the decision.
Boben went the first eight innings allowing one unearned run in the first inning on five hits. He didn't walk a batter and struck out 11.
Martin went nine innings also allowing one run, it was earned, in the sixth inning. He gave up just three hits and a walk while striking out five.
Aaron Marterella got the win going the final two innings allowing one hit and a walk while striking out one.
Dodd took the loss allowing the run on two hits and a walk in one inning of work.
Boben had two of Moniteau's five hits going 2-for-5, while Marterella had the other RBI.
Martin had a triple for Karns City that turned into the Gremlins lone run in the first inning when courtesy runner Colton Hutchison scored on a two-out error by Boben on a ball hit by Marcus Lanz. Evan Stitt was 2-for-5 and Hunter Schaffner was 2-for-4 for the Gremlins.
Moniteau tied the game in the sixth when Wyatt Geibel led off by being hit by a pitch, was moved to second on a bunt by Jake Jewart, took third on a passed ball and scored on a ground out by Marterella.
CLARION 6, NORTH CLARION 1
FRILLS CORNERS, Pa. – Reed Anthony retired the final 10 batters he faced and 15 of the final 16, as visiting Clarion beat North Clarion, 6-1.
After a bit of a rough start that saw North Clarion get four of its five hits in the first two innings including three in the second when the Wolves scored their lone run, Anthony found a groove allowing just two base runners over the final five innings. He struck eight on the afternoon while walking one.
Anthony discussed his good game.
Clarion led 3-1 until the seventh when the Bobcats scored three unearned runs following a pair of North Clarion errors. The late rally included an RBI single by Anthony.
Luke Nellis hit a towering inside-the-park home run for Clarion that would have cleared the fence at most parks. But North Clarion doesn't have a fence, and, instead, the ball rolled nearly to the track that is far beyond where a left fielder normally plays and actually down a slight hill.
Bo Miller also drove in a pair of runs for the Bobcats, and Adrian Weber was 2-for-4 with two runs scored.
Zayn Hargenrader paced North Clarion going 2-for-3.
Griffin Schmader took the loss. His line doesn't tell how well he pitched in his first extended outing of the season, as he ended up giving up six runs, three earned, in seven innings on nine hits, three walks and a hit batter while striking out five. But Schmader, who had pitched just three innings all season, kept the Wolves in the game through six limiting Clarion to just seven hits and three runs, all in the first two innings. He struck out three in a row, all looking at one point between the third and fourth innings.
BALD EAGLE 5, CLEARFIELD 2
WINGATE, Pa. – Behind a strong all-around game from Ryan Guenot, Bald Eagle downed visiting Clearfield, 5-2.
Guenot picked up the win going six innings and allowing two runs on five hits and five walks while striking out six. He was also 2-for-3 at the plate with a double, and his courtesy runner, Jake Gates, scored three times.
Noah Chambers and Trey Butterworth also doubled for Bald Eagle Chambers going 2-for-2 with a walk and Butterworth 2-for-3 with an RBI. Tanner Kresovich added a pair of RBIs.
Tommy Hazel didn't pitch badly for Clearfield giving up five runs, one earned, in five innings of work. He allowed seven hits and a walk while striking out two.
Zane Morgan was 2-for-4 with a run scored for Clearfield, while Ty Bender had a double and scored a run.
CRANBERRY 16, FOREST AREA 1, 3 INNINGS; CRANBERRY 15, FOREST AREA 0, 3 INNINGS
TIONESTA, Pa. – Needing just a total of six innings to score 31 runs, Cranberry easily swept a doubleheader over Forest Area at West Forest winning Game One 16-1 in three innings and Game Two 15-0 also in three innings.
In Game One, the Berries sent 14 men to the plate in the first inning scoring 10 runs including each of the first nine batters scoring runs in the inning. The first out of the inning was recorded until Evan Lutz, the 10th man to bat in the inning, popped up to shortstop. Each of the first six batters in the inning reached via either a walk or a hit batter, and the seventh batter, Nolan Brannon, playing in his first game of the year after suffering an injury in wrestling, hit a three-run home run. That was followed by two more walks before Lutz popped out. But Austin Rex then followed with a three-run homer of his own to put a cap on the inning.
Forrest ended up driving in four while going 2-for-2 with two runs scored. Seth Pochran also had a pair of hits for Cranberry while scoring three times.
Andrew Gunn picked up the win. He gave up one unearned run and struck out five in three innings.
Nic Smail, who reached on an error leading off the bottom of the first, scored the Fires lone run.
It was another big first inning that paved the way to the Game Two victory for Cranberry with the Berries plating eight runs in the inning while sending 12 men to the plate. Seven of the first nine batters scored for the Berries, who took advantage of three Forest Area errors in the inning.
Rex led the way offensively going 2-for-3 with three RBIs and a run scored. Tylor Ziegler also drove in two runs.