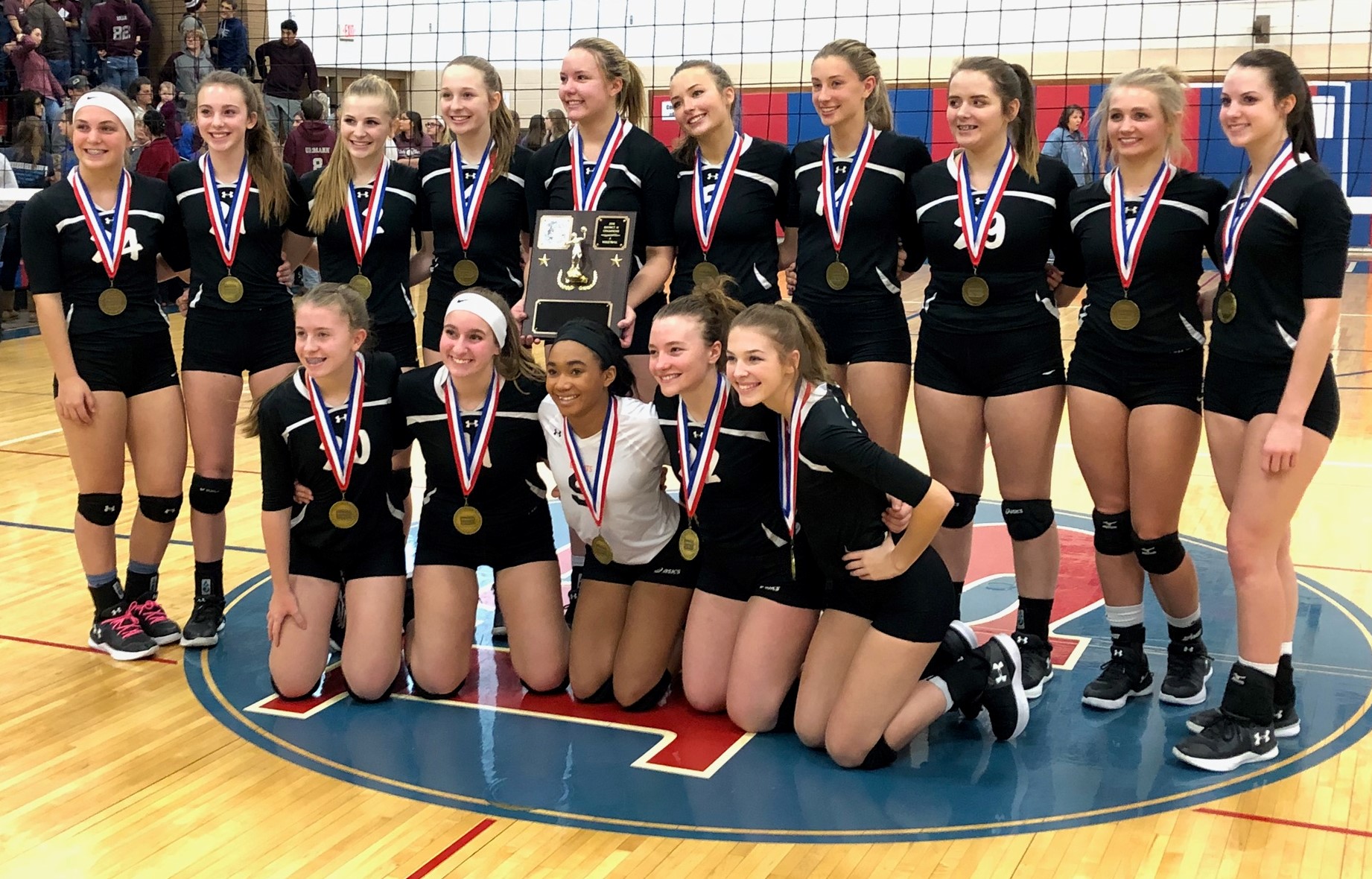 ST. MARYS, Pa. – Using a strong middle game led by Hailey Sintobin and Dorothy Kalinowski, Clarion claimed its first District 9 Class 1A volleyball title since 2015 and its 12th since 2001 with a 3-0 (30-28, 25-13, 26-24) win over Ridgway in the championship match Saturday at St. Marys High School.
Relistne to the audio broadcast of the game.

"This feeling is absolutely amazing," Kalinowski, who finished with eight kills while hitting .538 (8 of 13) said. "The Clarion volleyball team hasn't won a district title since 2015. I was blessed to be on that team, too. To be back here is incredible. There are no other words for it."
Kalinowski was strong early helping Clarion rally from a 24-21 first-set deficit to take the set, and then Sintobin took over late recording five of her match-best 11 kills in the third set, which was another extra-point victory for the second-seeded Lady Cats.
"It's something we worked so hard for," Sintobin, who perhaps had the best day of her career hitting .689 (11 of 13) while adding two blocks, said. "It is such an amazing feeling when something you put absolutely all your effort into comes out on your side. It is absolutely amazing."
Early on, it didn't look like it was going to be amazing for Clarion.
Top-seeded Ridgway blasted out to a 4-1 lead in the opening set behind kills from Lacie Cherry and Casey Woodford and continued to lead throughout all of the regulation portion of the set building the advantage to 22-18 following back-to-back Woodford aces and then getting it to 24-21 after a hitting error by Clarion's Maddie Schill.
But following a timeout, Clarion took control of the momentum of the set.
A Brooke Thomas serving error made it 24-22, then freshman Korring Burns, who had a double-double with 10 kills and 11 digs, found open floor to make it 24-23. A reception error by the Lady Elkers knotted things up at 24 in the must-win-by-two points set.
Ridgway got the set point back when Lexie Lauer's attack went out of bounds, but Schill, who had six kills, then tied it at 25 before Kalinowski gave Clarion its first lead of the set with a kill to make it 26-25.
This time it was the Lady Elkers who fended off set point when Kalinowski couldn't get a hit to go down tying things up at 26.
Clarion had another set point following another Ridgway error, but a Burns hitting error tied things at 28.
Finally, the Lady Cats won the set on a Ridgway error followed by a Burns kill.
"We were almost holding back and we weren't sure why," Sintobin said of what was talked about during the timeout at 24-21. "We just knew that we needed to drive as hard as we could like we do in practice. All that effort we put in. All those hours we put in. We needed to bring that out and drive forward."
Watch more of Sintobin's thoughts on the game after she was named the co-Hager Paving Player of the Game with Kalinowski.
Winning the first set seemed to relax Clarion a bit, and after falling behind 7-6 early in the second set, the Lady Cats used an 8-0 run that featured kills from Sintobin, Schill, Kait Constantino and Kalinowski and a tandem block from Kalinowski and Constantino to go ahead 14-7 on their way to the 25-13 win that saw Clarion scored the final five points of the set including kills by Sintobin and Schill.
"The momentum carried over," Kalinowski said. "Our team really likes to be the underdogs for some reason. It definitely came through, and we worked really hard and all together. I'm so proud of this team. I can't ask for a better one."
Watch all of Kalinowski's thoughts on the victory.
Up 2-0, Clarion appeared like it was going to run away with the title in the third set when it built a 10-2 lead thanks to two kills from Burns, solo kills from Constantino, Kalinowski, Schill and Sintobin and an ace from Lexi Lauer.
But at that point, the Lady Cats made a few lineup changes allowing some younger players some championship-game court time, and the momentum stalled a little allowing Ridgway to get back into the match cutting Clarion's lead to 14-0 on a kill from Claire Kemick, who had five of her team-high six kills (she also had four blocks) in the third set.
"It's super important to get our younger girls in there and feel what it is like so they know what it feels like to win something like this and to want something like this," Kalinowski said. "
After the Ridgway run, Clarion seemed to stem the tide winning the next two points to go ahead 16-10, and the Lady Cats were still up 19-14 following back-to-back kills from Constantino, who finished with seven kills, four digs and two blocks, and Kalinowski.
Clarion still led by five, 21-16, following a Sintobin kill that forced Ridgway coach Josh Burrs to call timeout.
His team responded out of the break going on a 5-1 run to get within a point, 22-21.
A net violation, though, made it 23-21, before a Kemick kill made it 23-22.
Clarion, however, got match point thanks to a nice serve by Jordan Best.
But two straight Ridgway points, the last one on a kill by Kemick forced a 24-all tie meaning more extra points.
But a service error by Alyssa Kasmierski gave the advantage back to Clarion, and then the Lady Elkers couldn't handle a ball put over the next giving Clarion its 14th D9 title, which is believed to tie Punxsutawney for the most D9 titles since 1976.
Watch the final point.
Both teams move into the PIAA playoffs, which is old hat for Clarion, which went to the PIAA semifinals in Class 1A a year ago despite finishing third in D9, but new territory for Ridgway which is believed to be making its first-ever PIAA appearance.
Clarion, which saw Brenna Campbell run the offense with 38 set assists while adding three digs, will take on District 10 runner-up Cambridge Springs at 6:30 p.m. Tuesday, Nov. 6, at DuBois High School, while Ridgway, which also got five kills from Woodford and two from Sophie McManus, will face District 10 champion and perennial PIAA powerhouse Cochranton also on Tuesday at a District 10 site to be announced.