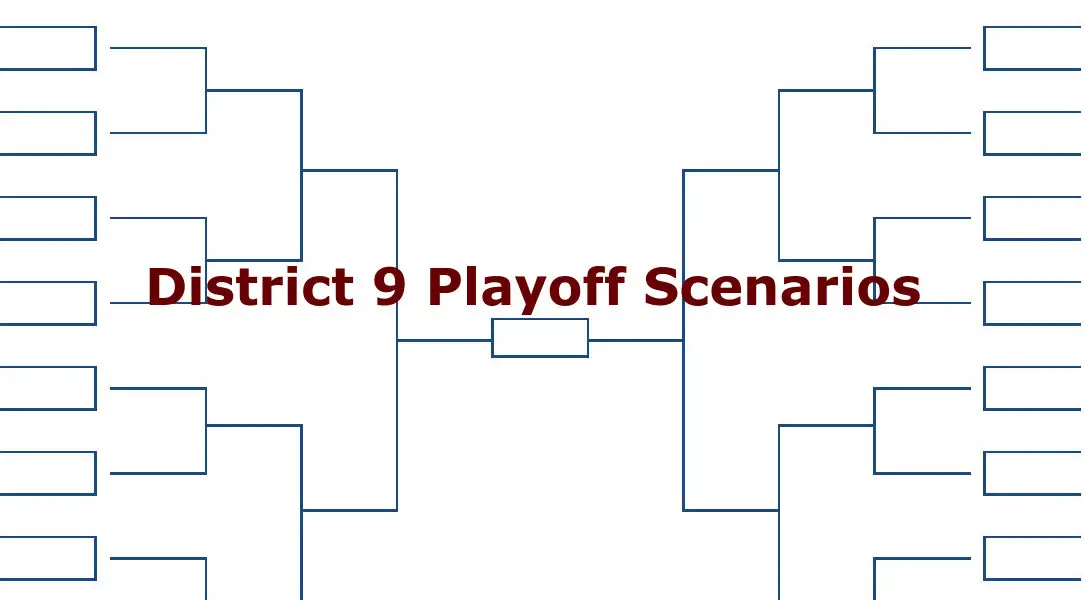 In a memo sent by District 9 football chairman Bob Tonkin to six athletic directors in the KSAC Small School Division that has been obtained by D9Sports.com, a tiebreaker has been outlined to determine the KSAC SSD's second-place team that is granted the second and final automatic bid in the District 9 Class A playoffs awarded to the KSAC.
The memo, which is included below, outlines exactly what D9Sports.com wrote about the KSAC SSD Division tiebreaker Friday night.
Clarion will be the Small School Division's second-place team and therefore the District 9 Class A third seed with a win over Brookville. A Clarion loss to Brookville, and Keystone will be awarded the No. 2 spot and the third seed.
With the KSAC Small School Division tiebreaker, clarified, we now know what teams are still alive in the District 9 Class A playoff race.
With only two spots left to be decided – the second KSAC automatic spot and one Wild Card spot – three teams are in the running for the postseason who haven't clinched a berth yet – Clarion, Keystone and Coudersport.
Clarion and Keystone both control their own destinies. The Bobcats are in as the KSAC No. 2 team with a win over Brookville Friday night. Keystone is in as at least the Wild Card with a win over Penns Manor Friday night. If either team should lose, then Coudersport would claim the final Wild Card spot.
MEMO FROM DISTRICT 9 FOOTBALL CHAIRMAN BOB TONKIN TO THE KSAC SMALL SCHOOL ATHLETIC DIRECTORS
From: Bob Tonkin <bptonkin@comcast.net>
Date: Sun, Nov 1, 2015 at 8:39 PM
Subject: Second KSAC seed
To: Ron Kerlin <ron.kerlin@acvsd.org>, Dave Snowberger <
dsnowberger@clasd.net>, "Kindel, Scott" <kindelsr@unionsd.net>, "Mills,
Nancy" <nmills@clarion-schools.com>, "Irwin, Bill" <birwin@keyknox.com>,
"Hartle, Roddy" <rhartle@redbankvalley.net>

To:         KSAC "A" Football Athletic Directors
From:    Bob Tonkin

There is the possibility for ties for the seeding positions for the KSAC
football representatives.
(Number 1 and Number 2 seeds)

Please review the materials that were emailed to you on August 20th.

*PIAA FOOTBALL RANKING FORMULA: *

*Power Point System - outlined  *

*Refer to PIAA Handbook - Policies and Procedures*
pages 69, 70, and 71.

In determining the breaking of ties games against the KSAC "small school"
division will be used.
If that does not break a tie, common KSAC opponents will be used to break
the tie.

Refer to Page 70 - PIAA Handbook Policies and Procedures:
Item 4 - Ties in the ranking shall be resolved as follows:

*a - does not resolve the tie*

*b - **will resolve tie*
   only common opponent is Brookville

    Union lost to Brookville and receives 0 points

    Keystone beat Brookville and receives 10 point

    If Brookville beats Clarion - Clarion receives 0 points - Keystone will
be second KSAC seed

    If Clarion beats Brookville - Clarion received 10 points

    Clarion will be KSAC second seed  - reason - head to head victory over
Keystone

Questions call or email.

Thanks,

Bob