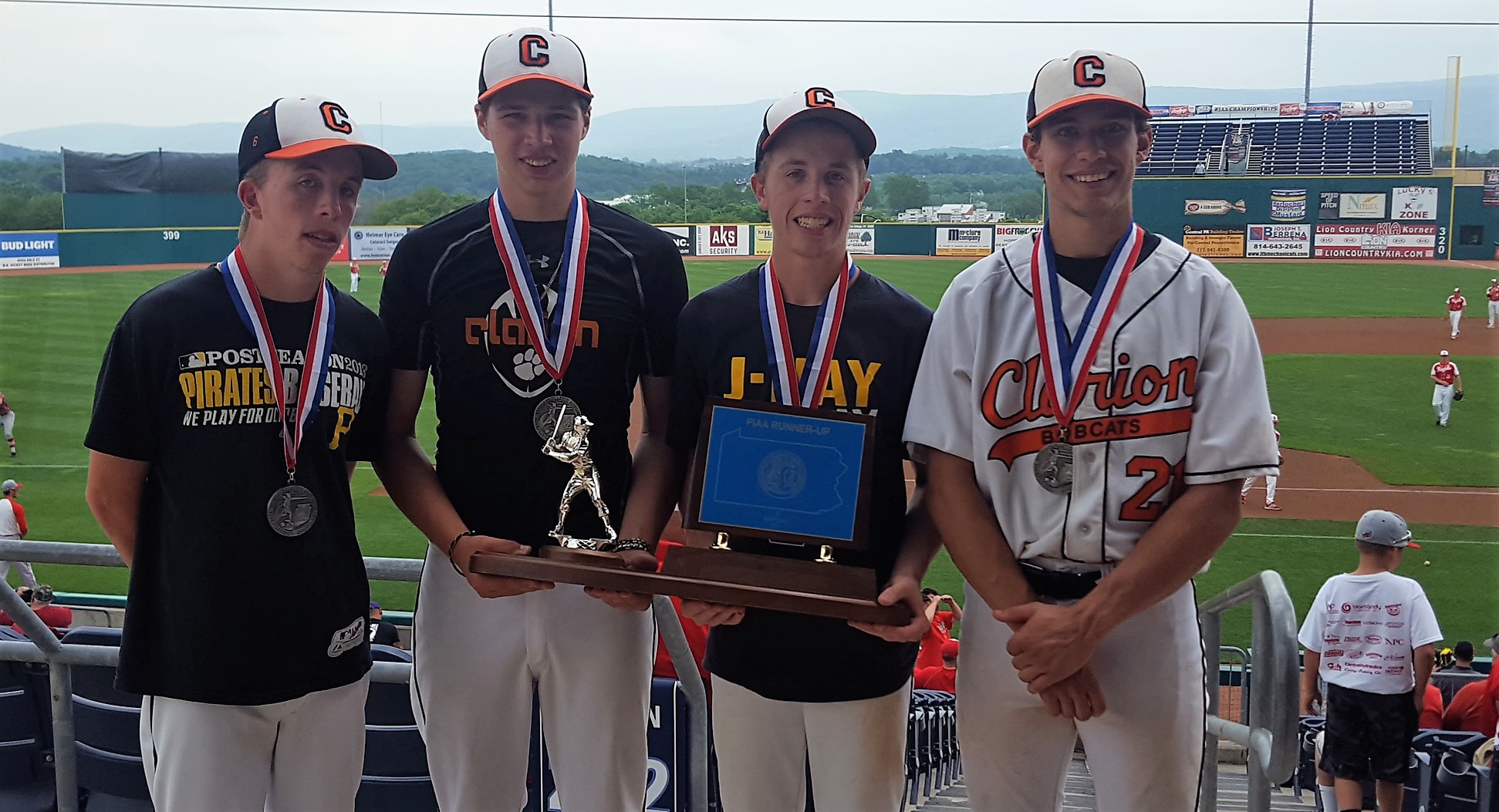 UNIVERSITY PARK, Pa. – It just wasn't to be.
(Cover photo (and photo below): Clarion baseball seniors with PIAA second-place trophy from left (Reed Anthony, Dominic Fleming, Ryan Anthony and Kyle Patterson.)
Listen to the game:
Meyersdale scored two first-inning runs, and Pitt recruit Riley Christner made them standup, as the Red Raiders won the first PIAA baseball title in school history with a 2-0 win over Clarion in the 2017 Class 1A championship game Thursday afternoon at Medlar Field at Lubrano Park on the campus of Penn State University.
"(Our guys) played a great game," Clarion manager Rob Jewett said. "We got behind in the first inning, and we just missed that clutch hit. But they played a heck of a game. I'm very proud of them."
Meyersdale (21-6), the PIAA runner-up in Class 1A last year, got the only runs it needed in the bottom of the first when surprise starter Skylar Rhoades was a bit wild walking three and giving up a hit before being lifted with one out, the bases loaded and a run in for Ryan Anthony, who threw a wild pitch allowing a second run to second before shutting down the Red Raiders the rest of the way.
Rhoades hadn't pitched since May 18 and had thrown just 10 ⅓ innings on the season but had 25 strikeouts vs. nine walks.
"He was a wild card," Jewett said. "I totally gambled. It didn't quite work out for me. I feel bad for the kids. But you saw his arm. He has a lively arm. He was just a little bit off. But I wanted to give him experience. He is going to turn into a great pitcher. I wanted to give it a go and see what happened. I knew Ryan was the guy in my pocket there to come in if there was any trouble, which there was. We should be able to overcome a two-run deficit in the first. It is what it is. It was a gamble, and it didn't work out for me."
It wasn't so much that the gamble didn't work out as much as it was that Christner was everything he was advertised to be.
The senior righty, who is headed to Pitt next year, came into the game with a 0.61 ERA and 110 strikeouts vs. just 12 walks in 68 ⅔ innings of work.
And he was on his game vs. the Bobcats (21-4) going seven scoreless innings allowing two hits and no walks while striking out 11.
"It was tough to time him up," Jewett said. "The kids haven't seen 88-89 (miles per hour) all that much. Then, when we adjusted my cutting down on our swings, credit to the pitcher, he then leaned on his curveball to keep us more off balanced. The last couple of innings he pretty much shut us down by keeping us off balanced. It was a good move on his part."
Despite Christner's dominance, Clarion was always just a hit or two away from tying the game because of the yeoman's work of Ryan Anthony, the right-handed throwing twin brother of Bobcats' ace lefty Reed Anthony, who wasn't eligible to pitch because of the PIAA pitch-count rules.
Ryan Anthony channeled his brother throwing strikes and spotting the ball wherever he wanted working 5 ⅔ scoreless inning of relief allowing two hits and hitting a batter while walking no one and striking out three. .
"Ryan came in and did exactly what I wanted him to do," Jewett said. "He pitched a heck of a game for 5 ⅔ innings. He did a great job silencing their bats, and the defense played wonderful again."
Clarion's best chance to tie the game came in the fourth inning when Ryan Anthony got the Bobcats first hit of the game with one out, and with two outs him and Cam Craig executed the hit-and-run to perfection with Craig poking the ball into right field past the spot vacated by Meyersdale second baseman Logan McKenzie, who went to cover second.
But Reed Anthony just got under a two-strike pitch from Christner and flew out to right fielder Taylor Sager to end the threat.
"If Reed's (hit) was more of a line drive, it would have knocked in two and we might still be playing," Jewett said. "That's the game of baseball."
Clarion had one other chance to score, and that came in the fifth when Rhoades reached second on a two-base error by third baseman Kirk Eberly that skipped past him in left-field for a two-base error.
But Christner reared back and struck out both Kyle Patterson and Dominic Fleming to end the inning. That started a string of five straight strikeouts for Christner, who struck out the side in the sixth against the top of the Clarion lineup.
"Finishing second in the state is a big deal," Jewett said. "And we played a respectable game, too. I just didn't want us to come out here and not show up. The boys definitely responded. It was right in our reach. Meyersdale is a very good team, and we hung in there. That's a lot of credit to this program to be able to go 2-0 in a state championship game. Hats off to the boys."
Meyersdale scored it two runs in the first when McKenzie led off with a walk, and Bryce Kretchman singled to center taking second on when Sterling Conner's throw went towards third. Zach Hotchkiss then walked, and Max Caton followed with the walk that drove in the game's first run and ended Rhoades' day. Kretchman then scored when Ryan Anthony threw the wild pitch, but Ryan Anthony struck out Tanner Krause and got Eberly to ground out to shortstop Spencer Miller to end the threat.
"This (season) speaks volumes for our program," Jewett said. "Hopefully, the young guys will start coming out. They know we are doing something right over here. We are winning baseball games. There are going to be some serious shoes to fill with my four seniors leaving, but hopefully the younger can step up, their friends will come out, we will get more participation and go from there. Maybe get a JV team."
MEYERSDALE 2, CLARION 0
Score by Inning
Clarion 000 000 0 – 0
Meyersdale 200 000 x – 2
CLARION – 0
Spencer Miller ss 3000, Ryan Anthony 2b/p 3010, Sterling Conner cf 3000, Cam Craig 3b/2b 3010, Reed Anthony lf/1b 3000, Nate Datko rf/lf 3000, Skylar Rhoades p/rf 2000, Kyle Patterson c 2000, Dominic Fleming 1b/3b 2000. Totals 24-0-2-0.
MEYERSDALE – 2
Logan McKenzie 2b 2100, Riley Christner p 3010, Bryce Kretchman ss 3110, Zach Hotchkiss 1b 2000, Max Caton lf 2011, Tanner Krouse c 2000, Kirk Eberly 3b 1000, Devin Kretchman dh 2000, Tayler Sager rf 0000, Trevor Gnagey rf 2000. Totals 19-2-3-1.
LOB: Clarion 3. Meyersdale 4. Errors: Clarion 0. Meyersdale 1. SAC: Krause. SB: Craig. HBP: Eberly by Ryan Anthony.
PITCHING
Clarion
Skylar Rhoades –  0.1 IP, 1 H, 2 R, 2 ER, 3 BB, 0 K, 0 HP
Ryan Anthony – 5.2 IP, 2 H, 0 R, 0 0 ER, 0 BB, 3 K, 1 HP
TOTALS – 6 IP, 3 H, 2 R, 2 ER, 3 BB, 3 K, 1 HP
Meyersdale
Riley Christner – 7 IP, 2 H, 0 R, 0 ER, 0 BB, 11 K, 1 HP
Winning pitcher: Riley Christner
Losing pitcher: Skylar Rhoades
Records
Clarion 21-4
Meyersdale 21-6