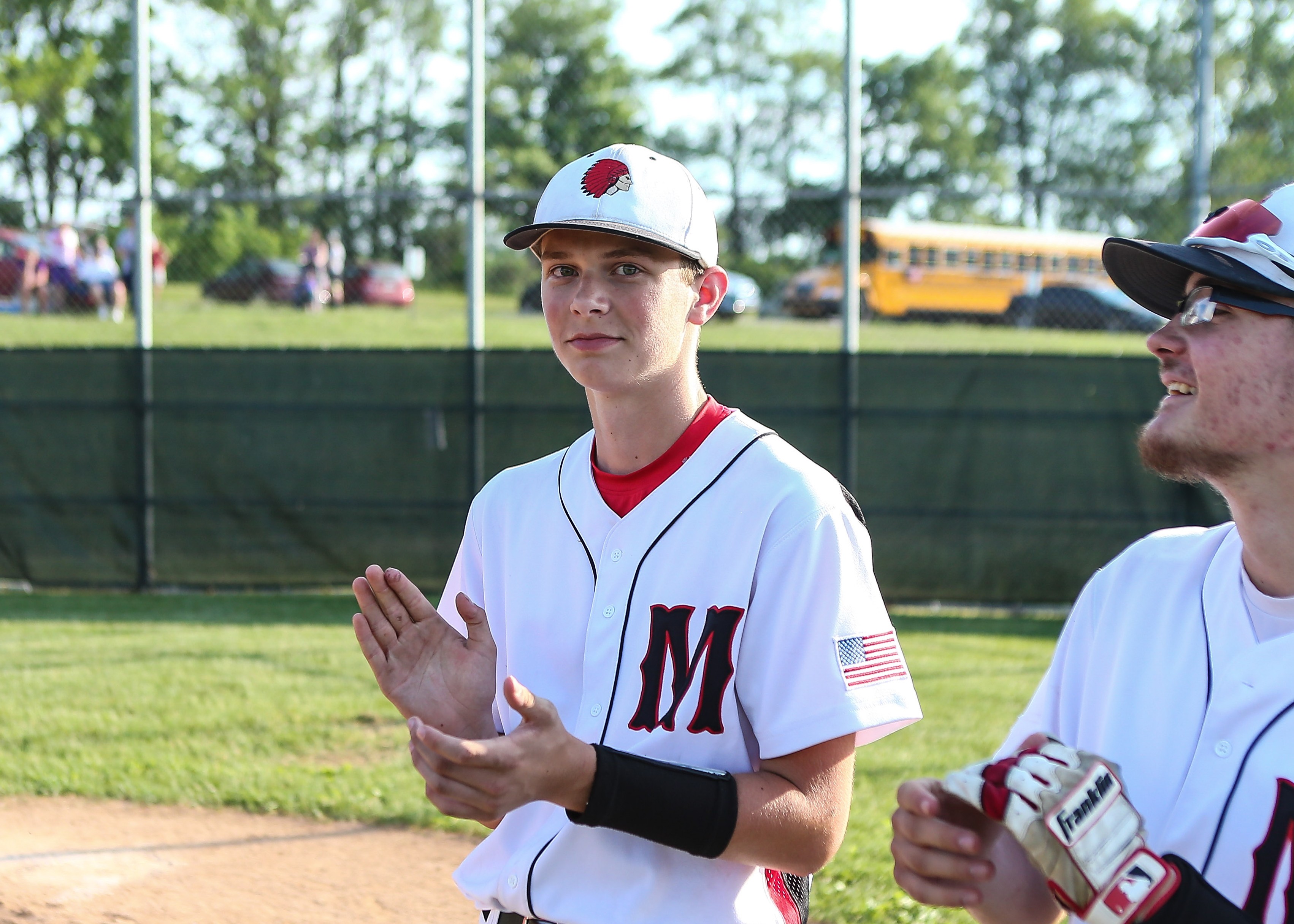 STRATTANVILLE, Pa. – Lake Pry broke a three-all tie with a two-run single left in the bottom of the fifth inning, as Moniteau claimed its first PIAA playoff win with a 5-3 victory over District 10 runner-up Girard in the opening round of the Class AA tournament Monday at Clarion-Limestone.
(Cover photo of Lake Pry. Photo by Mike Schnelle. Check out more of Schnelle's work here.)
The Warriors won a game in which their ace, Derek Boben, was pulled from the mound in the third inning after issuing a bases-loaded hit by a pitch followed by back-to-back bases-loaded walks to allow Girard to grab a 3-1 lead.
But Boben and the rest of Moniteau's bats picked him up quickly tying the game in the bottom of the third thanks a run-scoring triple by Boben and a Pry RBI groundout.
Moniteau then took the lead for good in the fifth when Aaron Marterella, who relieved Boben, singled leading off with Brice Williams taking over at first as the courtesy runner. Boben then singled to left with Williams going to third and Boben to second on the throw to third.
After Zach Adamson popped out to shortstop, Pry, who was 1-for-3 with three RBIs on the day, delivered the clutch single.
Girard never really threatened after that going in order in the sixth and getting a two-out single in the seventh but nothing else.
Marterella was fantastic in relief.
Not only did he get the final out in the third on a comebacker to the mound with the bases still loaded, he went four more innings allowing just two hits and a walk while striking out two to get the win.
He also led the way offensively going 3-for-4 with a run scored and an RBI, while Boben was 2-for-3 with two runs scored and an RBI. Nick Sosigian was also 2-for-3 for the Warriors, who had 12 hits,
Moniteau grabbed a 1-0 lead in the first when Jake Jewart and Marterella had back-to-back doubles leading off the game.
Girard's Nate McKenrick escaped further damage when Boben lined out, Zach Adamson singled Marterella to third but was picked off first and Pry flew out to center.
Girard took its only lead of the game in a messy third inning for Moniteau.
After Boben got the first two outs quickly, he hit Shane Boyles with a pitch. Brenden Kohan then hit a grounder to shortstop Marterella, who wasn't able to get an out, and Ryan Lehman struck out but reached first on a wild pitch to load the bases.
Boben then hit Corey Mason and walked McKenrick and Adam Muse to give Girard the 3-1 lead while forcing the Warriors to make a pitching change.
McKenrick took the loss going 4 ⅓ innings allowing five runs on 12 hits while striking out two.
Moniteau will now play WPIAL champion Riverside in the quarterfinals Thursday at a site and time to be determined. Riverside beat District 6 runner-up Central-Martinsburg, 2-0.
MONITEAU 5, GIRARD 3
Score by Innings
Girard 003 000 0 – 3
Moniteau 102 020 x – 5
Girard – 3
Player, AB, R, H, RBI
Justin Driscoll 3000, Vince Monico 3000, Shane Boyles 2110, Brenden Kohan 4110, Ryan Lehman 4110, Corey Mason 1001, Nate McKenrick 2011, Wagner 0000, Adam Muse 2001, Clay Schlosser 3000. Totals 24-3-4-3.
Moniteau – 5
Player, AB, R, H, RBI
Jake Jewart 3110, Aaron Marterella 4131, Brice Williams 1100, Derek Boben 3221, Zack Adamson 4010, Lake Pry 3013, Josh Adamson 2010, JJ Waid 3010, Nick Sosigian 3020, Wyatt Geibel 2000, Wyatt Ifft 0000. Totals 28-5-12-5.
LOB – Girard 10, Moniteau 8. DP – Moniteau 1. 2B – Marterella, Jewart, Sosigian. 3B – Boben. SB – Jewart (2). CS – Driscoll, J. Adamson. PO – Z. Adamson.
Pitching
Girard
Nate McKenrick – 4.1 IP, 12 H, 5 R, 5 ER, 0 BB, 2 K
Brenden Kohan – 1.2 IP, 0 H, 0 R, 0 ER, 3 BB, 1 K
Moniteau
Derek Boben – 2.2 IP, 2 H, 3 R, 3 ER, 4 BB, 4 K, 2 HB
Aaron Marterella – 4.1 IP, 2 H, 0 R, 0 ER, 1 BB, 2 K, 1 HB
Winning pitcher – Marterella
Losing pitcher – McKenrick