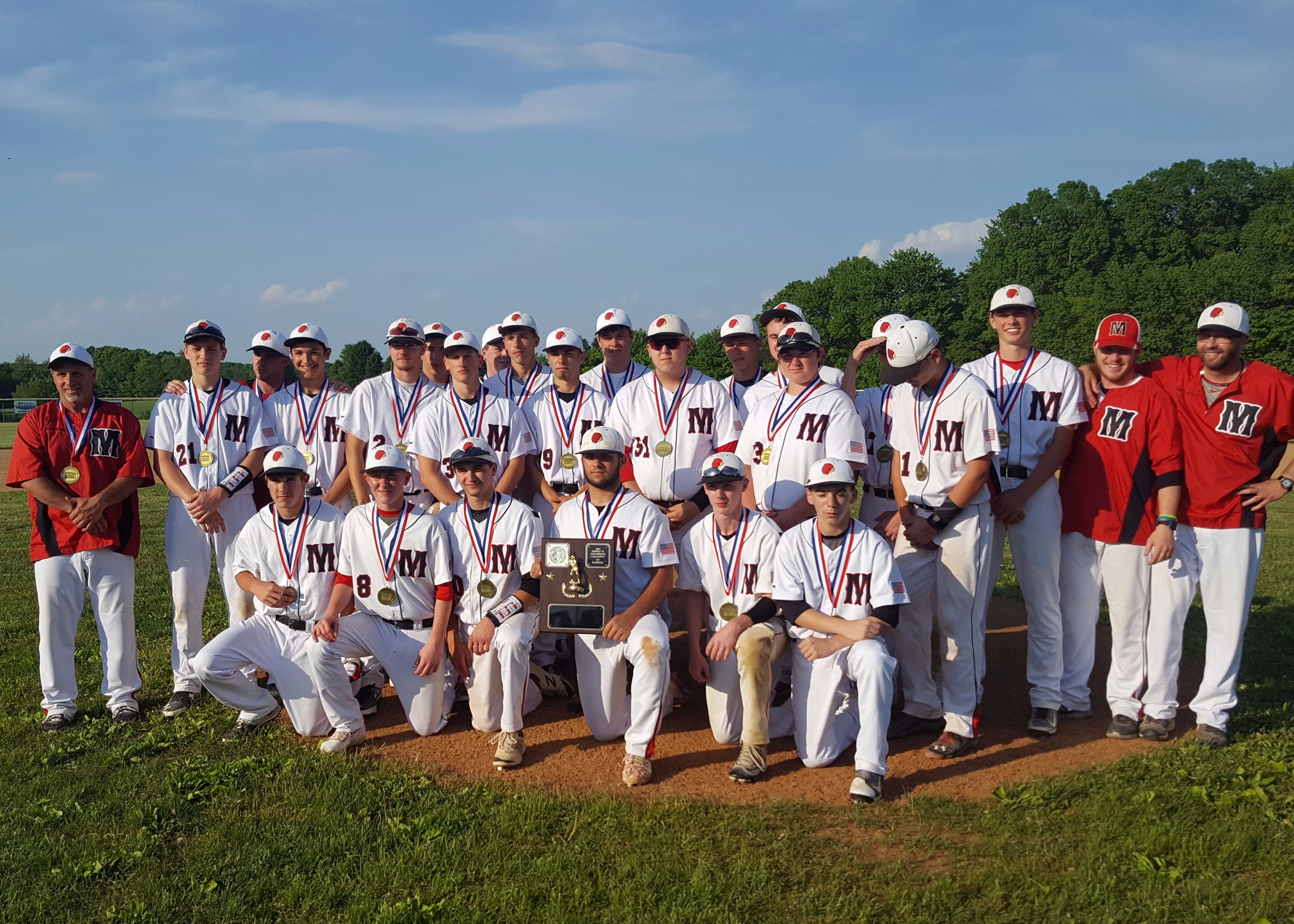 STRATTANVILLE, Pa. – It's been a remarkable spring sports season for Moniteau High School and Wednesday afternoon, the Warriors baseball team capped it with their first District 9 championship.
Moniteau (16-3) beat Karns City, 6-2, at Clarion-LImestone High School in the Class AA title game.
Moniteau's girls track and field team won the D9 title a few weeks ago, then it softball team won its second straight district title earlier in the day in Strattanville.
The Warriors have been D9 AA runners-up six times, including the last three.
"It's just a great feeling," said Moniteau head coach Ross Martin. "We've had enough of these second-place medals. I feel so good for the kids that they could achieve this and enjoy this feeling. And this isn't just for our current team, it's for all the past kids that have been in the program that helped build this foundation."
Martin, who has been the Warriors head coach for the past 11 seasons, has watched his teams come up short three straight years, to Cranberry in 2015 and Karns City in 2013-14. The Gremlins also beat Moniteau in 2011 for the title. Karns City (15-6) has won five AA titles and was playing in its eighth AA title game Wednesday.
And things looked like they might go Karns City's way again Wednesday as the Gremlins owned a 2-0 lead after two innings.
But the Warriors cut the lead in half with a run in the third before taking the lead for good with three runs in the fifth inning and two more in the sixth.
Coming from behind was no problem for the Warriors because they have done it repeatedly this season. In both regular-season games against the Gremlins, Moniteau trailed 5-1 and 1-0 before rallying to win both.
In last week's D9 semifinal game against Brookville, the Warriors fell behind 3-0 before taking control and winning 6-3.
"They battled and kept chipping away and it's something we've been able to do this year," Martin said.
The Gremlins struck first, tallying two runs in the top of the second inning.
Marcus Lantz walked and stole second before taking third on a single by Hunter Schaffner.
Jimmy Thompson's single plated Lantz to make it 1-0. Then Nolan Riley was hit by a pitch.
Warriors pitcher Derek Boben then struck out Jarod Stewart, but he hit KC leadoff man Jace Ebbitt to force in Schaffner for a 2-0 lead.
But Boben retired the next two batters to end the threat. Boben then settled in and only allowed three baserunners the rest of the way. Boben finished his complete game win with 11 strikeouts, two walks, two hit batters and two runs on six hits.
"That's just a senior being mentally tough and not giving in," Martin said.
Boben also had his defense turn a pair of double plays behind him. One was in the first inning and the Warriors turned the other twin killing in the seventh to end the game.
"How fitting was that to end it like that," Martin said. "We pride ourselves on our defense. We struggled a bit with our defense early in the season, but we've been playing pretty well for awhile."
Boben talks about the win.
With Boben settling in, the Warriors offense came alive in the third.
Jake Stewart led off with a walk and stole second base. Aaron Marterella reached on an error and a double steal put both in scoring position. Two batters later, Zach Adamson hit a sacrifice fly to score Stewart.
The Warriors then took the lead for good in the fifth inning.
Stewart led off with a walk, stole second base and took third when Gremlins catcher Cullen Williams's throw went into center field. After Marterella lined out to shallow center, Boben walked and took second without a throw.
The Gremlins had the infield up with Adamson at the plate and he fell behind in the count 0-2. But with a 1-2 count, Adamson lined one past a diving Evan Stitt at short. Stewart and Boben both scored to make it 3-2.
"Zach's hit was a big one for us," Martin said.
Adamson took second on the throw home, then Lake Pry grounded out to short. Josh Adamson came up and singled in Zach Adamson to make it 4-2.
That was plenty for Boben, but he and his teammates added two insurance runs in the bottom of the sixth for a bigger cushion.
Nick Sosigian led off with a walk, then Wyatt Geible was hit by a pitch. Stewart's sac bunt up the first base side moved both into scoring position. Marterella then hit a sac fly to left to score Sosigian and Boben capped the scoring with a double to deep left-center to bring Geible home for a 6-2 lead.
Not that things weren't interesting in the seventh.
Nolan Riley walked and Tyler Yough singled.
But Boben stopped the Gremlins in their tracks as he struck out Ebbitt and got Holden Martin to ground into a 5-4-3 double play to kick off the Warriors title celebration.
"Our kids have a pretty good baseball IQ and don't beat themselves too much, so it's a great feeling to be able to come out on top this time," Martin said.
The Warriors return to action at C-L at 4:30 p.m. Monday for their first state playoff game in school history. Their opponent will be the D-10 runner-up, either Fairview or Girard, which play Thursday.
MONITEAU 6, KARNS CITY 2
Score by Innings
Karns City 020 000 0 – 2
Moniteau 001 032 x – 6
Karns City – 2
Player, position, AB-R-H-RBIs
Jace Ebbitt dh-rf 3001, Eric Dodd 3b 0000, Holden Martin p-2b 4000, Evan Stitt ss 3020, Cullen Williams c 3000, Marcus Lantz 2b 2100, Hunter Schaffner lf 3110, Jimmy Thompson cf-p 3021, Nolan Riley 1b 1000, Jarod Stewart rf-cf 2000, Tyler Yough ph 1010. Totals: 25-2-6-2.
Moniteau – 6
Player, position, AB-R-H-RBIs
Jake Stewart lf 1210, Aaron Marterella ss 3011, Derek Boben p 3111, Wyatt Ifft cr 0000, Zach Anderson dh 2113, Bryce Williams rf 0000, Lake Pry 1b 3000, Josh Adamson cf 3011, J.J. Waide 3b 3000, Nick Sosigian 2b 1100, Wyatt Geible c 2100. Totals: 21-6-5-6.
Errors: Karns City 2, Moniteau 0. LOB: Karns City 6, Moniteau 6. DP: Moniteau 2. 2B: J. Thompson, Boben. SF: Z. Adamson, Marterella.
Pitching
Karns City: Holden Martin-4.2 IP, 4 H, 4 R, 1 ER, 5 BB, 4 SO; Jimmy Thompson-1.1 IP, 1 H, 2 R, 2 ER, 1 BB, 1 HB, 0 SO.
Moniteau: Derek Boben-7 IP, 6 H, 2 R, ER, 2 BB, 2 HB, 11 SO.
Winning pitcher: Boben.
Losing pitcher: Martin.