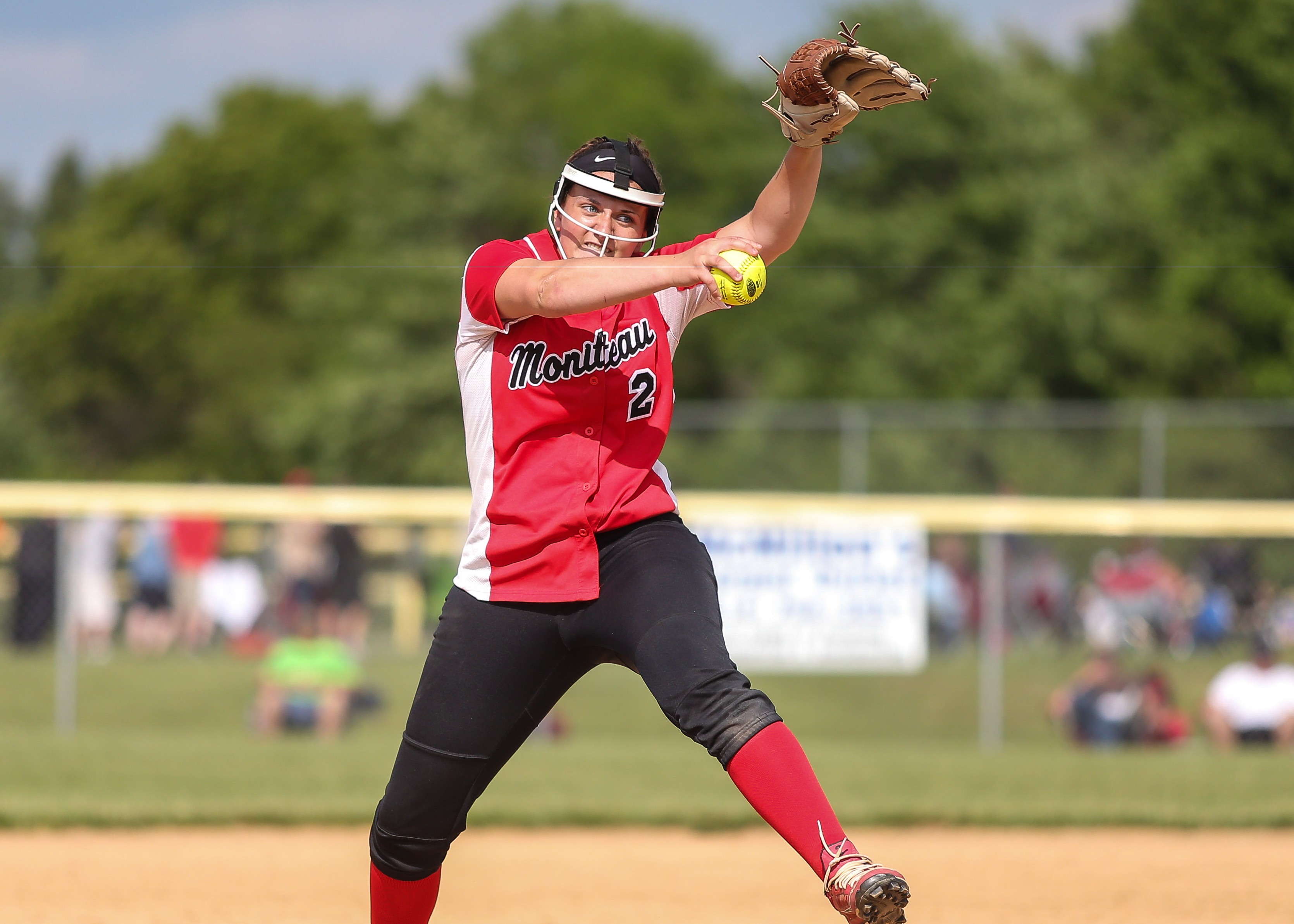 By Rich Rhoades
STRATTANVILLE, Pa. — History and revenge.
A year after dropping an extra-inning heartbreaker to the same team, the Moniteau Lady Warriors notched their first-ever PIAA softball playoff win with a convincing 6-0 win over District 5 champion Everett Monday afternoon at the C-L Sports Complex.
The win lands Moniteau (22-1) in Thursday's second round against WPIAL champion Ellwood City at site and time to be announced.
As usual this year for the Lady Warriors, it was a whole bunch of dominating pitching from junior Kennedy DeMatteis, aggressive baserunning and timely hitting.
DeMatteis was too hot to handle for Everett, which managed just one hit, an infield single by Hannah Laidig to lead off the sixth inning. DeMatteis wasn't sharp with her control with five walks, but she struck out 13.
DeMatteis' twin sister and catcher Kristina went 3-for-3 out of the cleanup spot with three runs batted in. Cortney Claypoole went 2-for-3 and reached base all three times, scoring three runs.
Kennedy DeMatteis and Claypoole talk about the win.
Kristina DeMatteis singled in Claypoole twice in the first three innings, her first-inning infield single came with two outs as Claypoole scored from second base on the play.
After Claypoole singled in Gabriella Stewart who led off with a double in the third inning, DeMatteis singled her in again to put Moniteau up 3-0.
Three runs put the game away in the fifth. After one out, Claypoole reached on an infield error, stole second and scored on Kennedy DeMatteis' single. Kristina doubled in Kennedy and then scored when Everett third baseman Raelyn Rice misplayed Megan Hepler's bunt.
Everett finished the season 18-3.
MONITEAU 6, EVERETT 0
Score By Innings
Everett     000 000 0 – 0
Moniteau 102 030 x – 6
(Player, position, at-bats, runs, hits, RBIs)
Everett – 0
Player, Pos, AB, R, H, RBI
Sydney Reffner ss 3000, Allison Snider cf 3000, Hannah Laidig c 3010, Kadie Morral p 1000, Raelyn Rice 3b 1000, Taylor Ritchey rf 2000, Keci Cogan 1b 2000, Brittany Ewing 2b 3000, Camie Jenkins lf 3000. Totals: 21-0-1-0.
Moniteau – 6
Player, Pos, AB, R, H, RBI
Gabriella Stewart rf 4110, Cortney Claypoole ss 3321, Kennedy DeMatteis p 3111, Kristina DeMatteis c 3133, Sarah Hull 3b 1000, Megan Hepler 1b 2001, Courtney Sowinski lf 3000, Dolcey Shunk dp 1000, Alazia Greaves cf 2010, Alyssa Dailey 2b 3000. Totals: 26-6-8-6.
Errors: Everett 2, Moniteau 0. LOB: Everett 6, Moniteau 4. 2B: Stewart, Kr. DeMatteis. SAC: Hepler, Rice. SB: Claypoole, Kr. DeMatteis 2, Hull.
Pitching
Everett
Morral-6 IP, 8 H, 6 R, 6 ER, 2 BB, 2 SO.
Moniteau
Ke. DeMatteis-7 IP, 1 H, 0 R, 0 ER, 5 BB, 13 SO.
Winning pitcher: DeMatteis.
Losing pitcher: Morral.