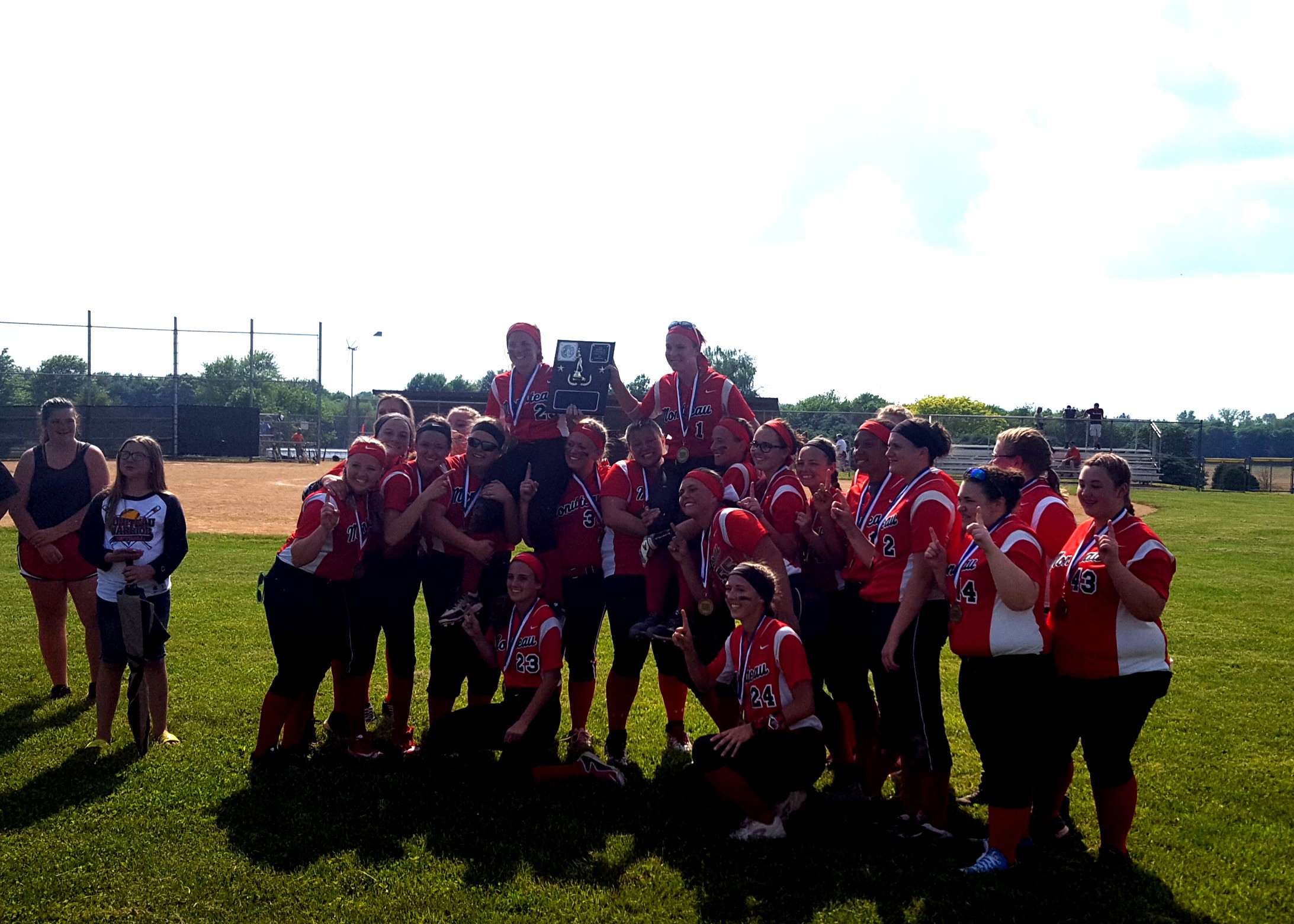 STRATTANVILLE, Pa. – Sometimes it comes down to just simply having the best player.
And the Moniteau softball team had the best player in junior pitcher Kennedy DeMatteis, and therefore the Lady Warriors are the District 9 Class AA champions for the third consecutive year after a 4-0 win over Cranberry in the title game Wednesday at Clarion-Limestone.
DeMatteis struck out 14 while allowing just two hits, both singles, and one base runner to go past second base in dominating a Cranberry team that came having won 14 of 15 since a 6-0 loss to the same Moniteau team April 18.
"She's just in the zone right now," Moniteau manager Dan Beebe said of his ace. "She's been a horse for us all season, really the last three season. To come here on the big stage, she doesn't get rattled. We've got the best player in the league, and we've got the support around her."
Cranberry looked nearly hopeless against DeMatteis striking out at least twice in every inning but the sixth, and in the sixth the Berries all but raised the white flag bunting on three consecutive batters against the Moniteau righty, one of which was a base hit.
"I wouldn't do it, but we will take it," Beebe said when asked about Cranberry's bunting strategy in the sixth down four runs. "If they want to move the runners over, we'll take an out at that point up 4-0. We are looking for outs."
Bunting in the sixth wasn't the only wrinkle the Berries tried.
They also changed pitchers in the third inning taking Natalie Barcinas out in favor of her older sister, Sarah, despite Natalie striking out the side in the second inning and not allowing a hit through two.
That move backfired when Moniteau scored three times in the third off Sarah Barcinas to take control of the game and prompting Cranberry to go back to Natalie Barcinas at the start of the fourth innings – Natalie allowed one unearned run on two hits, both infield singles, the rest of the way.
"It's not the first time this season someone has tried to reinvent the game on us," Beebe said. "I give them credit for trying, because the other things haven't worked. People have tried different things against us, different defensive schemes, changing pitchers. Maybe it works to a point, but overall the results still stand the same. I don't know why you make that change. Natalie was grooving. I would have kept going with her. But Sarah's a senior, and she's got the experience. She throws really hard over there, but we were able to get to her today."
Gaby Stewart started the Moniteau rally in the third with a bunt single down the third base line and then stole second before moving to third on a Cortney Claypoole ground out before scoring on a single to left by Kennedy DeMatteis.
After a single by Kristina DeMatteis, Kennedy's twin sister, a Sara Hull fielder's choice that erased Kennedy DeMatteis and stolen bases by Kristina DeMatteis and Hull, Megan Hepler delivered perhaps the knockout blow with a two-run single to center making it 3-0.
"She's been a great No. 6 batter for our lineup," Beebe said of Hepler. Once those big five come through, that's why she's in the six spot, to cash those runs in."
Moniteau carries its two seniors, Courtney Sowinski and Alyssa Dailey, to the outfield after the game for a team photo.
Moniteau added a fourth run in the fifth when Claypoole led off by beating out a grounder to short and then scored when she stole second and the throw went into centerfield and then past the centerfielder.
Claypoole talks about winning the title.
Up next for Moniteau is the PIAA playoffs, the one hurdle that has been in front of the Lady Warriors all season.
In the last two PIAA playoff appearances Moniteau has been one and done, including blowing a 6-0 lead to Everett last year on its way to losing in nine innings.
"Now we need to get focused for the next round of the playoffs," Beebe said. "Now we aren't the new kids on the block, so to say. We've kind of been here, done that. We're looking forward to it."
The Lady Warriors will play either District 5 champion, Everett, or Westinghouse out of the Pittsburgh City League, Monday at a District 9 site. Unofficial reports indicate that game will be at 3:30 p.m. at C-L. Brackets will be released Sunday.
"They are a great team," Beebe said of Everett. We know what they bring to the table. We are looking forward to the rematch."
EXTRA BASES
Moniteau is 21-1 on the year, a school record for wins.
Cranberry finished the season 16-4 with two losses to Moniteau, another to PIAA Class A playoff participant and District 9 Class A runner-up Clarion and a fourth to Cochranton, a District 10 Class A semifinalist.
Even though it was the third straight title for the Lady Warriors, Beebe said it never gets old."I always say my favorite trophy is the next one. So to finally get here and get this one, it's our sixth overall title and the first time we've won three times in a row, it's a huge accomplishment for this group, especially for the juniors and seniors who have been here for all of them. It's been an amazing ride
There was some talk both before and after the game about Cranberry manager Shawn Bean saying his team wanted Moniteau, and Beebe admitted to using it as motivation for his team going as far as putting the score of last year's District 9 championship game – a 1-0 Moniteau victory – on the scoreboard all week at practice."They are a quality team," Beebe said. "We didn't 10-run these guys earlier in the year. It was only 6-0. It gets harder each time you play them. They are a quality team."
MONITEAU 4, CRANBERRY 0
Score by Innings
Cranberry 000 000 0 – 0
Moniteau 003 010 x – 4
Cranberry 0
Player, position, AB-R-H-RBIs
Natalie Barcinas p 2000, Sarah Barcinas p 0000, Tori Flinspach 2b 3000, Libby Kiefer 1b 3000, Kendra Schreck c 3000, Malliah Schreck ss 3000, Rachael McCauley dp 2010, Tamaria Flinspach lf 0000, Bree Swartzfager 3b 2000, Lakyn Vonda rf 2000, Jenna Huegel cf 2010. Totals 22-0-2-0.
Moniteau 4
Player, position, AB-R-H-RBIs
Gabby Stewart cf 2110, Cortney Claypoole ss 3110, Kennedy DeMatteis p 3011, Kristina DeMatteis c 3110, Sara Hull 1b 3100, Megan Hepler dp 3012, Amanda Dailey rf 0000, Courtney Sowinski lf 1000, Bailey Goffman ph 1000, Alyssa Dailey 2b 3010, Alazia Greaves 3b 3000. Totals 25-4-6-3.
SB – Cranberry: Huegel. Moniteau: Stewart. Kr. DeMatteis, Hull, Claypoole, Dailey. SAC – Cranberry: N. Barcinas
Pitching
Cranberry: Natalie Barcinas* 5 IP, 1 R, 0 ER, 2 H, 10 Ks, 2 BB. Sarah Barcinas 1 IP, 3 R, 3 ER, 4 H, 0 BB
Moniteau: Kennedy DeMatteis 7 IP, 0 R, 0 ER, 2 H, 14 Ks, 0 BB.
*Natalie Barcinas pitched the first, second, fourth, fifth and sixth innings.
Winning pitcher: Kennedy DeMatteis
Losing pitcher: Sarah Barcinas