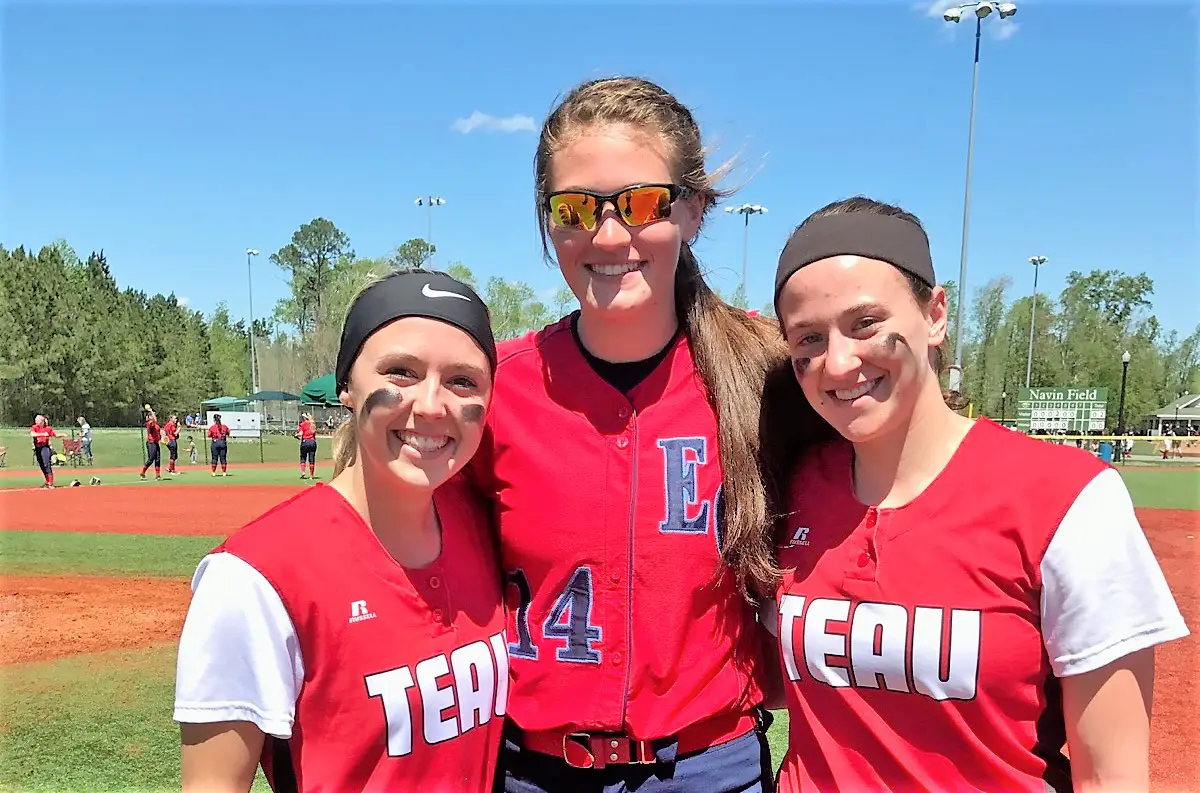 MYRTLE BEACH, S.C. – The Moniteau softball team made a big statement Thursday in Myrtle Beach, S.C., while sweeping a pair of games from Kentucky-based teams. 
(Cover Photo: Moniteau's Cortney Claypoole (left) and Kristina DeMatteis (right) with East Carter pitcher Montana Fouts. Submitted photo)
The statement win for the Lady Warriors came in their first game of the day, a 2-0 win over East Carter (Ky.). East Carter features one of the top high school pitchers in the nation in junior Montana Fouts, who committed to Alabama as a freshman, the first-ever freshman recruit for the powerhouse Crimson Tide.
Fouts entered the game having not allowed a run and only three hits on the season while tossing three no-hitters in four games on the year. This after a sophomore season that saw her go 33-2 with a 0.48 ERA.
But Moniteau's Kennedy DeMatteis, heading to Division 2 Gannon, outdueled the SEC recruit throwing a three-hit shutout with two walks and nine strikeouts.
It wasn't like Fouts wasn't any good. She allowed just three hits of her own and walked one while striking out 12.
But Moniteau found a way to scratch out two runs in the fourth inning.
Kennedy DeMatteis got the rally started with a one-out single to center. Her twin sister, Kristian DeMatteis, followed with a pop fly single to center that scored her sister all the way from first. Sara Hull followed with a sacrifice bunt that saw Kristina DeMatteis score all the way from first.
East Carter looked like it was going to answer in the bottom of the fourth when Eden Mayo singled leading off the inning and Fouts followed by reaching on an error with Mayo going to third. But Fouts was caught trying to steal second on a strikeout-caught stealing double play. Then, after a walk, Kennedy DeMatteis got Madison Tabor to pop up to end the inning.
In the second game of the day, Moniteau rolled past Boyd County (Ky.), 17-2 in three innings.
Cortney Claypoole and Kristina DeMatteis each had five RBIs.
Kristina DeMatteis was 2-for-3 with two home runs and three runs scored, while Claypoole was 2-for-3 with a hoe run and three runs scored.
Megan Hepler added a pair of doubles and two RBIs, while Kennedy DeMatteis had two hits and two RBIs.
Kennedy DeMatteis got the win going three innings allowing two runs, both earned, on three hits while striking out three.