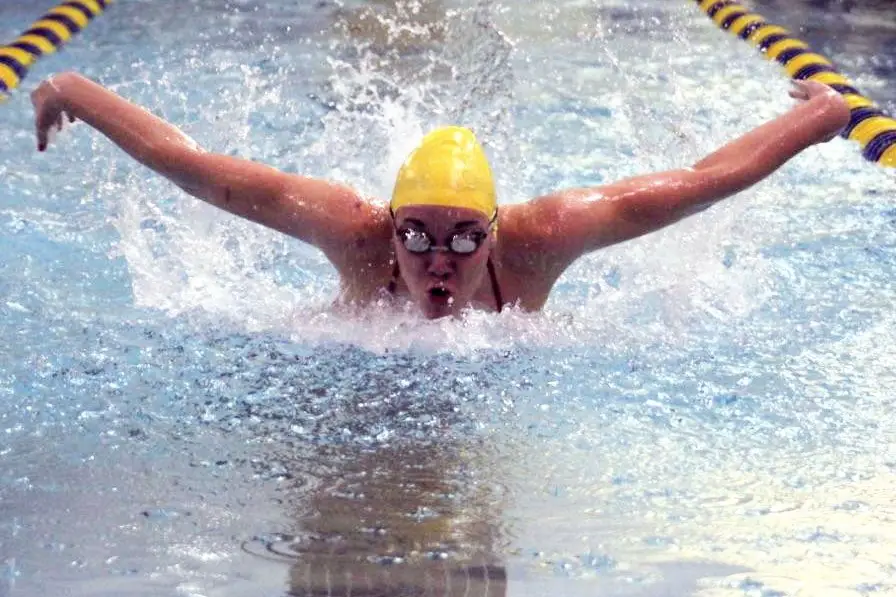 WEST SUNBURY, Pa. – As of sophomore Moniteau's Regan Kelly put together a pair of top six finishes at the 2016 District 9 swimming championships taking fourth in the 50-yard freestyle and sixth in the 100-meter butterfly.
So what's the big deal, you might ask? A lot of swimmers can put together a couple of top six finishes.
That might be true, but almost every single one of those swimmers has a team, a home pool, a head coach around them helping them improve day-by-day.
Kelly has none of that. Not at Moniteau at least.
The small school in rural West Sunbury Butler County doesn't have a swim team nor a swim coach. The school doesn't even have a pool for crying out loud.
But none of that matters to Kelly and two of her fellow Moniteau teammates – Josie Reott and Ashton Huff, who will both me sophomores this year.
"We swim unattached," Kelly said. "That means we can go to a meet and enter events. But we don't have a team."
If it was only that simple.
For Kelly, she swims unattached at two schools – Knoch and Slippery Rock – while Reott and Huff swim unattached at Slippery Rock.
They can only swim when those schools have home meets, and they can't practice with the teams.
"I practice at the Butler YMCA still since I am unattached," Kelly said. "I just go to the meets, and I'm only allowed at their home meets. I can't go to away meets. That's why I am doing it with both schools, so I get more meets in and can get more chances to get a district-qualifying time."
How does a swimmer representing a school without a pool even get into swimming in the first place?
"My mom swam when she was younger and taught me," Kelly said. "I picked up on it and started when I was 7 ½. I started at the Butler YMCA, and I still currently swim for their team. I also swim for a USA Swimming team as well and during the summer, Butler doesn't have a team so I swim for the Penn Valley Athletic Club, which is near Knoch and USA Swimming and during the winter I swim for the Butler Y, US and high school. So, I'm pretty tied up during the winter."
Kelly is a sprinter – she swims the 50 freestyle, the 100-yard freestyle, the 200-yard freestyle, the 100 butterfly, the 100-yard backstroke and the 200-yard IM – and has had success at it even owning the Butler YMCA record in the 50 in a time of 25.15. She made it to the YMCA national meet as an eighth grader and hopes to return to that meet again as well as make it to the PIAA meet.
Last year, despite a lingering shoulder injury, she turned in a time of 25.40 in the 50 at the District 9 championships at St. Marys and also swam a 1:04 100 butterfly dropping five seconds off her previous time.
"Last season was really an offseason for me because my shoulder was bothering me," Kelly said. "But I feel great now."
Kelly, who basically lives in the pool spending six to seven days each week practicing, almost transferred from Moniteau because of the school's lack of a program.
"For a while, I was like should I switch schools," Kelly said. "I really want to get a scholarship for swimming and get the most out of it. I thought about moving to Butler, but that was going to be hard. I looked around and talked to several coaches and they said (swimming unattached) was an option. So, I tried it, and it worked so well. It's very nice. The teams have accepted me. You are basically a part of them at the meets."
At first, even though she was representing Moniteau, a lot of the people at the school didn't really recognize what Kelly, Huff and Reott were doing because it was taking place at the school.
But thanks in large part to Moniteau Superintendent George Svlos and athletic director John Stoughton that changed.
"Our superintendent has been fantastic," Kelly gushed. "He has been a major supporter. He makes sure our score get announced at school and is always asking me how I am doing. And John Stoughton has been great, too. They are both amazing at it. Once things started getting announced, everyone at the school started supporting us. People I have never known are coming up to me and wishing me luck. And some are coming to our meets to watch us swim. The support system is fantastic."
Kelly also pointed to her family, including her parents, Heidi and Shawn, for the support they have given her.
"I have a large family," Kelly said. "My parents never miss a meet, and my grandparents come to a lot of the meets as well. Also, a lot of my coaches, if they aren't coaching me in a particular season, are always contacting me and asking how I am doing."
Kelly credits one of those coaches, Knoch coach, Corrie Jones, who also coaches at the Butler YMCA, for helping her tremendously.
"She has known me since I started in the pool," Kelly said. "In fact, she was one of the people who helped get me involved. She will talk with the YMCA coach and decide what's best for me and how to plan out my year so I can compete well at the District 9 meet. She handles it really good with school and everything."
Kelly, who hopes to become a nurse anesthetists, has set her goals high for the coming season.
"I am praying I make the state meet," Kelly said. "It's going to mean so much to me. I hope to make it to YMCA national again too. I am working my butt off. I plan to hit records."