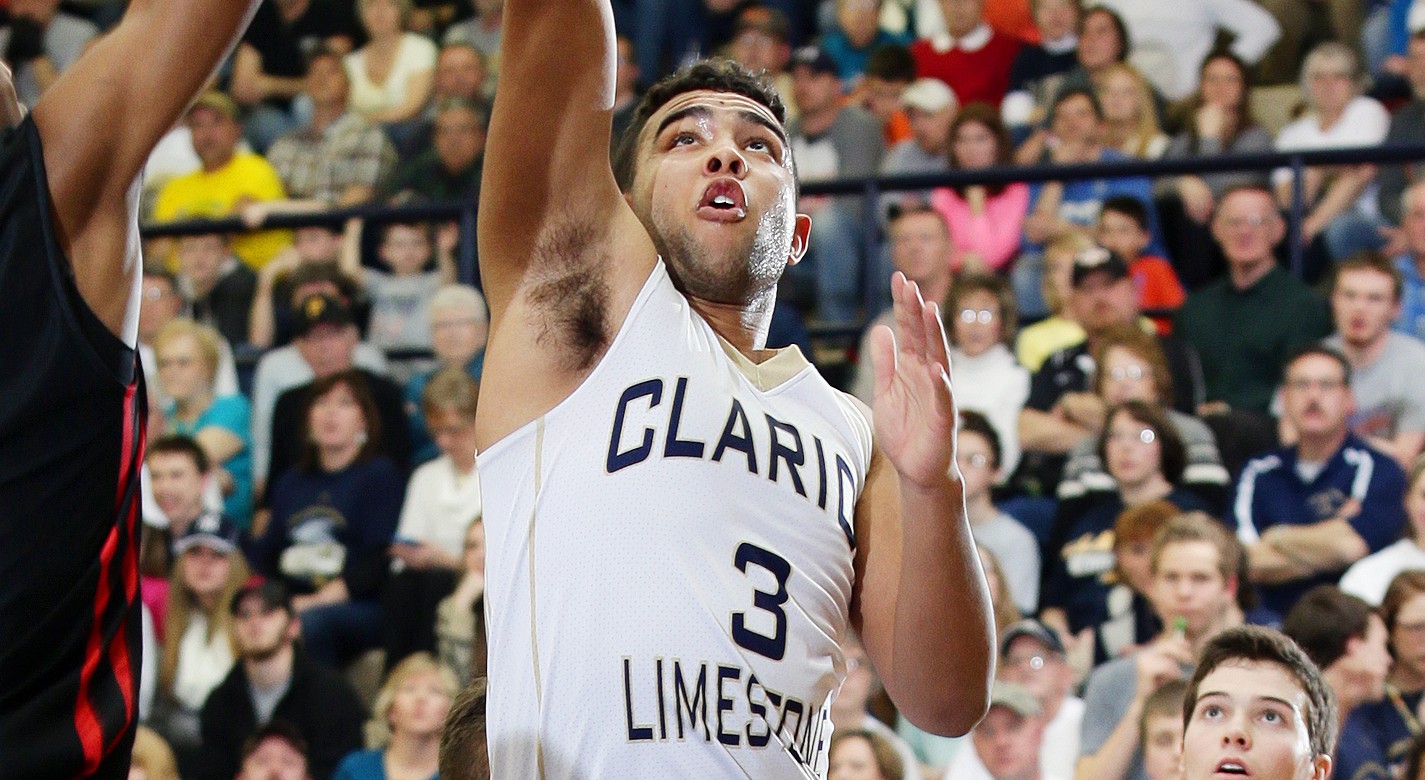 Photo info: Clarion-Limestone's R.J. Laugand filled up the stat sheet against North Catholic. (Photo by Paul Burdick)
By Rich Rhoades
CLARION — Securing their first state playoff win in 12 years, the Clarion-Limestone Lions turned up the pressure and left Tippin Gymnasium with a 60-45 first-round win over Cardinal Wuerl North Catholic Friday night.
Keying the win for the Lions was an aggressive defense that forced 21 North Catholic turnovers. C-L trailed just once at 5-4 before closing the first quarter on a 7-2 run and leading the rest of the way.
The game plan going in was to play aggressive defense, but not so much with full-court pressure. The Lions, seeing North Catholic's ball-handling troubles, made the adjustment and it worked.
"We didn't press more, but we put a little more pressure on," Lions head coach Joe Ferguson said. "We were going to be more token pressing, but we ended up cranking it a little bit and the guys started getting up in their faces more. After we got the lead, we had to back off because of the foul trouble and not having Dan (Callen) in the game. Our depth (came through) … I felt we were in trouble but Cesar Lopez and the other guys stepped up."
The Lions lost the 6-foot-6 sophomore Callen to an ankle injury at the 6:30 mark of the second quarter. Without Callen, the team's third-leading scorer and one of the top rebounders who scored six points and grabbed two rebounds in his 10 minutes, the Lions kept on chugging. His status is uncertain for next week's game.
"We're so versatile that I think it's hard for teams to match up against us because of the height and speed and ball-handling," Ferguson said. "We have that mix what any coach would ask for — the ball-handlers, height, the guys' good defensive pressure … it's going to be tough seeing these guys go because you're not going to see too many teams play together like these guys do."
The Lions put three players in double-figure scoring as Kolton Stiglitz finished 14 points with a double-double that included a team-high 10 rebounds. Noah Rankin came off the bench to score 14 points and R.J. Laugand filled up the stat sheet with 13 points, 10 assists, eight rebounds and six steals.
Next up for the 24-3 Lions in Tuesday's second round is WPIAL third seed Vincentian, which routed District 5 runner-up Southern Fulton, 71-48.
The Lions, who won first-round games in 2001 and 2002, haven't won a second-round state playoff game since the only time they've done in back in 1976 when they opened with wins over Juniata Valley and Rockwood before losing to eventual state runner-up Uniontown St. John's in the quarterfinals.
Also, the Lions tied a team record for wins in a season. They could break the tie with the 24-4 1961 D9 champion Lions with a win Tuesday.
The Lions led by as many as 10 points in the second quarter before taking a 24-17 lead into the locker room. North Catholic scored the first four points to start the second half, but the Lions responded with a 10-1 run that put them up 34-22 at the 2:46 mark of the third quarter.
From there, North Catholic got it as close as nine points just once as the Lions pulled away, leading by as many as 18 points late in the fourth quarter.
Tristan Newcamp and Vince LeGrande each scored 13 points for the Vikings, who finished the year at 16-10.
CLARION-LIMESTONE 60, CW NORTH CATHOLIC 45
Score By Quarters
North Catholic             10        7          12        16        –           45
C-L                              15        9          16        20        –           60
North Catholic – 45
Tom Braun 0-1 2-3 2, Tristan Newcamp 6-13 0-0 13, Timon Gribbin 1-7 0-0 3, Vince LeGrande 6-9 1-3 13, Ken Fukon 0-4 3-6 3, Chris Goetz 0-22-2 2, Jake Matschner 1-5 0-0 3, Isiah Harvin 0-0 0-0 0, Robert Schad 2-2 2-5 6, Ray Stroud 0-1 0-0 0. Totals: 16-44 10-19 45.
C-L – 60
R.J. Laugand 4-12 5-6 13, Josh Kahle 1-5 0-0 2, Jesse Pezzuti 4-12 0-1 9, Kolton Stiglitz 7-14 0-0 14, Dan Callen 3-5 0-0 6, Noah Rankin 5-12 4-4 14, Devin Beers 0-0 0-0 0, Bailey Wrhen 0-0 0-0 0, Nate Forrest 0-0 0-0 0, Travis Aites 0-0 0-0 0, Cesar Lopez 1-1 0-0 2. Totals: 25-61 9-11 60.
3-pointers: North Catholic 3-17 (Matschner 1-3, Newcamp 1-5, Timon Gribbin 1-5, Braun 0-1, LeGrande 0-1, Fukon 0-1, Goetz 0-1), C-L 1-12 (Pezzuti 1-5, Laugand 0-4, Rankin 0-2, Kahle 0-1). Rebounds: C-L 40 (Stiglitz 10), North Catholic 30 (Gribbin, LeGrande and Fukon 5). Turnovers: North Catholic 21, C-L 16.