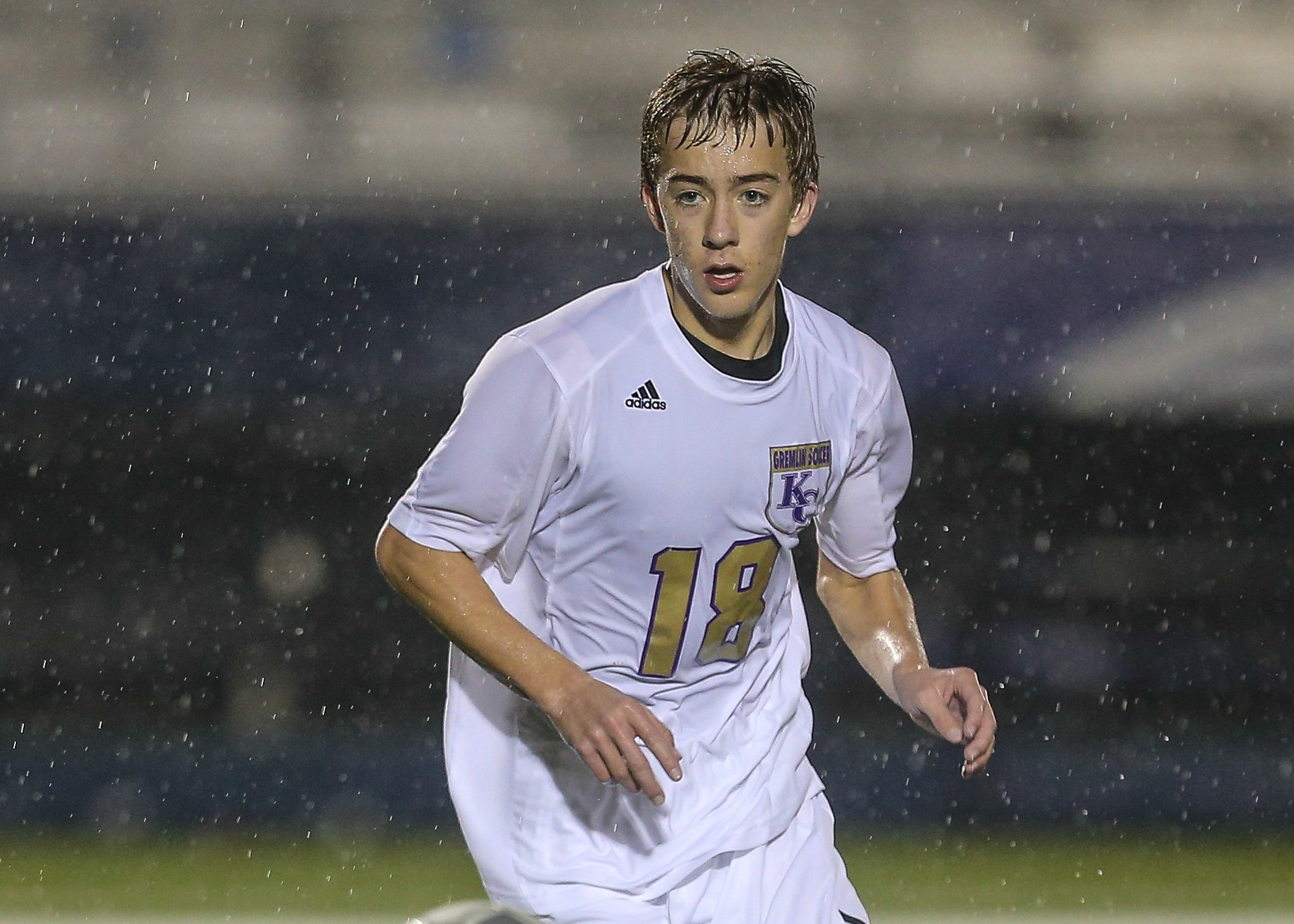 By Shane Lux
CLARION, Pa. – Spenser Myers' goal with 24:02 remaining in the game gave Karns City a 2-1 come-from-behind victory over Harbor Creek in the opening round of the PIAA Class 2A soccer playoffs Tuesday night at Clarion University's Memorial Stadium.
(Cover photo of Karns City's Spenser Myers. Photo by Mike Schnelle. Check out more of Schnelle's work here)
It's the first state playoff victory for the Gremlins (20-0) in five years – a 4-1 win over Fannett-Metal in 2011.
"It's awesome to finally win a state playoff game," Myers said. "We've been working for this for three seasons."
The fact Myers, the all-time leading scorer for Karns City, was able to get the game-winning goal, wasn't assured prior to the game.
"Spenser had rolled up his ankle on a root before the game," Karns City head coach Jim Grenninger said. :We were not sure how much he was able to go. But adrenaline goes a long way."
Karns City, which controlled play throughout, especially in the second half, could only get two past Huskies goalkeeper Jeff Noonan, who played very well with several acrobatic saves.
"It's part of the game," said Myers of the missed opportunities. "Sometimes you miss things you make in your sleep. You just have to keep your head up and keep working."
Grenninger knew the game could have been more lopsided in his team's favor, but a win is a win at this time of year.
"With as many scoring chances as we had, this game could have been 6-1," said Grenninger. "As long as we're one goal better than our opponent, that's all that's important."
The Gremlins outshot the Huskies 11-9 in the game.
"We got a couple of scouting reports on them," said Harbor Creek head coach Joe DiSanto. "We knew Myers was a very good player for them. We didn't do a very job shutting him and his teammates down."
Harbor Creek took a 1-0 lead at the 24:29 mark of the first half on a Tilor Fuller goal.
Karns City tied the game 20 minutes later with a Noah Pollock tally.
"I watched Harbor Creek play Mercyhurst Prep in the District 10 Championship," Grenninger said. "They looked like a very fast team. Our perseverance and skill set just took over."
Karns City had a great chance to take the lead in the 70th minute, but Myers hit the goal post keeping it a 1-1 tie.
The Gremlins will advance to play WPIAL Champion Quaker Valley Saturday.