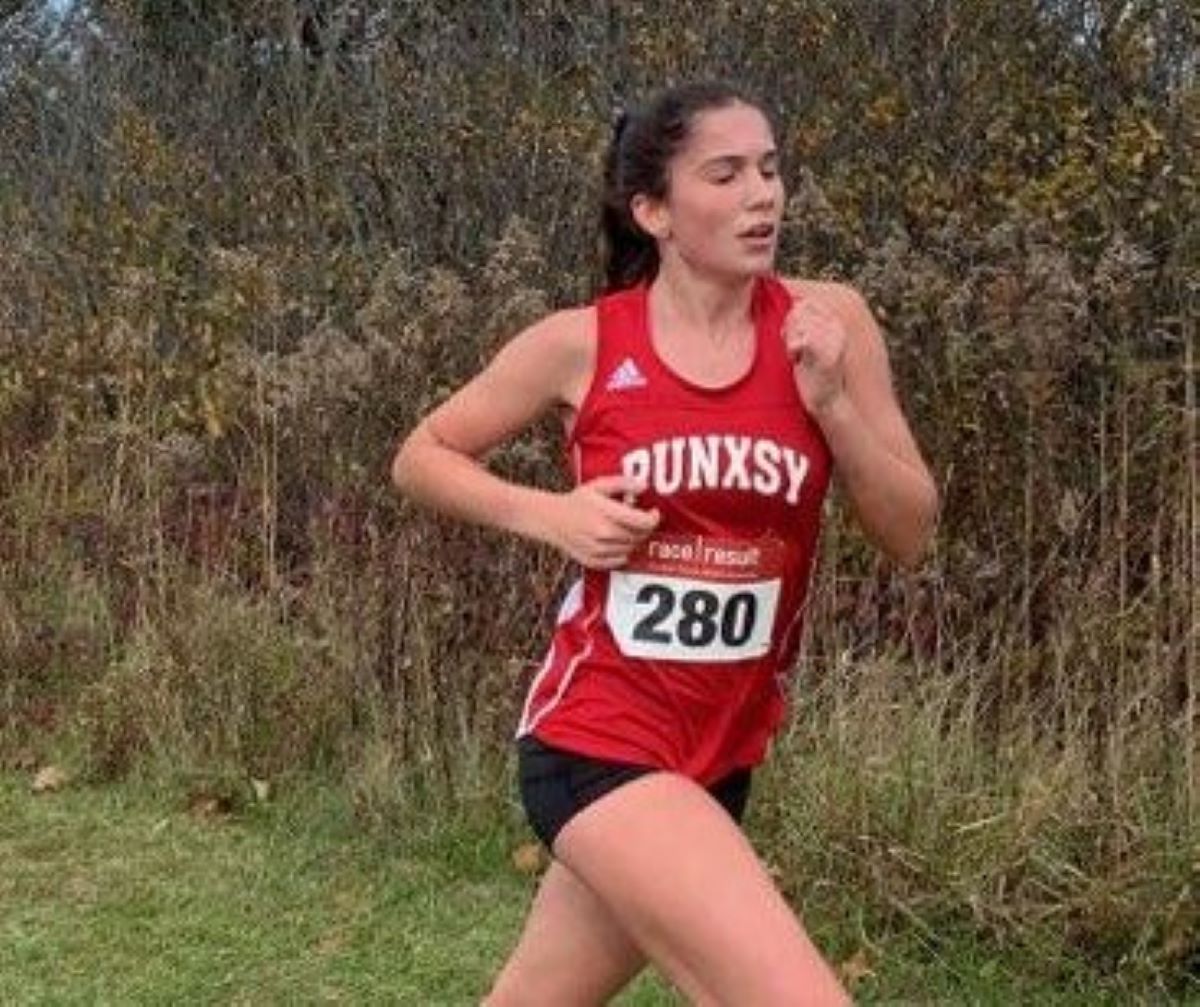 RIDGWAY, Pa. – Led by Haley Bauer, who finished in sixth place, North Clarion claimed the District 9 Class 1A girls' cross country title Saturday at Ridgway, while St. Marys took home the Class 2A girls' crown led by second-place finisher Samantha Hayes.
(Photo of Punxsutawney's Olivia Roberts, who won the District 9 Class 2A individual championship. Submitted photo)
Class 1A Results  • Class 2A Results
Oswayo Valley freshman Cheyenne Mehl won the girls' Class 1A race in a time of 20:17.9, while Punxsutawney junior Olivia Roberts won the Class 2A race in a time of 19:44.
North Clarion scored 48 points well ahead of second-place finisher Cranberry, which scored 77 points.
Joining Haley Bauer on North Clarion's team were Jordyn Hendrickson (8th place), Rachel Bauer (10th place), Nicole Fair (13th place), Kayla Aaron (17th place), Katie Bauer (18th place) and Addison Shaftic (36th place).
All of those runners qualify for the PIAA championships as do all the members of Cranberry's second-place team and the 10 top finishers who weren't on either North Clarion or Cranberry.
Cranberry was paced by second-place finisher Kalynne Ziegler while Ashlyn Shultz was ninth, Ellabay Perry was 14th, Chelsea McKissick was 23rd, Morgan Stover was 43rd Gwen Earp was 52nd and Lauren Johnson was 54th.
Joining Mehl as individual qualifiers for the PIAA meet were Northern Potter's Courtney Martin (3rd), Moniteau Hannah Burgoon (4th) and Jenna Blauser (5th), Kane's Emily Peterson (7th), Brookville's Emma Fiscus (11th), Coudersport's Isabel Porterfield (12th), Elk County Catholic's Chelsea Hunt (15th), Kane's Raeann Asel (16th) and Northern Potter's Rebecca Martin (19th).
St. Marys won the Class 2A meet with 24 points with Punxsutawney finishing second with 46 points.
Members of St. Marys' team automatically qualify for the PIAA meet, and, in addition to Hayes, included Megan Quesenberry (3rd), Kyla Johnson (4th), Tessa Grotzinger (7th), Brianna Grotziner (8th), Summer Herring (10th) and Lucy Anthony (14th).
In addition to Punxsutawney's Roberts, four additional runners also earned PIAA berths including Bradford's Hannah Lary (5th), Clearfield's Avry Grumblatt (6th), Punxsutawney's Amy Poole (9th) and Punxsutawney's Olivia Bish (11th).
Note that the places for the team champions are based on their overall finish and their scoring finishers might be different than their overall finishes.