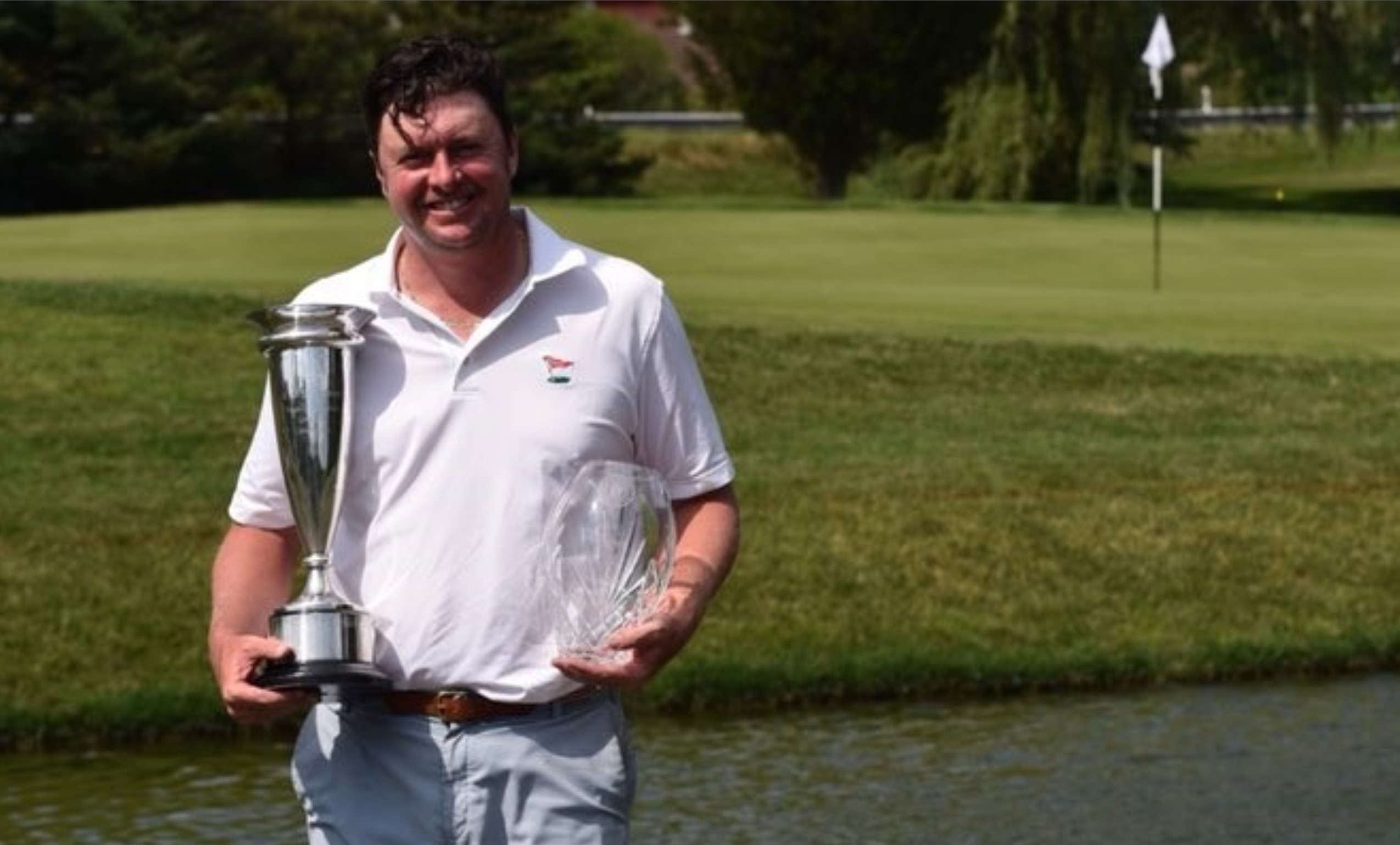 ORWIGSBURG, Pa. – Brookville native Nathan Smith captured his second straight R. Jay Sigel Match Play Championship presented by LECOM at Schuylkill Country Club Wednesday defeating Max Siegfried, 3&2.
(Photo courtesy of PaGolg.org)
"It is not easy," Smith told PAGolf.org about becoming just the second golfer to win the tournament, which was being played for the 15th time, in back-to-back years. "I love to play and I love to practice. Wherever my game is at I will travel, and I love to compete. Sometimes it is tough when you have done some great things to try and gear yourself up for events. I enjoy trying to improve no matter what level I am playing on."
Smith, who has now won the Sigel six times (2009, 2011, 2013, 2015, 2017, 2018) was spot on Wednesday against Siegfried hitting 14 of 16 greens and 8 of 11 fairways.
"I thought it would be really special to go back-to-back," Smith told PAGolf.org. "The consistency I have had means a lot to me because this game is not easy."
He has played in four Masters Tournaments (2004, 2010, 2011, 2013) as a result of his four U.S. Middle-Amateur Victories (2003, 2009, 2010 and 2012).
He won the 2002 Pennsylvania State Amateur, the prestigious 2011 Sunnehanna Amateur and four consecutive Western Pennsylvania Amateur championships (2007-2010). He along with Todd White claimed the inaugural U.S. Amateur Four-Ball at The Olympic Club in San Francisco, just to name a few.
Smith put on a tremendous ball-striking display to claim the 15th R. Jay Sigel Match Play Championship presented by LECOM at Schuylkill Country Club (par 72, 6,818 yards) in a 3&2 victory over Aronimink Golf Club's Max Siegfried.
On Wednesday, Smith twice erased early Siegfried leads on the next hole evening the match with victories on both hole No. 2 and hole No. 4.
Then, after Siegfried again took the lead on No. 6, Smith tied the match before the turn by taking No. 8.
Smith then took control of the match on the Back Nine winning holes Nos. 10 (4-5) and 13 (4-5) to go up two.
"The shot of the day for me was on No. 13," Smith, of Pinecrest Country Club, told Pagolf.org. "I was in the right trees and had to punch it out. It was a rough lie and I had to chip it underneath to a green with what seems like 100 tiers in it. To scoot it up to about seven feet from there was easily the best shot I hit all day."
Siegfried responded with a 4-5 win at No. 14 but Smith put the match and the championship away with victories on No. 15 (4-5) and No. 16 (3-4).
"It was pretty up and down," Siegfried told PAgolf.org. "I didn't really expect anything to happen to me like it did today. My ball striking just wasn't good at all. It was hard to believe some of the shots I hit. But then I chipped in on No. 12, which had me confused. I felt like I could have been much better. It was a weird ending to the week.
"I wish I would have played better. The first few holes of the match I was going along well but when I got to the back nine I played some of the worst golf I had all week. It sucks to come up this short and not give him my best."