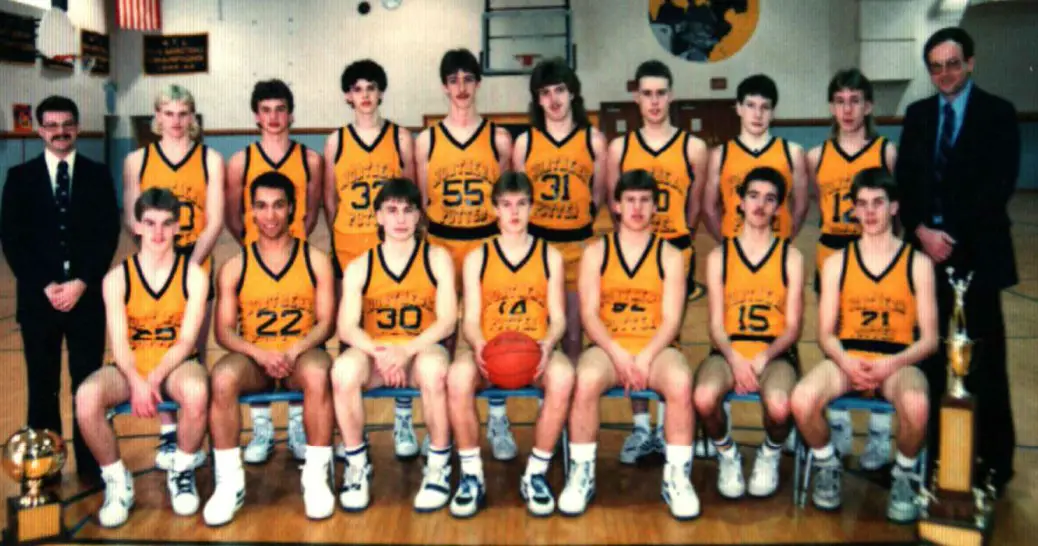 By Chris Rossetti
This story is part of an occasional series highlighting great moments in District 9 history
It was the winter of 1989-90, and President Bush, the first President Bush, was in the White House. The world had never heard of Facebook or Twitter, and most people had never seen a cell phone outside of the movies.
And in the little town of Ulysses, Pa., a story for the ages was taking shape.
In the early going, it would be hard to even call the 1990 Northern Potter boys' basketball team ordinary. Bad was more like it.
The Panthers, despite entering the season with at least a moticum of expectations, found themselves floundering at 1-8 in early January after an 0-6 start.
But two months later, Northern Potter was celebrating the first, and so far only, District 9 Class A boys' title in school history after a 49-48 win over Elk County Christian (now Catholic), the lone blemish on what was an unbelievable run from 1987-95 for the Crusaders, who won eight of nine titles during that stretch.
"It was a 'Hoosiers'-like run," the long-time Panther head coach Doug Kosa remembered. "It was tremendous for the community. When we won, we were on a charter bus when we came home, and in the town of Gold, which is about six miles from Ulysses, the fire trucks were waiting. We had an escort from Gold into town, and as far as you could see behind us there vehicles following us, all you could see was nothing but cars. It was a big deal. We had a rally that night. It was just a very special time. There were many comments, many thank yous from the community for what happened."
The run was just an amazing one that even Kosa didn't think it would happen until his team of misfits – not one of the Northern Potter players topped 6-foot-1 even when being generous by basketball standards – beat Brockway in the District semifinals at Kane High School. That was the team's 14th win in 16 tries after the 1-8 start.
"We barely won most of our games," Kosa said. "I never thought we would contend for a District title. Aaron (the legendary ECC head coach Aaron Straub) told me a few months later that he had seen us play at Cameron County and left the gym that night figuring he was never going to see us again."
But Straub and his Crusaders did see Kosa's Panthers again, in the March 8 title game at Clarion University's Tippin Gym.
And the outcome was a classic with Northern Potter getting 13 points each from Tim Walters and Dale Stokes and 11 from Matt Phelps to knock off the ECC powerhouse.
"I knew we were going to win the day before at practice," Kosa remembered. We were only in practice 30 minutes, and they didn't make a mistake in the first 30 minutes. I turned to (assistant coach) Paul (Burdick) and said let's just stop it right now. They are ready. I think we are going to win. So we ended practice. And because I thought we were going to win, I went to the school librarian and said we need people to tape the game and photograph it. I had never done that before. I never had gone into a game thinking we were going to win. But it turned out I was right."
With no more practice, the players got together at Jeff Pirrung's house, whose parents were very supportive of the team according to Kosa, and actually watched "Hoosiers."
"So the next day, Paul comes to be and says the guys had watched the movie so we should measure the basket like they do in the movie," Kosa said. "So we did it."
Burdick recalls the players coming in the next day all excited after watching the movie.
"They were like we are going to win it," Burdick said. "So we get down to Clarion and Doug brought the tape measure with him, and they measure the hoop just like in the movie. And I remember Matt Phelps, our point guard coming out of a time out and asking Doug if he could got out there and harass them a little bit just like the movie. Matt was just that kind of kid. He was a tough-minded kid who loved to play defense and was a real pain in the ass to play against. You rarely have those kinds of kids anymore."
Phelps was joined in the starting five by Walters Stokes, Brett Erway, who had eight tallies, and Pirrung, who scored four points. Joel Kosa was the only other player to get into the title contest, although Gabe Barber played in playoff wins over A-C Valley and Brockway.
After the rough start, few could have envisioned the title, and Kosa remembers challenging the team.
"After we started 1-8, I challenged them," Kosa said. "I told them they were underachieving, and I didn't know what to do. They had a meeting, and I don't know what happened at that team meeting without me. But they came to practice the next day determined to be better than we were. We were never great, but we worked hard to win games."
Both Kosa and Burdick, though, point to the midseason return from injury of Pirrung as the catalyst for the Panther turnaround. The senior missed the first six games of the year, all losses.
"Jeff was the leader," Kosa said 25 years later.
That pretty much matches up with what the head coach told the New Castle News in the days leading up to the Panthers PIAA playoff game with Union New Castle.
"Pirrung seems to be the real steadying force on this team," Kosa told the paper at the time.
With Pirrung, who only averaged 5 points a game, back in the lineup, Northern Potter went 16-5 including 16-4 before falling to Union-New Castle, 86-66, in the opening round of the PIAA playoffs.
The Panthers won the North Tier League title but still entered the District 9 postseason as the No. 7 seed in an eight-team tournament.
But in the opening-round game against A-C Valley at Kane, Pirrung went off hitting a pair of 3-pointers in the first quarter and scoring 10 of his team-leading 24 points in the opening eight minutes to help the Panthers to the 69-68 win.
"We had won the league, and we had nothing to lose going into districts," Kosa said. "The first three possession, Jeff Pirrung, who had been out center, rotated out onto the perimeter and shot threes. He hadn't shot three all year. It just kind of stunned A-C Valley. They were very good, and it was a complete and total upset. We were fortunate to win it."
In the semifinals against Brockway, it was all Stokes.
The 5-foot-9 senior shooting guard, who was the team's leading scorer at 18 points per game, had the game of his life against the Rovers going off for 43 points while hitting 16 shots, including five 3-pointers, in the 74-66 win. That helped offset a monster effort from Brockway's Eric Bovaird, who netted  30 of his own in what surely has to rank as one of the best one-on-one duels in District 9 playoff history.
That brought on the mighty Crusaders, who had cruised into the title game with a 74-48 victory in the semifinals over North Clarion and had won the three previous District 9 Class A titles by an AVERAGE of 18.7 points per game.
"It was truly David vs. Goliath," Burdick said.
ECC led 11-8 at the end of the first quarter, but behind six points from Stokes and five from Walters, Northern Potter rebounded to take the two-point halftime lead outscoring the Crusaders 17-12 in the second quarter.
From there, the game was pretty much a stalemate with the teams playing to an even 12 points in the third quarter before ECC outscored the Panthers 13-12 in the fourth quarter. But Phelps hit two key free throws down the stretch to seal the victory.
"It was coming down to the end, and we had a two-point lead," Kosa recalled. "They fouled Matt, and there was a timeout. In the timeout, I was telling the guys what we were going to do if he missed the first shot, setting up different scenarios. And he told be to shut up, that he was going to make the free throws. But golly, he went out and made them. That's the kind of kids we had at the time. I remember that distinctly."
WHERE ARE THEY NOW
A look at the 1990 Northern Potter Panthers and where they are now
Head Coach Doug Kosa – Kosa is retired from teaching math at Northern Potter and still lives in the community. He and Burdick recently went to the NCAA Sweet 16 in Syracuse, N.Y., together.
Asst. Coach Paul Burdick – Burdick is still teaching health and physical education at Northern Potter and lives in Coudersport. His son, Derek, was a starter on Coudersport's 2008 District 9 Class A championship team, He also owns Paul Burdick Sports Images and was a driving force behind D9Sports adding photography to the web site a few years ago
Junior High Coach Mark Galley – Mark is a Physical Education teacher in the Canon-McMillan School District in Canonsburg, Pa.
Brett Erway – Brett lives in Mantua, Ohio, and is an IT Manager for GED Integrated Solutions
Tim Walters – Tim lives in White Deer, Pa., and is the Lead Fabricator for Thermal Product Solutions
Dale Stokes – Dale is a Master Sergeant in the United States Air Force and is currently living in Minot, North Dakota
Jeff Pirrung – Jeff lives in Jacksonville, Fla., and is CEO of American Legal Claims Services. It was an e-mail from Jeff that promoted this feature
Matt Phelps – Matt lives in Coudersport and is a Pipeliner for Otis Eastern Company
Joel Kosa – Joel still lives in Ulysses and works at EDCO Farms
Gabe Barber – Gabe still resides in Ulysses and is a Technician with the International Union of Operating Engineers, Local 112.
Justin Kosa – Justin passed away in 2010. His two sons currently play for Northern Potter
Alan Cornell – Alan lives in Erie and i a System Analyst with General Electric
Shawn Clark – Shawn is a Director for Comcast in Denver
Jamie Close – Jamie is a Master Gunnery Sergeant in the United States Marines and currently resides in San Angelo, Texas
Anders Thorius – An exchange student on the 1990 team, Anders lives in Denmark and is a business analyst for TDC Corporation.
Bryan Williams – Bryan lives in Williamsport and is a Mental Health Specialist for Lycoming-Clinton Joinder
David Morgan – David resides in Frackville, Pa., and is a Records Supervisor for the Commonwealth of Pennsylvania Department of Corrections
Alan Emerson – Alan lives in Wellsville, N.Y., and works in distributing for the Air Pre-Heater Company