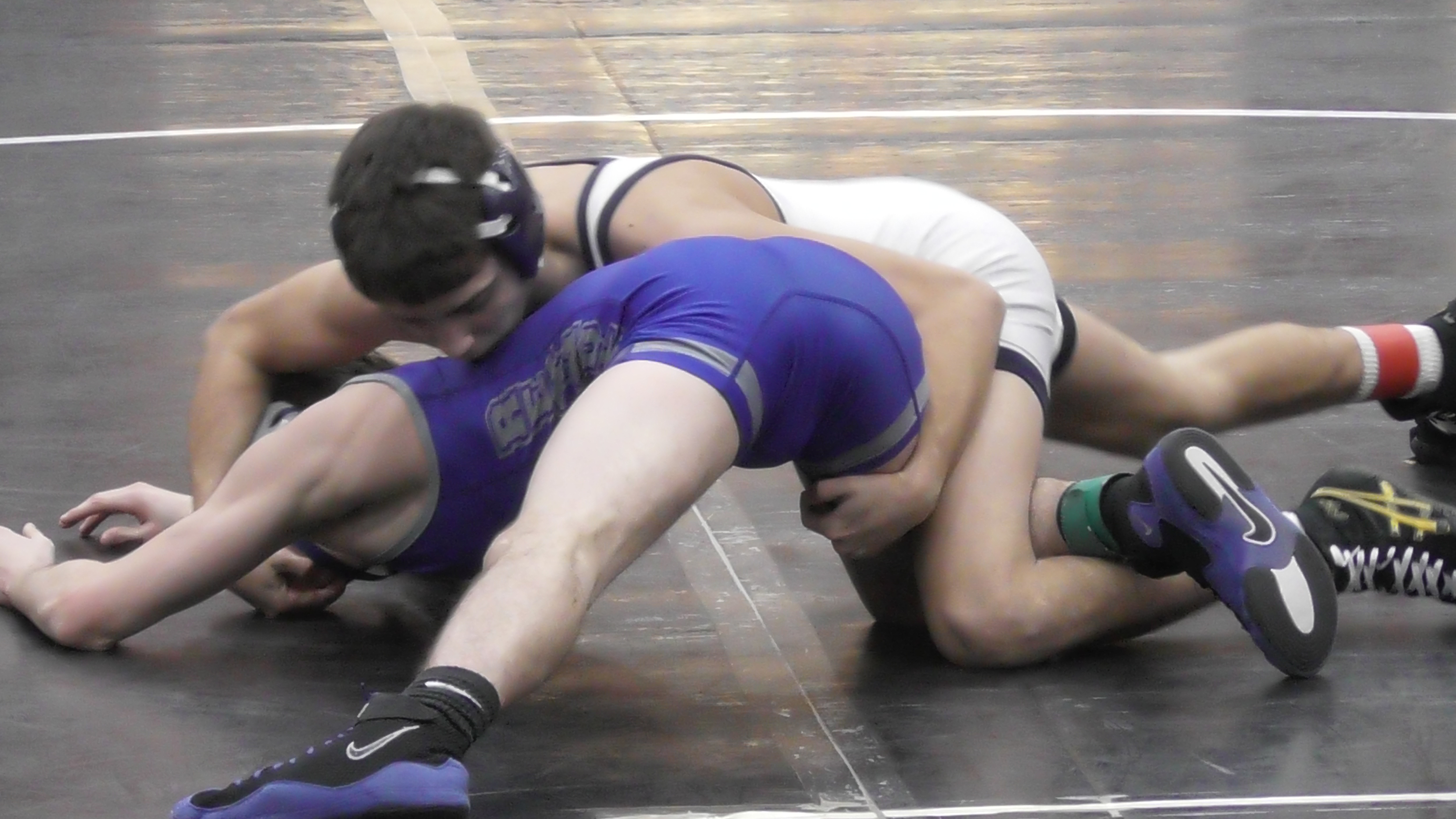 HERSHEY, Pa. — The Brookville Raiders will have one of their own wrestling for a state championship Saturday afternoon at Hershey's Giant Center.
Senior Gavin Park will go for the gold after beating E.L. Meyers's Colin Pasone, 10-9, in the semifinals.
Park jumped out quickly with a 6-2 lead after one period and 9-2 after two.
Pasaone rallied, but Park held him off for the elusive finals berth.
For Park, he continued his impressive postseason performance when he scored his second pin at states in the quarters, decking Line Mountain's Cole Hauck in 1:12.
Eight other District 9 wrestlers will medal in Class AA and AAA at the PIAA Championships after Friday's action.
Saturday, Brookville will have five on the podium while the Brockway Rovers and Ridgway Elkers will each have one in AA.
In AAA, DuBois's Ed Scott and Clearfield's Luke McGonigal also secured medal finishes by reaching the semifinals.
Scott reached the semifinals with an 8-0 major decision over Nazareth's Sean Pierson at 113 pounds.
Scott will take on Seneca Valley's Louis Newell.
Scott improved to 37-1 and has been rolling the last week, scoring three falls and two major decisions in six matches at regionals and states.
For McGonigal, he scored a 3-1 decision over Pottsgrove's Ryan Finn at 170 pounds.
The Bison will face Albert Gallatin's Tim Wallace in the semifinals.
McGonigal is 35-1 and has been impressive at regionals and states. McGonigal won by tech fall, pin and two easy decisions at regionals. He has scored two straight decisions at states.
Rovers freshman Anthony Glasl overcame a narrow, 4-3, loss to Bishop McDevitt's Nate Smith in Friday morning's quarterfinals to win his third round consolation match.
Glasl faced Upper Dauphin's Ethan Paul and pinned him in 2:36. Glasl was dominant, leading 9-0 when he decked Paul.
Friday evening, Glasl faced Muncy's Jake Paul and won a 4-3 decision. Then, in the fifth round consey match, Glasl dropped a 4-3 contest to Bishop McCort's Kaden Cassidy.
Glasl will wrestle for fifth place Saturday against Bishop McDevitt's Nate Smith.
For Brookville, 195-pound junior Xavier Molnar also made the semifinals where he lost by tech fall, 22-6, in 5:12 to Montoursville's Gavin Hoffman.
For Molnar, he beat Mifflinburg's Luke Walter, 4-1, in the quarterfinals while dealing with two stoppages for blood time.
Molnar took a 2-0 lead with a second-period reversal. Early in the third, he allowed an escape, but he scored a late takedown to cement the win.
Molnar then faced Johnstown's Exree Loe in the fifth round of consolations and lost 7-4.
Molnar beat Loe in the first round, 9-4.
Molnar will wrestle for fifth against Blairsville's Jerry Moore.
Keelan Kunselman had some work to do at 113 pounds to reach the medal rounds and he did with a pair of wins Friday morning.
Kunselman started with a 6-5 win over Wilson's Marckis Branford and then beat Everett's Garret Cornell, 6-0.
In the fourth round consey match, Kunselman went against Susquehanna Township's Tyger Evans and lost 2-0.
Kunselman will wrestle for seventh against Westmont Hilltop's Derrick Christie.
At 152 pounds, Caleb Hetrick dropped a 3-1 decision Pen Argyl's Chase Anklam, but rallied in the third round conseys for a 6-4 win over Moshannon Valley's Jon Dale.
Hetrick took a 2-0 lead to the second period, but Dale put him on his back to make it 3-2.
Hetrick got things headed in the right direction with a takedown with five seconds left to make it 4-3.
In the third, Dale escaped to tie it, but Hetrick got a takedown with 1:22 left hand held on for the win.
Hetrick met Northwest Lebanon's Caleb Clymer in the fourth round conseys  and was pinned in 29 seconds.
Hetrick will wrestle for seventh against West Branch's Derek Yingling.
For 220-pound Tyler Cook he won two close matches to secure a medal finish.
First, he beat Bishop McDevitt's Nasir Pettus, 1-0. Then, he scored a dramatic win in the third round conseys with a takedown with 27 seconds left over Halifax's Jake Paul.
Friday night in the fourth round consolations, Cook faced Saucon Valley's Devin Fontanez and lost 3-1.
Cook will wrestle for seventh against Danville's Jarrett Walters.
Ridgway 138-pounder Logan McClain secured a medal finish despite getting pinned in the quarterfinals by Central Cambria's Max Murin.
McClain rallied in the third round conseys with a 6-1 win over Freedom's Chase Komara.
In the fourth round, McClain took on Ligonier Valley's Alex Caldwell and was pinned in 4:40.
McClain will wrestle for seventh against Valley's Brett Uhrin.
Brookville senior 182-pounder Noah Cieleski came up agonizingly short of his 100th win.
In the second round of consolations, Cieleski lost 3-2 to Susquehanna Township's Devin Evans, leaving him one short of the century mark.
Cieleski did go down fighting.
In the week leading up to the regional tournament, Cieleski broke two fingers. He battled to finish fourth and qualify for states, but came up short.
Fortunately, the Raiders had their other five grapplers make the medal rounds.
Ridgway had its other wrestlers drop from the tournament Friday.
At 113, Kyle Bush dropped a 5-4 decision to Notre Dame Green Pond's Richie Markulics.
At 285, Colton McClain dropped a 2-1 decision to Wyalusing's Dawson Otis to end his season.
Other District 9 wrestlers bowing out Friday included:
– Bradford 132-pounder Tyler Thompson lost to Marion Center's Charlie Beatty, 9-5;
– Cranberry 145-pounder Josh Hancock lost 3-2 to Boiling Springs's Cameron Palmer.
– Kane 152-pounder Aiden Hulings was pinned by Wyalusing's Josh Haley;
– Coudersport 160-pounder Gage Arnold lost 1-0 in the quarters to Mo Valley's Larry Brown and 7-2 to Shamokin's Jake Carpenter.
Port Allegany's Jake Kallenborn lost 5-4 to Mahanoy's Colin Fegley at 160.
DuBois's Trenton Donahue lost to Pottsville's Nick Onea, 3-1, at 106;
DuBois's Kolby Ho lost twice Friday, getting pinned by Council Rock South's Zach Trampe and dropping a 6-4 sudden victory decision to McDowell's Leno Ciotti.