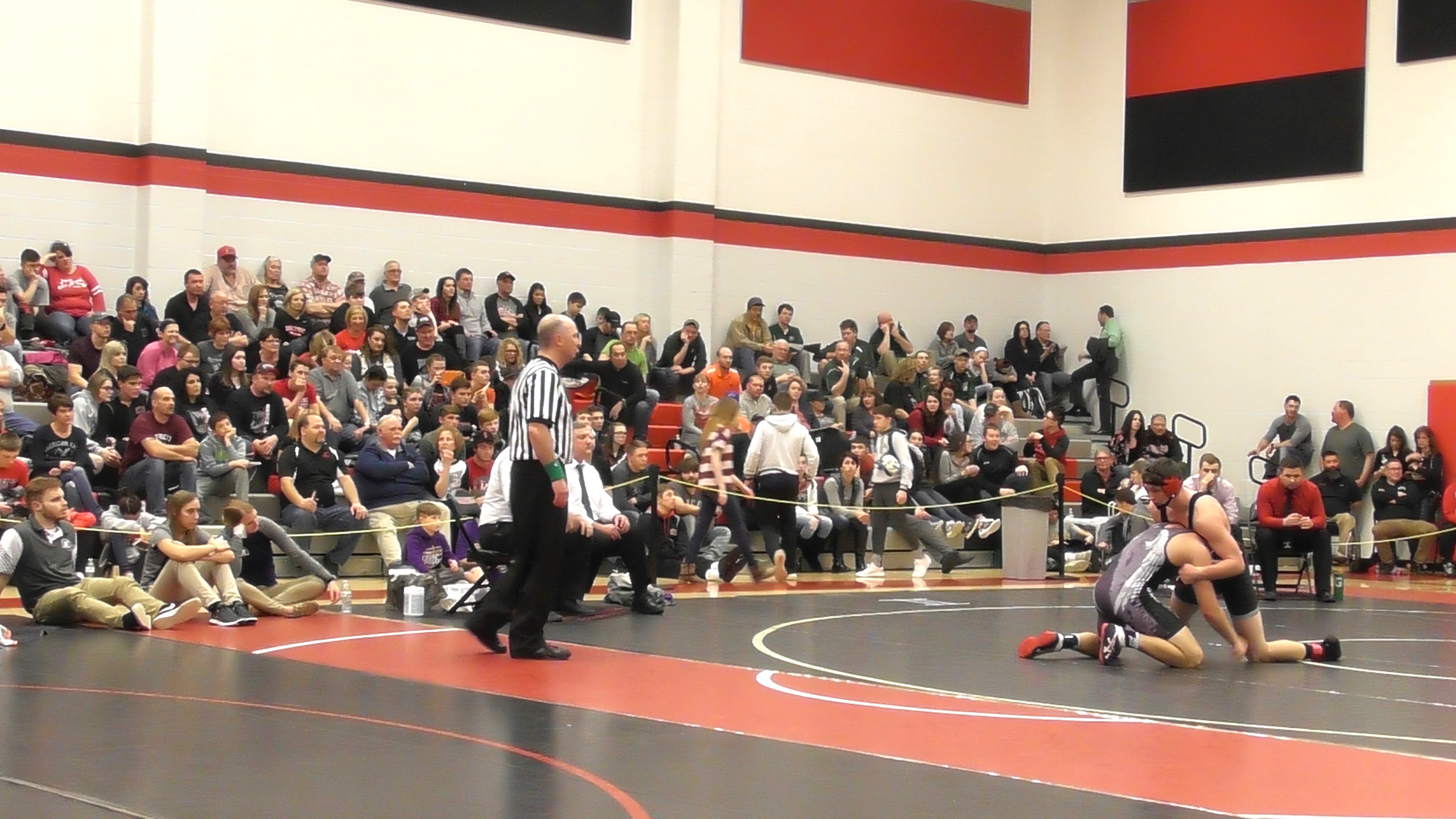 SHARON, Pa. (EYT) — Friday evening was a tough one for District 9 wrestlers at the Class 2A Northwest Regional tournament in Sharon.
Nineteen of 56 wrestlers reached the semifinals and are still in the hunt for regional titles. All semifinal winners automatically qualify for states.
The Brookville Raiders lead the District 9 contingent with five in the semifinals.
Coudersport is next with three. Brockway, Ridgway, Curwensville and Bradford each have two in the semifinals.
Smethport, Kane and Port Allegany each have one wrestler in the semis.
Seven weight classes have two D9 wrestlers in the semifinals, including 120 pounds, 132, 138, 145, 160, 182 and 285.
Here's a look at how each D9 semifinalist did Friday:
Brookville
Junior 120-pounder Cabe Park improved to 20-11 with an 8-1 decision over Habor Creek's Mike Gabler.
 Senior 126-pounder Kai Sorbin (29-8) beat Northwestern's John Wheeler, 5-4.
Senior 145-pounder Caleb Hetrick (30-5) rolled to a 17-3 win over Cochranton's Kaleb Brown.
Senior 220-pounder Tyler Cook is 33-5 after decisioning Habor Creek's Dom Viscuso, 3-2.
285-pound sophomore Colby Whitehill is 36-3 after beating Reynolds's Derek Skeehan, 2-1.
Coudersport
Senior 138-pounder David Kudrick (31-5) beat Sharpsville's Brock Salvatore, 6-2.
Senior 160-pounder Julian Smith is 28-5 after beat Habor Creek's Jason Bratt, 3-1.
Junior 182-pounder Elijah Ayers is 30-6 after pinning Slippery Rock's Kaleb Kamerer in 1:38.
Brockway
Sophomore 120-pounder Anthony Glasl dominated Union City's Judah Gardner in an 18-0 technical fall. Glasl improved to 32-3.
Junior 182-pound Garrett McClintick is 31-5 after rolling over Maplewood's JD McFadden, 12-2.
Ridgway
Senior 132-pounder Bryce Barclay improved to 30-4 with a 6-5 win over Mercer's Alex Chess.
Senior 138-pounder Lukas McClain improved to 31-4 with a 16-4 win over North East's Dylan Muscarella.
Curwensville
Golden Tide 113-pound junior Blake Passarelli (27-4) scored a major decision, 11-3, over Saegertown's Alex Kightlinger.
285-pound senior Steve McClure is 29-3 after beating Union City's Matt Long, 2-1.
Bradford 
Owls 132-pound senior Tyler Thompson scored an 18-0 technical fall over Northwestern's Caiden Mooney to improve to 29-6.
Junior 145-pounder Dillon Keane is 31-2 after beating Greenville's Mason Karpinski, 4-0.
Smethport
Hubbers 106-pound sophomore Bryent Johnson (21-1-) beat North East's Caiden Eastman, 8-1, in the quarters.
Kane
 Junior 152-pounder Alec English (33-2) beat Sharpsville's Cameron Prebble, 2-1.
Port Allegany
 Senior 160-pounder Jake Kallenborn improved to 34-1 with a technical fall in 4:54 over Grove City's Tyler Greer.
State Dual Meet champion Reynolds leads the points standings with 49.5 and has eight wrestlers in the semifinals. Habor Creek is second with 25 points and Brookville third with 23 points.
Saturday's action begins with the first round of consolations at 9:30 a.m. The semifinals and consolation quarterfinals will begin afterward.
After a short break, the consolation semifinals will be wrestled, likely around 12:30 p.m. The winners of those matches will automatically qualify for the PIAA Championships March 8-10.
At 3:30 p.m. the consolation finals will be wrestled. The Parade of Champions begin at 5 p.m. and the finals begin afterward.
Class 3A
District 9's big school wrestlers have eight wrestlers in Saturday's semifinals at Altoona Area High School.
The DuBois Beavers lead the way with four while Clearfield and St. Marys have two each.
For the Beavers, Ed Scott (120), Dalton Woodrow (132), Kolby Ho (145) and Izsak Kerner (195) each won their quarterfinal matches.
The Clearfield Bison have Matt Ryan (120) and Luke McGonigal (195) in the semifinals while St. Marys' Marco Paropacic (106) and Zach Becker (170) are also there.