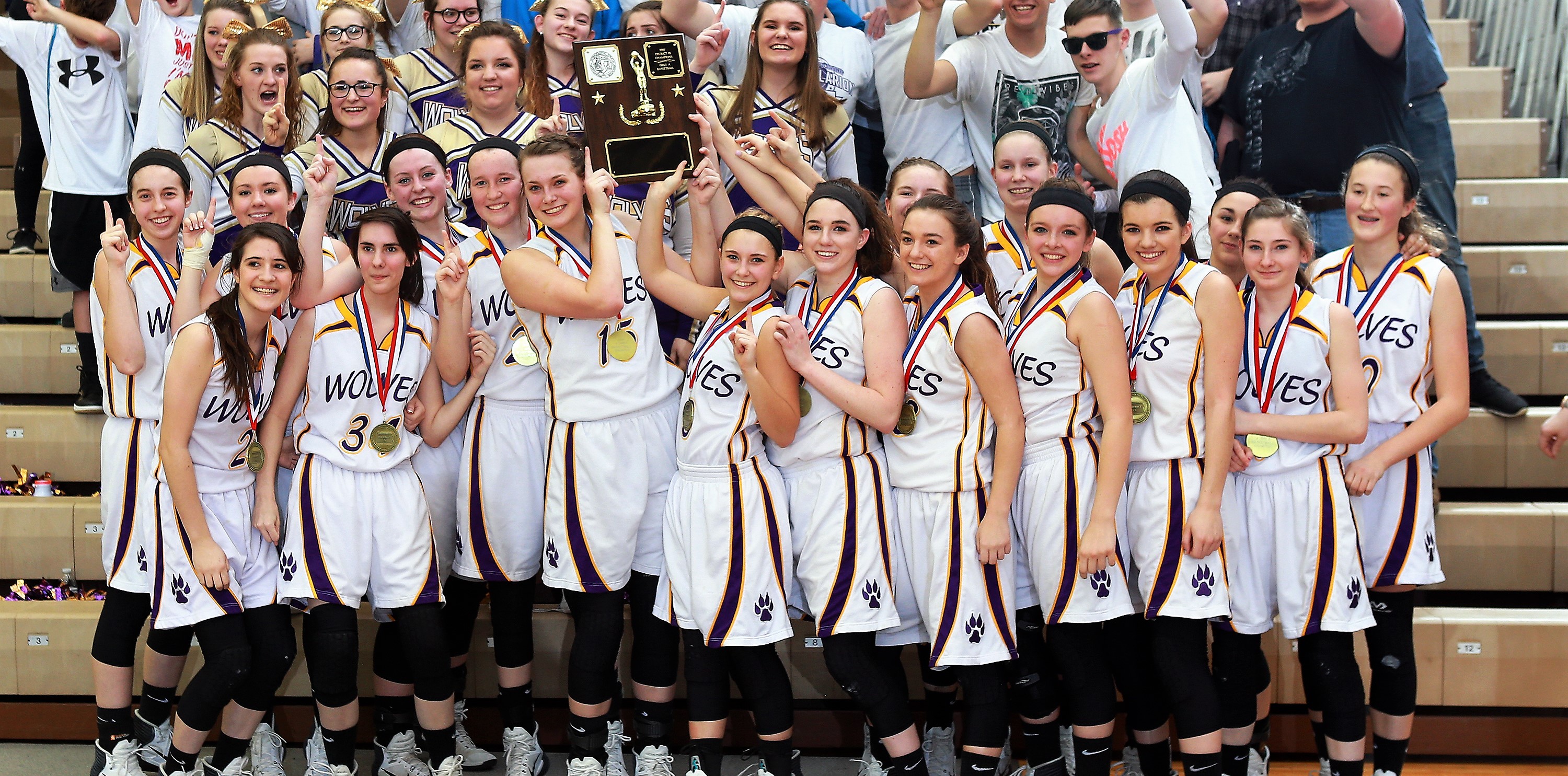 Listen to the broadcast of the game
CLARION, Pa. – North Clarion captured the first-ever girls' basketball title in school history with a 53-40 win over Otto-Eldred in the District 9 Class 1A championship game Saturday afternoon at Clarion University's Tippin Gym.
(Cover Photo by Paul Burdick. Check out more of Burdick's work here)
"I don't know if I can put it into words," North Clarion head coach Terry Dreihaup said. "I looked at the girls on the bench with a minute and a half to play and said 'you are a part of history.'"
The top-seeded She-Wolves made a statement right out of the gate taking a 12-3 lead after one quarter on the strength of 10 points from Tori Obenrader, who finished with a team-high 20 points to go with a game-best 17 rebounds.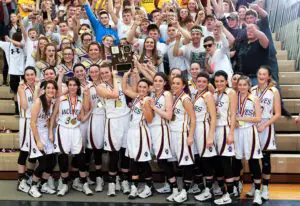 "That was the plan." Dreihaup said. "Before the game we said let's jump on them and play from it front. We wanted them to trail so they would press and force things."
Otto-Eldred, the third seed playing in its first-ever D9 title game, looked like it was pressing in the first half connecting on 4 of 24 shots in the half while going 14 of 51 from the floor for the game.
Meanwhile, even with Obenrader picking up her second foul midway through the second quarter and coming out of the game, North Clarion continued to maintain a lead in double digits and led 24-13 at halftime with Cassie Wagner adding four points and nine rebounds in the first half and 10 points and 13 rebounds in the game.
Obenrader and Wagner talked after the game.
A 9-2 run to start the second half pushed North Clarion's lead to 18, 33-15, with 3:31 left following an old-school 3-point play by freshman Abby Gatesman.
But Otto-Eldred tried to stay alive behind its own inside threat, Camryn Thomas. Thomas scored eight of her game-high 21 points in the third quarter and had 18 second-half points.
Despite Thomas' efforts, the Lady Terrors still trailed by 16, 40-24, going the fourth quarter.
In the final quarter Otto-Eldred did back a run closing the gap to 10, 46-36, with a 6-0 run that included four straight free throws by Thomas.
But after Obenrader missed the second of a two-shot foul with 2:49 to go, Gatesman grabbed the rebound and got the ball to senior Michaela Higgins, who had nine points, and Higgins buried a dagger of a 3-pointer to make it 50-36 with 2:37 to play.
"That was huge," Dreihaup said.
Obenrader's double-double was her 25th in 26 games this year.
"Copy and paste," Dreihaup said about his junior star. "She started strong. We wanted to get the ball into her and Cassie and establish the inside. She had a heck of a game. She did a great job offensively and defensively and set the tone for us."
NORTH CLARION 53, OTTO-ELDRED 40
Score by Quarters
Otto-Eldred 3 10 11 16 – 40
North Clarion 12 12 16 13 – 53
OTTO-ELDRED – 40
Allison Cousins 1 2-2 4, Alyssa Shelander 1 0-0 3, Tiffany Bair 2 0-0 4, Camryn Thomas 7 7-8 21, Emily Smith 1 0-0 2, Autumn Smith 0 0-0 0, Haylee Frederick 1 1-2 4, Britney Greeley 1 0-4 2, Lauren Cousins 0 0-0 0, Jade Spiney 0 0-0 0. Totals 14 10-16 38.
NORTH CLARION – 53
Michaela Higgins 3 1-3 9, Cassie Wagner 5 0-3 10, Abby Gatesman 2 3-5 7, Tori Obenrader 8 1-2 20, Ally Carll 2 0-0 5, Gabby Carll 1 0-1 2, Lindsay Zacherl 0 0-0 0, Gena Caldwell 0 0-0 0, Kiara Stitt 0 0-0 0, Cierah Manross 0 0-0 0. Totals 21 5-14 53.
Three-pointers: Otto-Eldred 2 (Shelander, Frederick). North Clarion 6 (Obenrader 3, Higgins 2, Ally Carll)