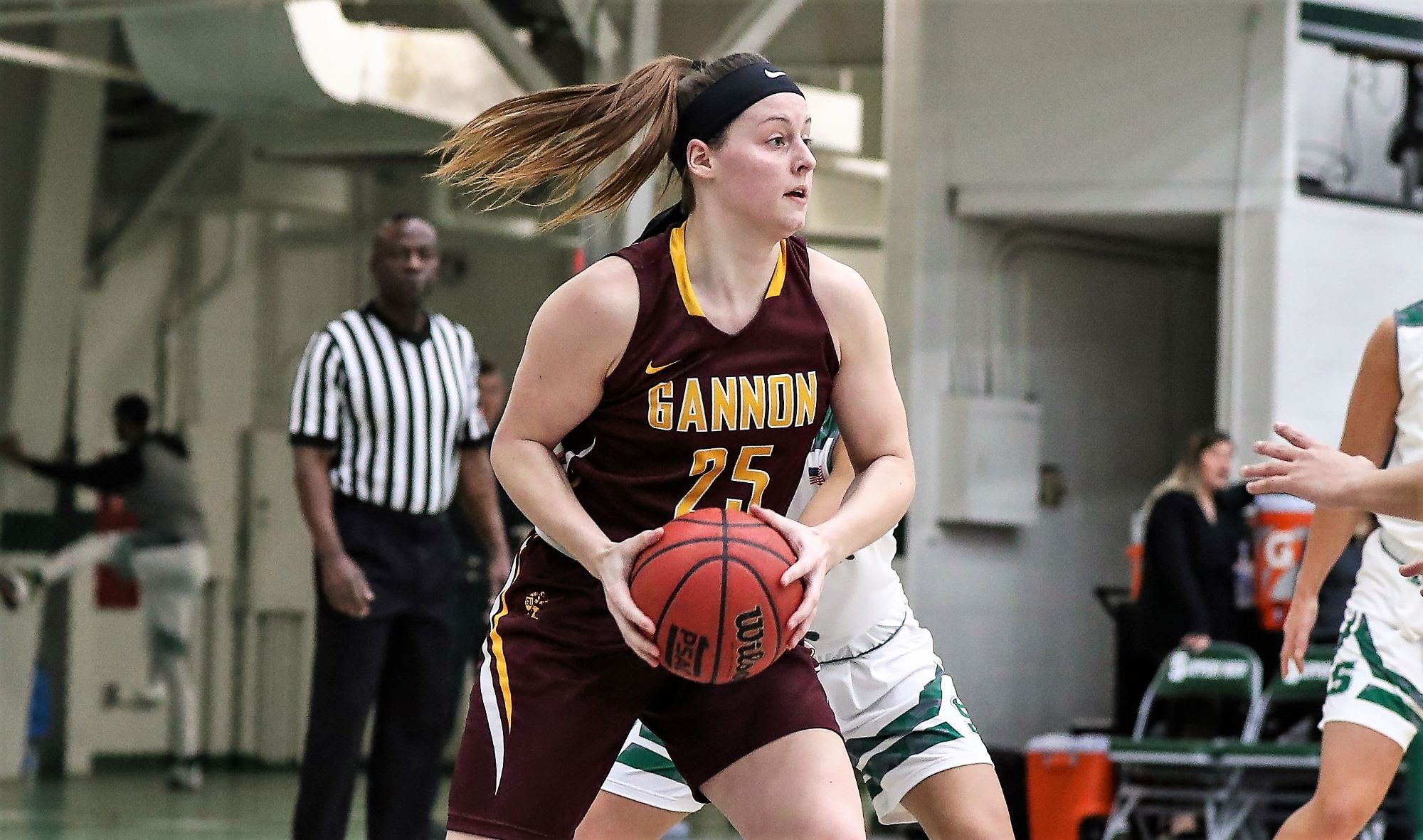 LOCK HAVEN, Pa. – North Clarion graduate Tori Obernader is the PSAC West Women's Basketball Freshman of the Year.
(Photo by Mike Schnelle) 
Obenrader racked up the PSAC West WBB Freshman of the Week awards this season, snagging the accolade seven times, including each of the final four weeks in the regular season. The precocious freshman emerged into one of the top rebounders in the conference and capped her first season in a Gannon uniform with three double-doubles, coming on November 10 (Elizabeth City State), November 28 (Daemen) and February 16 (Edinboro).
"It was super cool whenever Coach (Jim) Brunelli sent me a text telling me about it," Obenrader said. "It was a great experience to play at the college level this season, and Coach Brunelli gave me that opportunity and my teammates gave me the opportunity to play with them."
Obenrader opened her collegiate career in a big way, slicing along the left baseline and laying in a shot to beat the buzzer in overtime, sealing a 91-89 win over Elizabeth City State in the team's season opener at the Hammermill Center.  The Fryburg, Pa. native continued to develop, eventually working her way into the starting lineup for Gannon, and closed her first season in a flurry by averaging 10.8 points and 8.3 rebounds over her last nine games. On the season, she averaged 7.9 points and 6.9 rebounds per game finishing 14th in the PSAC  in rebounding. She also had 28 assists and 22 steals.
"It was was a work in progress for sure," Obenrader said. "I am so grateful to have the people that I do around me to be able to accomplish this. Whenever I found out, I got a lot of text messages from my coaches and teammates."
Gannon made its 20th postseason appearance in the last 22 years this season, earning the six seed in the PSAC West. The Lady Knights surged past Edinboro on the road, 71-67, in the opening round of the PSAC Tournament before losing to second-seeded California (Pa.). Gannon went 14-17 on the season.