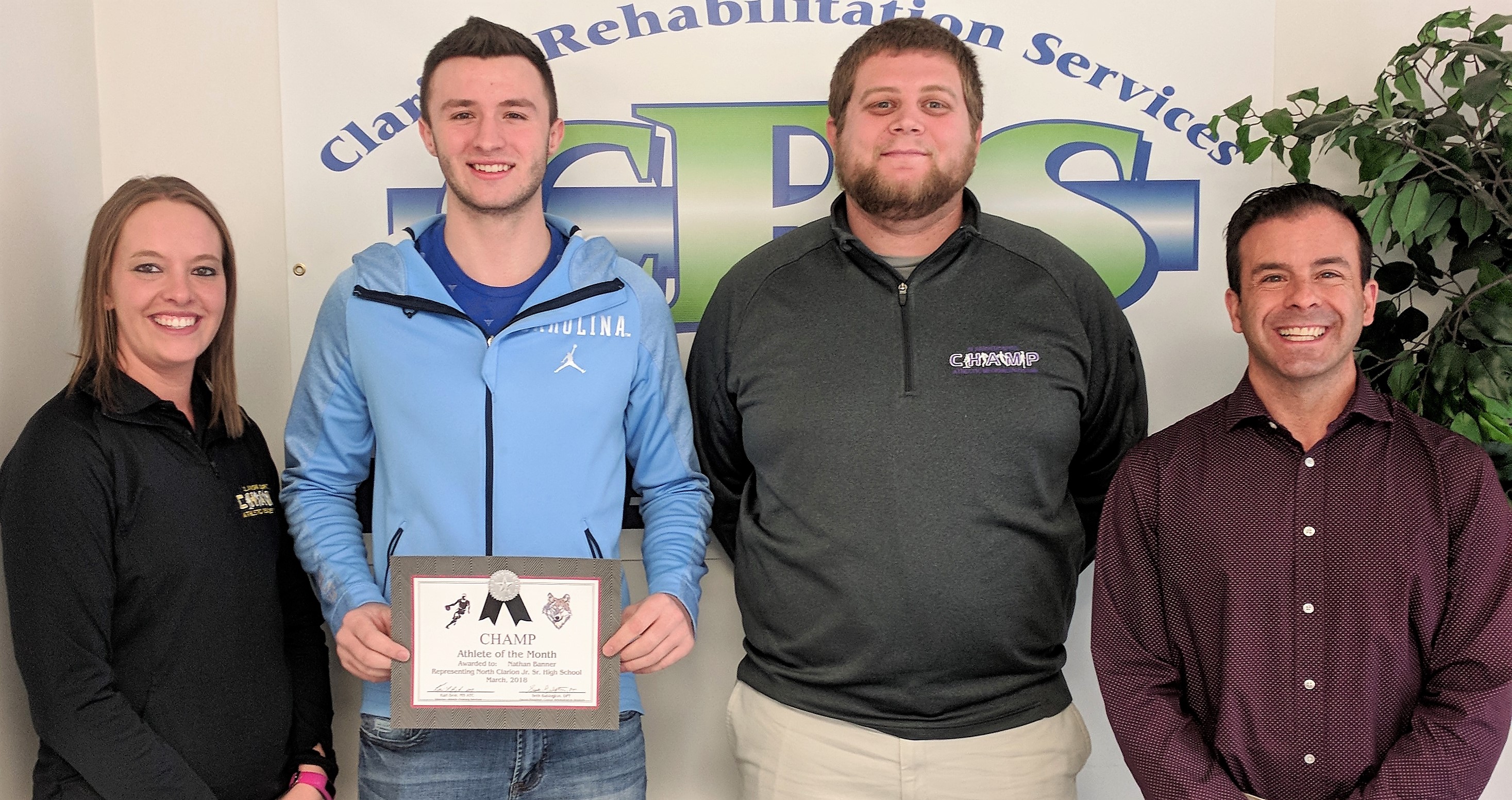 CLARION, Pa. – North Clarion's Nathan Banner is the March Clarion Rehab Services and CHAMP (Clarion Hospital Athletic Medicine Program) Student-Athlete of the Month for March 2018.
(Photo left to right: Kari Best, Director of Sports Medicine for CHAMP; Nathan Banner; Jeffrey Harman, North Clarion High School Athletic Trainer; and Seth Babington Owner of Clarion Rehab.)
Banner is a senior at North Clarion where he participates in golf and basketball. He is also a member of the National Honor Society, Junior Historians and Student Council. His hobbies include fishing, swimming, hanging out with friends and playing pickup basketball. Banner is also a member of the Knights of Columbus at Saint Michael's Church in Fryburg and a member of the Rising Stars AAU Basketball team.
Future plans for Banner are to attend either Penn State DuBois or Clarion University to major in Business with a minor in Sports Management while playing basketball.
"The most inspiring and most important people in my life are my family, hands down," Banner said. "My dad is always pushing me to excel in everything I do, and my mom is the most supportive person I know. The person who inspires me the most is definitely my brother, Nick. The way he lives his life and shows his faith is remarkable. He's been there through everything for me, and I'm so thankful for him."
Clarion Rehab Services/CHAMP Student-Athletes of the Month receive gift certificates from both DE Sports, Inc. and the Pizza Pub.