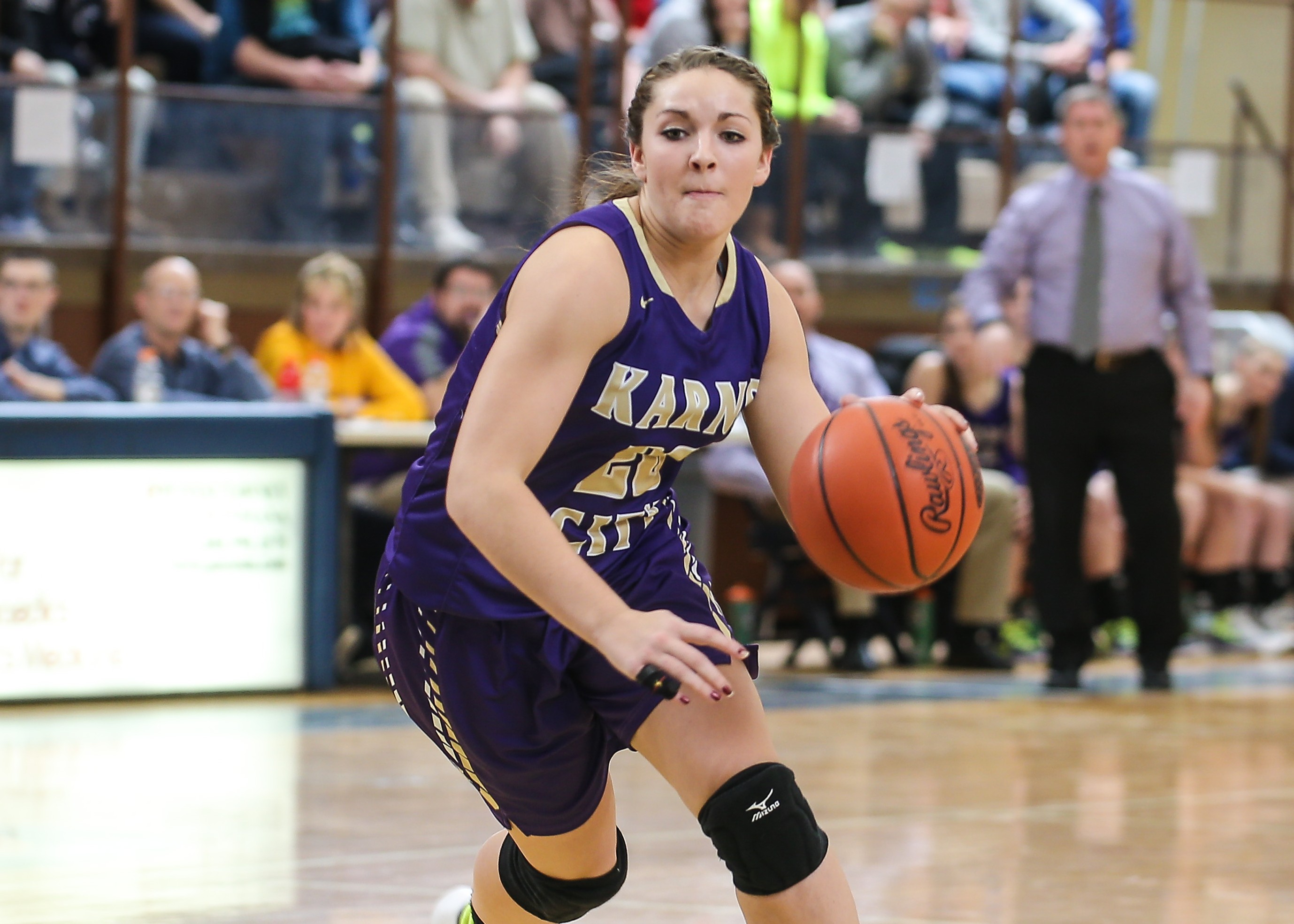 By Chris Rossetti
INDIANA, Pa. – Outplaying District 9 champion Karns City from start to finish, District 5 champion North Star cruised to a 50-30 win over the Lady Gremlins in the second round of the PIAA Class AA girls' basketball tournament Tuesday at the KCAC on the campus of IUP.
"They just outplayed us all night," Karns City head coach Dave Kerschbaumer said. "It didn't matter, from the tip off to the end of the game, they outplayed us all night long."
The Lady Cougars (25-2) scored the game's first 11 points and led 16-5 at the end of the first quarter.
Karns City didn't score until Emily Hegedus hit a pair of free throws with 3:24 left in the quarter, and the Lady Gremlins (24-3) first basket didn't happen until a 3-pointer by Alyssa Gibson with 1:45 left in the quarter.
In the meantime, Karns City turned the ball over nine times in the quarter including at least three travel calls allowing North Star to score 10 points off of turnovers in the quarter.
"Some nights you just have a bad night," Kerschbaumer said. "We just picked a bad time to have a bad night. I'm proud of my girls. I told them not to worry about tonight. (This season) is about the success this team had. I don't think coming into the year, anybody gave us much of a credit to get to where where are tonight. I think the senior leadership we had had a lot to do with us getting to where we are at. It's a credit to them."
North Star got the lead to 13, 20-7, early in the second quarter before Karns City scored four straight points to get the deficit back to single digits at 20-11, with 4:51 to go on an Alyssa Gibson hoop.
But Gibson's basket was the final one Karns City scored in the first half, and the Lady Cougars led 24-11 at halftime.
That lead continued to grow in the early part of the third quarter and reached 30-14 two minutes into the second half, and it was 40-20 by the end of the third quarter.
Jackie Stanko and Courtney Schrock were big reasons for North Star's dominance.
Stanko scored 19 points and hauled down eight rebounds, while Schrock added 16 points, including 12 in the second half on drive after drive to the hole. Maggie Friedline added eight.
LeeAnn Gibson led Karns City with 11 points and finished her great Lady Gremlin career with 1,456 points, the third all-time leading scorer in school history.
Here what Kerschbaumer had to say about what Gibson meant to the program.
NOTE – The game was changed at the last minute from IUP's Memorial Fieldhouse to the KCAC before of water-line issue at the Fieldhouse. The KCAC is the home of IUP men's and women's basketball and is a multipurpose arena. The staff at IUP on very short notice, they found out about the move around 4 p.m. for a 6 p.m., did an excellent job setting up the KCAC.
NORTH STAR 50, KARNS CITY 30
Score by Quarters
Karns City 5 6 9 10 – 30
North Star 16 8 16 10 – 50
KARNS CITY – 30
Alyssa Gibson 2 4-4 9, Abby Wolfe 0 0-0 0, Alyssa Stitt 0 0-0 0, LeeAnn Gibson 4 3-4 11, Emily Hegedus 2 4-4 8, Brooke Moore 0 0-0 0, Olivia Mourer 0 0-0 0Mackenzie Craig 1 0-0 2. Totals 9 11-12 30.  
NORTH STAR – 50
Madyon Miller 0 0-0 0, Kylie Hoffman 0 0-0 0, Olivia Zuchelli 1 0-0 3, Courtney Schrock 7 1-2 16, Rocket Eutin 0 0-0 0 Maggie Friedline 4 0-1 8, Kayla Rice 2 0-0 4, Jackie Stanko 9 1-3 19, Krysten Joseph 0 0-0 0, Allison Carmean 0 0-0 0. Totals 23 2-6 50.
THREE-POINTERS – Karns City 1 (A. Gibson). North Star 2 (Zuchelli, Schrock).