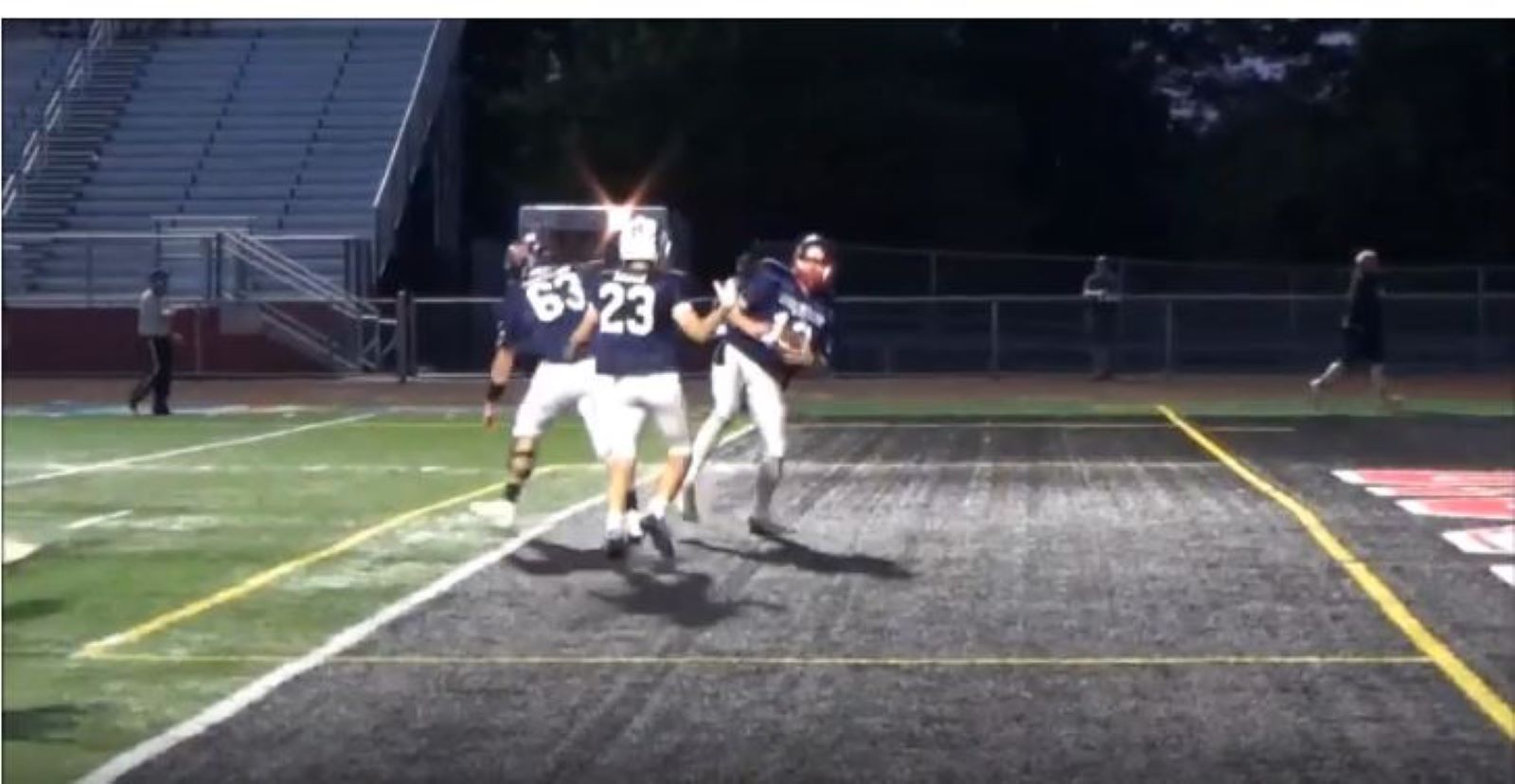 HYDE, Pa. – The North squad had no more than a week to practice together, but it never showed as they rolled off a 57-16 route of the South Friday night at Clearfield High School.
District 9 was well represented with 13 players on the North roster.
Watch game highlights
They got a big game by Brockway's Peter Downer who collected 126 yards of total offense and threw two touchdown passes. One of which was to Dubois' Eric Schneider on a 10-yard pass in the third quarter.
"It was awesome to be able to get together with a group of guys that are all studs on the football field, it was amazing to be a part of," said Schneider. "I did not except this outcome. Our defense played well all week, but our offense had struggled a little bit. I guess our defense was just better than the defense they threw at us. For me to able to score and represent Dubois in this way was just awesome tonight."
Downer split time at quarterback with State College's Tommy Friberg, who passed for 91 yards and rushed for 59. Friberg threw touchdowns to Penns Valley's Ryan Ripka from five yards and Bald Eagle's Nick Turner of 21 yards.
Collin Jones hauled in Downer's second touchdown of the game from 65 yards in the third quarter. The North scored 38 unanswered points to blow the game wide open.
"It was great to be out here with these guys," said Downer. "Having a week to bond with them and get close, it was an amazing experience with that talent we had. We were a little nervous, but that's before every game. It was a great environment tonight. I didn't think it would be this lopsided, but I knew we could hang with them and make plays."
The game was emotional for the Curwensville duo of Avery Francisco and Noah VonGunden, who were on the field for the first time since the passing of their former coach Andy Evanko.
"This was very emotional coming back," said VonGunden. "We did our best to come back and play for coach Evanko. We're not done yet. We get another to chance to play next week as well (in the Varischetti All-Star Game). This game was a lot of fun and a great experience."
"It was all-stars on top of all-stars playing smashmouth football, and you're with the best-of-the-best," said Francisco. "I wasn't expecting this outcome. But to able to play with guys for a week, and then play like this it was just all-stars being all-stars.
"Playing for coach Evanko made it very emotional, pregame I always go down and say a prayer, and I said let me put it all on the field tonight and let coach Evanko smile down on me."
The North's final scores came on Ripka's 11-yard run and his Penns Valley teammate Cole Breon's 12-yarder. Bellefonte's Noah Badger scored from a yard, and Chris Persiko booted a 42-yard field goal.
The South scored on a 1-yard run by Mount Union's Quinton Posey and 2-yard run by Juniata Valley's Jaxson Rand.
NORTH 57, SOUTH 16
Score by Quarters
North – 8 8 24 17 – 57
South – 0 8 0 8 – 16
Scoring Summary
First Quarter
N – Ryan Ripka 5 yd pass from Tommy Friberg (Chris Persiko pat), 5:34
Second Quarter
S – Quinton Posey 1 yd run (Alex Schmoke pat), 7:41
N – Nick Turner 21 yd pass from Friberg (Persiko pat), 4:49
Third Quarter
N – Ripka 11 yd run (Persiko pat), 10:38
N – Collin Jones 65 yd pass from Peter Downer (Persiko pat), 6:00
N – Eric Schneider 10 yd pass from Downer (Persiko pat), 0:18
Fourth Quarter
N – Cole Breon 12 yd run (kick failed), 11:00
S – Jaxson Rand 2 yd run (Schmoke pat), 7:20
N – Noah Badger 1 yd run (Persiko pat), 6:00
N – Persiko 42 yd field goal, 1:49
Individual Stats
Rushing – North – Friberg 16-59, Downer 1-51, Ripka 6-29, Cole Breon 4-24, Jon Dale 7-22, Taye Lynch 2-11, Turner 1-4, Derek Yingling 5-3, Badger 1-1. Totals: 43-204. South – Quinn Zinobile 11-37, Nate Fisher 4-17, Eric Patton 7-13, Shawn Wolfe 2-13, Noah Wright 10-2, Rand 3-0, Posey 9 -(-12). Totals: 46-70.
Passing – North – Friberg 7-for-11, 91 yards, 2 touchdowns, Downer 2-for-2, 75 yards, 2 touchdowns, Turner 1-for-1, 40 yards, Jones 0-for-1. South – Wright 13-for-22, 120 yards, Posey 2-for-8, 35 yards, Zinobile 2-for-3, 29 yards.
Receiving – North – Jones 3-129, Ripka 3-35, Turner 1-21, Schneider 1-10, Badger 1-6, Lynch 1-5. South – Zinobile 9-115, Kyle Derugen 2-40, Isaiah Collins 1-11, Rand 1-10, Tanner Wyland 2-6, Shawn Wolfe 2-2.