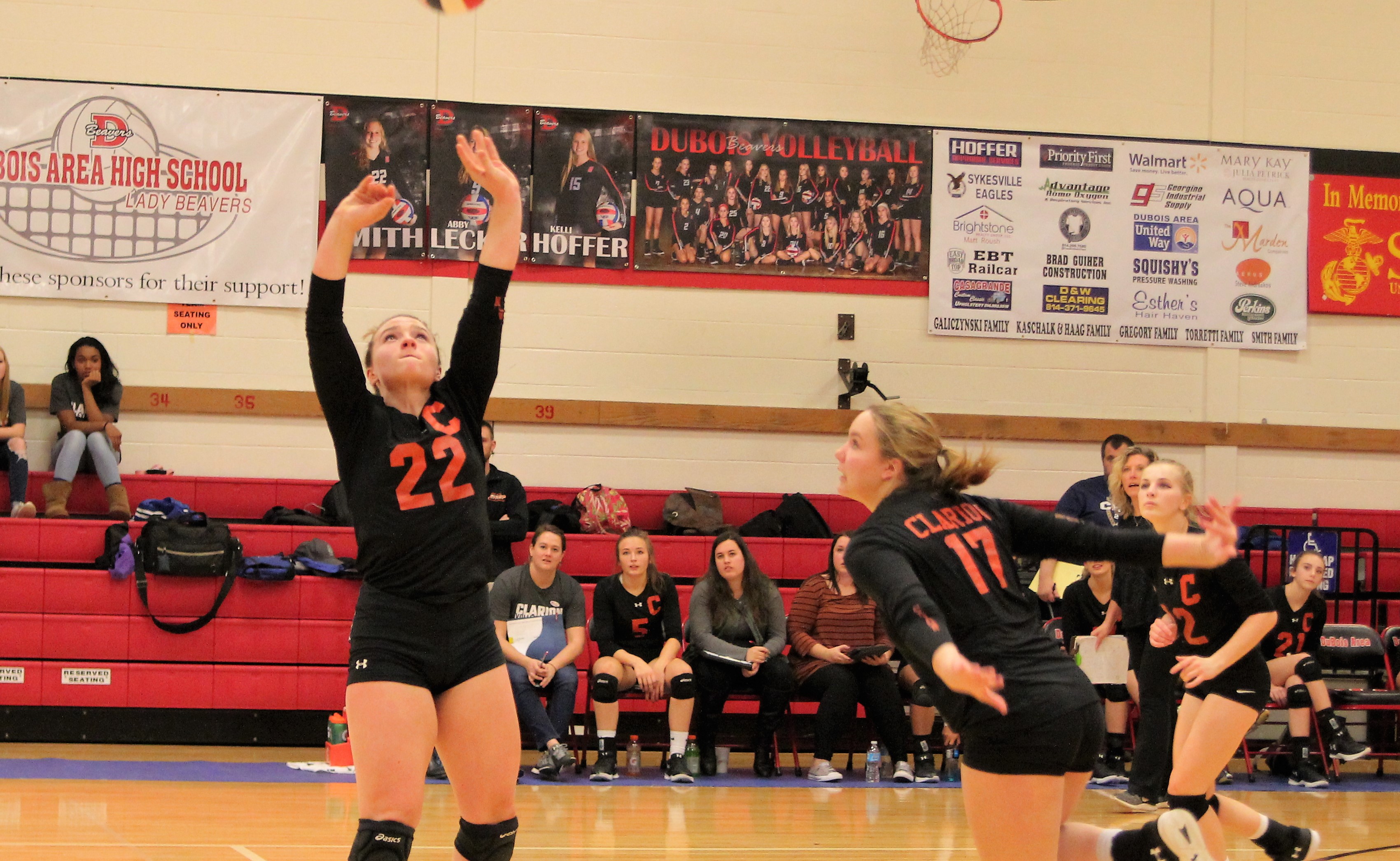 Nov. 6 recaps.
(Clarion's Brenna Campbell (No. 22) looks to set Dortohy Kalinowski (No. 17) during Clarion's win over Cambridge Springs Tuesday. Photo by Jared Bakaysa of JB Graphics. See more of Bakaysa's work here)
VOLLEYBALL
CLARION 3, CAMBRIDGE SPRINGS 0
DUBOIS, Pa. – A strong team effort lifted District 9 champion Clarion to a 3-0 (25-20, 25-19, 25-17) victory over District 10 runner-up Cambridge Spring in the PIAA Class 1A first round Tuesday night at DuBois Area High School.
Relisten to the broadcast of the game.
Breanna Cambell ran the Lady Cats offense with 30 assists while chipping in for 10 digs.
Korrin Burns led the way offensively with 10 kills for the Lady Cats while adding 10 digs to finish a double-double of her own, while Dorothy Kalinowski added eight kills, three blocks and a dig. Hailey Sintobin chipped in seven kills and a block and KK Girvin had 10 digs.
Kaitlyn Constantino led the defense for Clarion with a game-high 11 digs while adding three kills and an ace. She talked about the win.
Clarion, which went to the PIAA semifinals a year ago, will take on Northern Cambria in the quarterfinals Saturday, Nov. 10, at a site and time to be determined. Northern Cambria defeated the Lady Cats, 3-0, early in the season for one of Clarion's two losses on the year.
COCHRANTON 3, RIDGWAY 0
MEADVILLE, Pa. – The Cochranton Lady Cardinals wasted little time winning their PIAA Class 1A opening-round match against District 9 runner-up Ridgway, ousting the Lady Elkers 3-0 (25-12, 25-14, 25-18).
Leading the way for the District 10 champions were their four standout seniors Kendall Miller, Alissa Dickson, Kaleigh Danielson and Elise Miller who combined for 21 kills overall in the match.
Dickson led the way with eight kills followed by six from Kendall Miller, five from Danielson and two from Elise Miller.
Ridgway was paced by its senior leads with Casey Woodford collecting eight kills, Erica DeLullo five and Claire Kemick three.
Cochranton advanced to the PIAA quarterfinals where it will play District 6 champion Bishop Carroll Saturday, Nov. 10, at a time and place to be determined.
FREEPORT 3, REDBANK VALLEY 0
DUBOIS, Pa. – Despite a strong effort from Taylor King, District 9 champion Redbank Valley got swept 3-0 (25-12, 25-10, 25-20) by the WPIAL fourth-place finisher, Freeport, in the PIAA Class 2A first round Tuesday night at DuBois Area High School.
King paced the Lady Bulldogs with 10 kills and a block while Montana Hetrick tallied three kills. Becca Kunselman had an ace and Jordan Milliron and ToriLynne Nelson each had two kills apiece. Redbank Valley was without leading hitter Josey Rupp for a second straight match because of disciplinary reasons.
Ally DeJidas led Freeport with nine kills, two blocks and an ace. MacKensey Jack added eight kills and three aces and Isabella Russo added nine kills.
THOMAS JEFFERSON 3, DUBOIS 0
PUNXSUTAWNEY, Pa. – Despite a double-double of 12 kills and 13 digs from Kelli Hoffer, District 9 champion DuBois dropped a 3-0 (25-16, 25-21, 25-19) decision to WPIAL runner-up Thomas Jefferson in the PIAA Class 3A first round at Punxsutawney High School.
Sydney Kaschalk added six kills and three blocks for the Lady Beavers with Cate Gregory running the offense with 24 set assists.
BOYS' SOCCER
SETON LASALLE 1, BROCKWAY 0
DUBOIS, Pa. – Ethan Garnder's first-half goal lifted WPIAL third-place finisher Seton LaSalle to a 1-0 win over District 9 champion Brockway in the opening round of the PIAA Class 1A boys' playoffs at DuBois High School.
Sam Reinhart recorded the shutout in goal for the Rebels ending Brockway's season short of last year's PIAA semifinal trip for the Rovers.
MERCYHURST PREP 6, ST. MARYS 1
BROCKWAY, Pa. – John Kerner's hat trick lifted District 10 runner-up Mercyhurst Prep to a 6-1 victory over District 9 champion St. Marys in the PIAA Class 2A boys' playoffs at Brockway's Varischetti Field.
Gino Romeo added two goals and an assist for the Lakers, who also got a goal from Jarrett Harry.
Mercyhurst Prep built a 2-0 lead on goals six minutes apart in the first half from Romeo (13th minute) and Kerner (19th minute). Harry, Kerner and Romeo then scored three goals in a span of two minutes early in the second half between the 43rd minute and the 45th minute to end any thought of a Dutch comeback before Kerner netted the hat trick in the 63rd minute.
WEST ALLEGHENY 4, BRADFORD 1
BROCKWAY, Pa. – Two second-half goals by West Allegheny helped the Indians, who were the WPIAL runners-up, top District 9 champion Bradford, 4-1, in the PIAA Class 3A boys' first round at Brockway's Varischetti Field.
West Allegheny led 2-1 at halftime with the Bradford goal coming from Ian Grady before pulling away in the second half.
GIRLS' SOCCER
BENTWORTH 5, BROCKWAY 2
DUBOIS, Pa. – Four goals from Jocelyn Timlin helped WPIAL runner-up Bentworth knock off District 9 champion Brockway, 5-2, in the opening round of the PIAA Class 1A girls' soccer playoffs at DuBois High School.
After surrendering two early goals to Timlin and Paige Marshalek in the game's first five minutes, Brockway stabilized and tied the game at two on goals from Chanell Britten and Morrigan Decker with 18 minutes left in the opening half.
But Timlin's header in the final minutes of the first half broke the tie, and Timlin then added a pair of second-half goals to help the Bearcats to their first-ever PIAA victory.
VILLA MARIA 5, KARNS CITY 0
CLARION, Pa. – Sarah Fails scored with just four second left in the first half to break a nil-nil tie, and Villa Maria added four second-half goals on its way to a 5-0 rout of District 9 champion Karns City in the PIAA Class 2A first round at Clarion University's Memorial Stadium.
Fails goal seemed to spark the Victors, who scored twice in the first seven minutes of the second half to put the game away.
First, Abby Grychowski made it 2-0 two minutes into the second half and then three minutes later Kailey Orlando scored to make it 3-0.
Cambrie Longo and Ella Raimondi then added goals late to finish off the scoring.