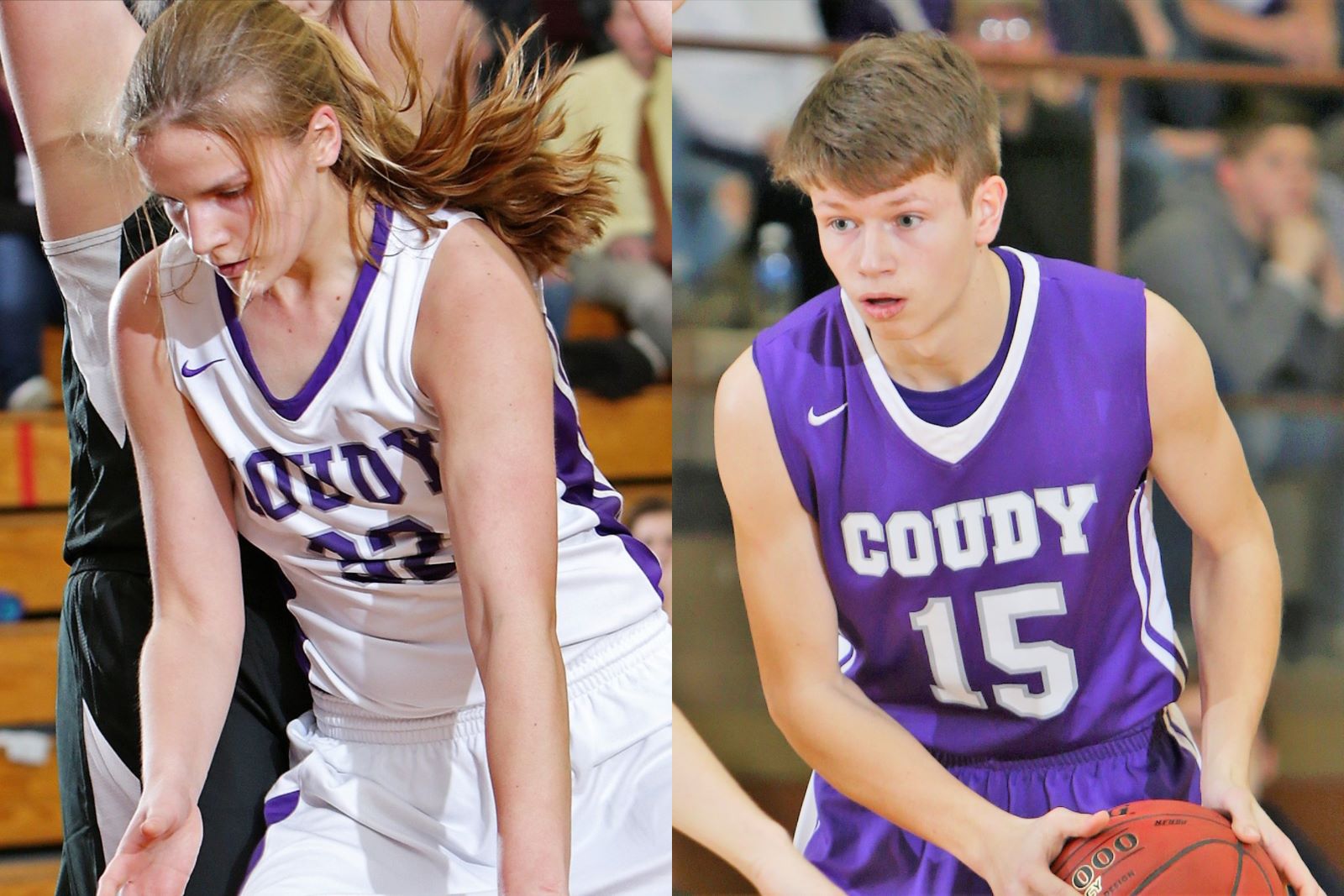 ULYSSES, Pa. – Coudersport's Shae Black and Owen Chambers have been named the North Tier League girls' and boys' MVPs, and the conference also announced its all-conference teams.
(Photo of Coudersport's Shae Black (left) and Owen Chambers. Photos by Paul Burdick. Check out more of Burdick's work here)
Black and Chambers led their respective teams to NTL titles and the PIAA playoffs this year with Black averaging 14.0 ppg and Chambers 30.9 ppg heading into PIAA action.
Coudersport's Bob Tingley was named the Girls' Coach of the Year with Galeton's Josh Shuemaker named the Boys' Coach of the Year.
Joining Black on the girls' all-conference team were Cameron County's Kaelee Bresslin (9.3 ppg), Hailey Hilfiger (6.5 ppg) and Alyvia McKimm (9.1 ppg), Coudersport's Sarah Chambers (12.8 ppg), Northern Potter's Abbi Anderson (12.0 ppg), Osywao Valley's Karina West (13.0 ppg), Otto-Eldred's Autumn Smith (6.8 ppg) and Port Allegany's Cailey Barnett (13.3 ppg) and Erin Stauffer (8.0 ppg).
Joining Owen Chambers on boys' all-conference squad were Austin's Dempsey Glover (16.5 ppg),  Cameron County's Jake Walters (15.4 ppg), Caden Beldin (13.4 ppg) and Marcus Brown (10.3 ppg), Coudersport's Hayden Keck (15.0 ppg), Galeton's Evan Brooks (15.6 ppg) and Joel Griffen (11.9 ppg), Port Allegany's Howie Stuckey (19.5 ppg) and Smethport's Caleb Lutz (11.0 ppg).
COACH OF THE YEAR
GaletonJosh Shuemaker