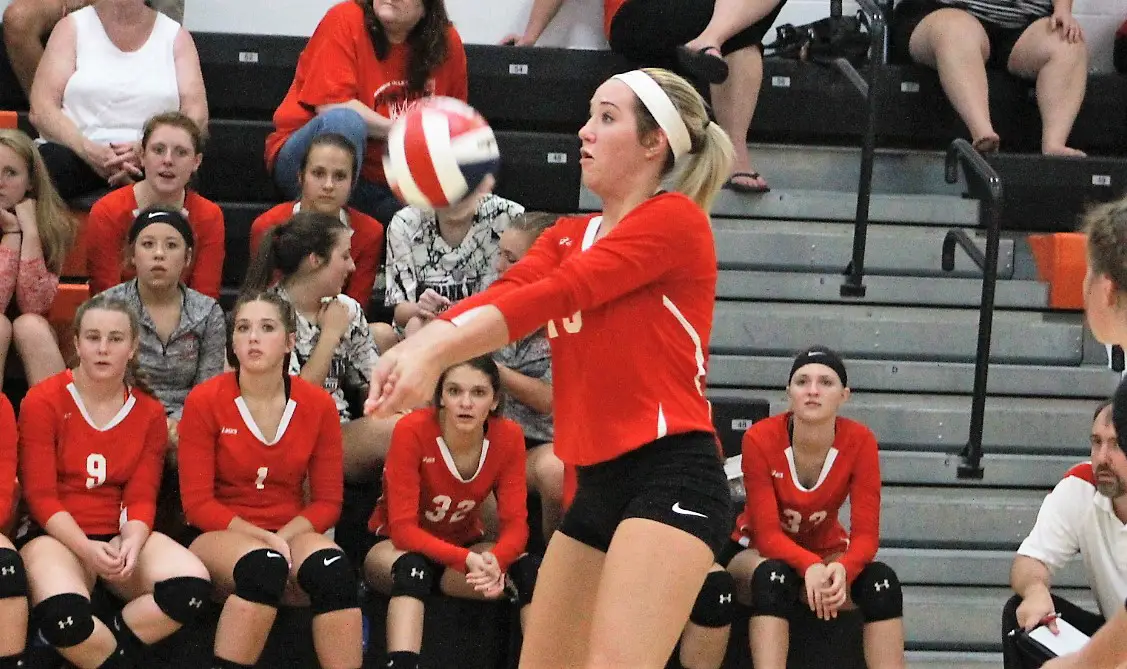 Oct. 1 volleyball and soccer recaps.
(Josie Rupp helped lead Redbank Valley to a come-from-behind win over A-C Valley Monday. Photo by Jared Bakaysa of JB Graphics. See more of Bakaysa's work here)
VOLLEYBALL
REDBANK VALLEY 3, A-C VALLEY 2
FOXBURG, Pa. – Josie Rupp had 15 kills to lead visiting Redbank Valley to a come-from-behind 3-2 (18-25, 19-25, 25-23, 25-18, 15-11) win over A-C Valley.
Montana Hetrick added 11 kills and three aces, Taylor King had six kills and four blocks, TL Nelson chipped in five kills, two blocks and an ace and Carissa Rearick ran the show with 39 set assists while adding six digs and four aces.
Olivia Boocks and Kylee Eaton combined for 38 kills for A-C Valley with Boocks leading the way with 22 and Eaton adding 16. Both players had double-doubles with Boocks adding 13 digs and Eaton 19. Meah Ielase added eight kills for the Lady Falcons with Andrew Meals chipping in six kills and 13 digs. Emily Wetzel ran the show with 25 set assists while adding eight digs, and
JOHNSONBURG 3, DUBOIS CENTRAL CATHOLIC 1
DUBOIS, Pa. – Johnsonburg got past DuBois Central Catholic, 3-1 (21-25, 25-14, 25-22, 25-21).
Lindsey Kocjancic had 18 kills to lead the Ramettes with Jenna Morgan adding 13 kills.
Alyssa Bittner paced the Lady Cardinals with 17 kills, four blocks and three aces while Shay Gulvas had two aces and a game-high 36 digs. Ashley Wruble ran the offense with an ace and 14 assists.
MOSHANNON VALLEY 3, CURWENSVILLE 0
CURWENSVILLE, Pa. – Moshannon Valley swept Curwensville, 3-0 (25-16, 26-24, 25-7).
Liz Matthews paced the Lady Tide with five aces, five kills, six blocks and a dig while Tarah Jacobson had two kills and four digs. Emma Caldwell had a game-high 14 assists.
ROCKY GROVE 3, VENANGO CATHOLIC 0
OIL CITY, Pa. – Rocky Grove defeated Venango Catholic, 3-0 (25-12, 25-23, 25-10).
Sarah Lander tallied seven digs, three kills and two blocks while Chenoa Rudder chipped in for 11 digs for Venango Catholic. Mackenzie Metz ran the offense with five aces and five assists.
Rocky Grove stats weren't reported.
CLARION-LIMESTONE 3, UNION 2
RIMERSBURG, Pa. – Clarion-Limestone rallied for a 3-2 (25-23, 12-25, 13-25, 25-13, 15-11) win at Union.
Rachel Greeley had six kills, three blocks and five digs to lead the Lady Lions with Madi Craig adding five kills and six digs. Keara Henry ran the offense with 19 set assists while adding a team-best eight digs. Rudy Smith chipped in three kills with Sarah Acree adding two blocks.
Bryn Davis had 10 kills and four aces for Union with Dominika Logue adding nine kills. Morgan Cumberland had 13 set assists.
GIRLS SOCCER
CLEARFIELD 2, TYRONE 1
HYDE, Pa. – Two first-half goals were enough for Clearfield to defeat Tyrone, 2-1.
Madison Davis and Lydia Brown tallied the two goals for the Lady Bison in the first half.
Riley Deangelo tallied the lone goal for Tyrone late in the second half.
Clearfield goalkeeper Hayley Moore recorded five saves.
PORT ALLEGANY 8, Kane 1
KANE, Pa. – Thanks to four goals from Bree Garzal, Port Allegany defeated Kane, 8-1.
Kayla Copp and Sabrina Tanner netted a goal apiece for the Lady Gators with Emma Fox adding another two.
Rachel Buhl scored the lone Kane goal.
REDBANK VALLEY 3, CLARION 1
NEW BETHLEHEM, Pa. – Brooke Eberle's hat trick helped Redbank defeat Clarion, 3-1.
Wendy Beveridge netted the lone Clarion goal.
KARNS CITY 4, KEYSTONE 0
KARNS CITY, Pa. – Brooke Stahlman helped Karns City defeat Keystone, 4-0.
Stahlman tallied two goals and two assists for the Lady Gremlins while Olivia Rumbaugh and Hunter Dittman added a goal apiece.
RIDGWAY 2, CURWENSVILLE 0
CURWENSVILLE, Pa. – Ridgway defeated Curwensville, 2-0.
Madeline Cowan and Cassidy King netted a goal apiece for the Lady Elkers.
Lindsay Kocjancic had five saves for the shutout.
DUBOIS 2, BROOKVILLE 1, 2 OVERTIMES
DUBOIS, Pa. – Felicity Enseki's goal in double overtime lifted DuBois to a 2-1 win over visiting Brookville.
Brianna Nelson also scored for the Lady Beavers.
Madison Wolfe scored for Brookville off a Jillian Taylor feed.
Kara Tillson, who played the second half and overtime, got the win for DuBois in net. Emily Cherubini started in net for the Lady Beavers playing the first half.
BOYS SOCCER
KANE 3, REDBANK VALLEY 2
NEW BETHLEHEM, Pa. – Two goals from Noah Blankenship helps Kane defeat Redbank Valley, 3-2.
Aiden Zampogna also tallied a goal for the Wolves.
Koltin Kline had both of Redbank Valley's goals.
ELK COUNTY CATHOLIC 5, PORT ALLEGANY 2
ST. MARYS, Pa. – Behind three goals from Edward Messineo, Elk County Catholic defeated Port Allegany, 5-2.
Regis Wortman added the other two goals for the Crusaders.
For the Gators, Howie Stuckey netted both goals while Brandon Peterson and Caden Roys combined for 14 saves.
BROCKWAY 3, DUBOIS CENTRAL CATHOLIC 1
DUBOIS, Pa. – Zane Puhala's hat trick lifted visiting Brockway to a 3-1 win over DuBois Central Catholic.
Hunter Allenbaugh assisted on all three of Puhala's tallies.
Garret Park got the win in net for the Rovers.
KARNS CITY 6, ARMSTRONG 2
KITTANNING, Pa. – Nate Rondinelli and Dakota King each scored twice to lead visiting Karns City to a 6-2 win over Armstrong.
The victory improves the Gremlins to 13-0 on the year.
Kaden Scherer and Austin Fahlor also scored for Karns City.
BRADFORD 11, OIL CITY 0
OIL CITY, Pa. – Colton Swanson had three goals and two assists to pace an 11-0 win for visiting Bradford over Oil City.
Cadyn Sutherland and Ian Grady each added two goals for the Owls.
Cyrus Williams made 11 saves in net for the shutout.