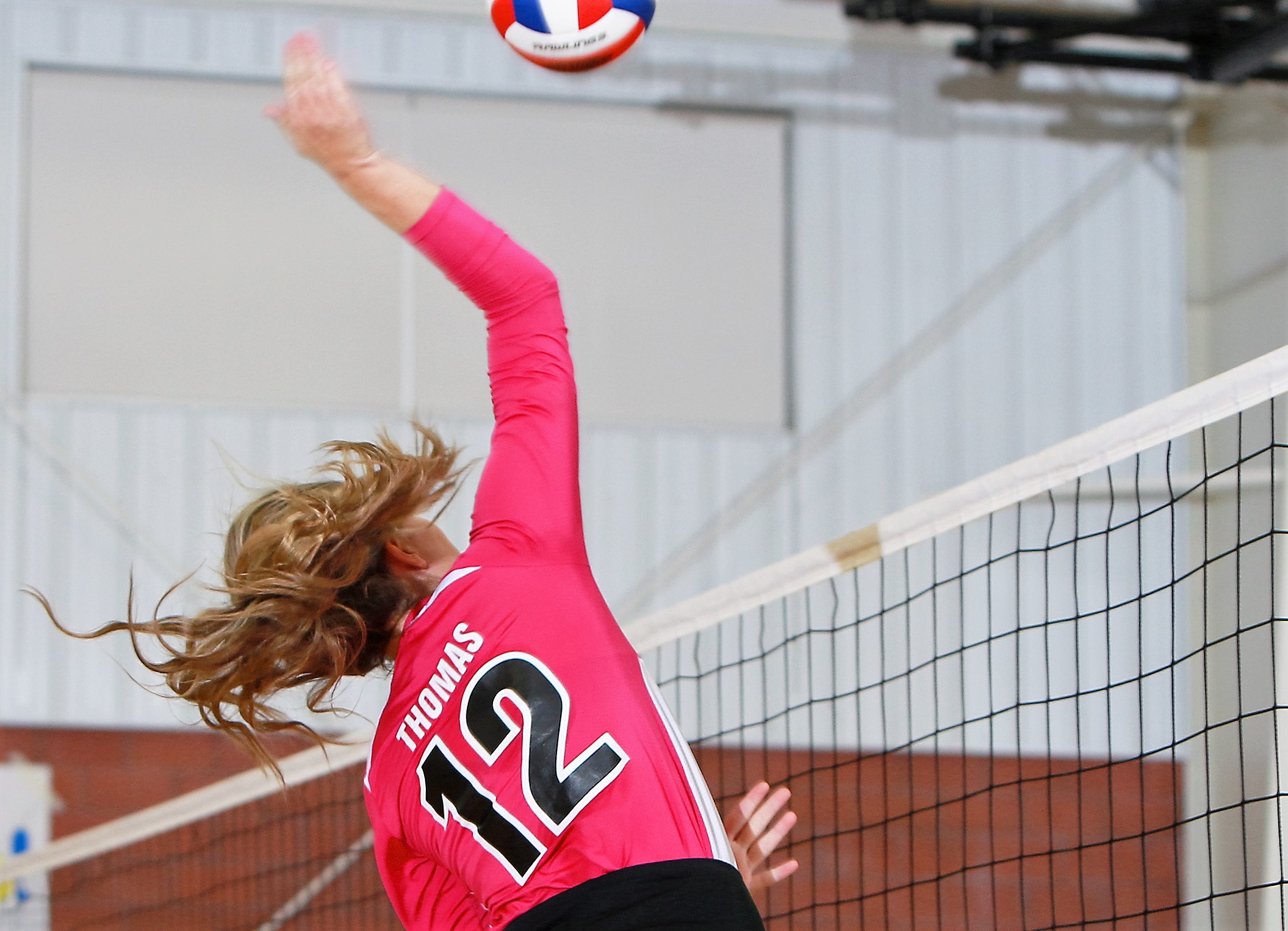 Oct. 10 volleyball and soccer recaps.
(Cover photo of Camyrn Thomas of Otto-Eldred who recorded her 1,000th career kill. Photo by Paul Burdick. Check out more of Burdick's work here)
VOLLEYBALL
OTTO-ELDRED 3, SMETHPORT 0
DUKE CENTER, Pa. – Camryn Thomas recorded her 1,000th career digs in helping Otto-Eldred to a 3-0 (25-17, 25-11, 25-12) win over visiting Smethport.
Thomas had seven kills in the match giving her 1,001 in her career and also added four blocks, nine digs and an ace.
Alyssa Shelander paced the Lady Terrors offense with 10 kills and added nine digs, while Emily Smith had 24 set assists.
NORTH CLARION 3, REDBANK VALLEY 2
FRILLS CORNERS, Pa. – Behind a monster game from Tori Obenrader North Clarion rallied to upset visiting Redbank Valley, 3-2 (15-25, 25-19, 24-26, 25-14, 19-17).
Obenrader had 27 kills,11 blocks and nine digs to lead the She-Wolves who also got 15 kills and 12 blocks from Gena Caldwell, 11 kills from Megan Baumcratz, 18 digs from Gabby Schmader and 37 set assists from Paige Sherbine.
Emily Gourley paced Redbank Valley with 15 kills and seven blocks. Jordan Milliron added 11 kills and Josie Rupp 10 kills. Kianna Shreckengost chipped in with seven kills and Lauren Smith had five aces.
Watch North Clarion's final point.
CLARION 3, VENANGO CATHOLIC 0
CLARION, Pa. – Brenna Campbell had 15 set assists to help Clarion roll past visiting Venango Catholic, 3-0 (25-4, 25-5, 25-5).
Kaitlyn Constantino led the Lady Cats with four kills, Maya Thornton, Maddie Schill and Hailey Sintobin each chipped in three kills with Thornton adding five aces and Alexis Constantino had seven aces.
CRANBERRY 3, KEYSTONE 1
KNOX, Pa. – Cranberry overcame a first-set loss to get a 3-1 (22-25, 25-10, 25-19, 25-11) road win over Keystone.
Malliah Schreck had 12 kills, 16 digs and three blocks to lead the Berries with Lauren Conkle adding nine kills and two blocks, Erin Merryman seven kills, 24 set assists and 11 digs, Ellie Kahle 25 digs and Emily Duncan 15 digs.
Danica Hurrelbrink had four kills, three blocks, five set assists and two aces for Keystone with Makenzie Byerley adding five kills and three set assists and Tessa Weaver five blocks and three kills.
A-C VALLEY 3, UNION 0
FOXBURG, Pa. – Josey Terwilliger had 19 kills, nine digs and two blocks to lead A-C Valley to a 3-0 (25-17, 25-11, 25-18) win over visiting Union.
Kylee Eaton added 10 kills and nine digs for the Lady Falcons who also got eight kills and 14 digs from Olivia Boocks, 15 set assists from Syn Rankin, 13 set assists and nine digs from Emily Wetzel and 10 set assists from Kaylie Merwin.
Frankee Remmick's six kills paced Union while Bryn Davis added four kills and Vanessa Reddick three blocks. Hannah Atzeni ran the offense with 12 set assists and Marli Hawk (seven digs) and Davis (four digs) paced the Golden Damsels defense.
CLARION-LIMESTONE 3, FOREST AREA 0
STRATTANVILLE, Pa. – Thanks to six kills and five aces from Erica Hetrick Clarion-Limestone gave first-year head coach Makenzie Biggs her first victory, 3-0 (25-14, 25-11, 25-11), over visiting Forest Area.
Megan Schimp and Maddy Craig each added two kills for the Lady Lions who also got nine set assists and five aces from Maddi Griffith and five aces from Keara Henry.
KARNS CITY 3, MONITEAU 0
KARNS CITY, Pa. – Behind 17 set assists from Alyssa Stitt Karns City vanquished visiting Moniteau, 3-0 (25-9, 25-18, 25-15).
Emily Hegedus, Rayna Miller and Livia Andreassi each had five kills for the Lady Gremlins with Makala Waltman chipping in three kills.
DUBOIS 3, BROOKVILLE 0
DUBOIS, Pa. – Thanks to 12 kills and 15 digs from Danessa Allison DuBois toppled visiting Brookville, 3-0 (25-14, 24-14, 25-16).
Lexi Ray added seven kills and nine blocks for the Lady Beavers, while Kylee Bundy had 31 set assists.
JOHNSONBURG 3, BROCKWAY 0
JOHNSONBURG, Pa. – Jensen Furlong's 15 kills helped Johnsonburg beat visiting Brockway, 3-0 (25-22, 25-18, 25-20).
Brianna Quiggle added six kills and four digs for the Ramettes with Skylar Sherry adding six kills and two aces, Rylie Casilio 10 set assists and Dora Nelson seven set assists.
Mackenzie Webster and Kaitlyn Morelli each had four kills for Brockway.
ELK COUNTY CATHOLIC 3, ST. MARYS 1
ST. MARYS, Pa. – Josie Smith had 15 kills to help visiting Elk County Catholic beat crosstown rival St. Marys, 3-1 (25-18, 24-26, 25-23, 25-14).
Taylor Newton added 12 kills and five aces for the Lady Crusaders who also got 15 set assists from Brianna Weisner.
OSWAYO VALLEY 3, NORTHERN POTTER 0
ULYSSES, Pa. – Shayla Bickel had nine kills, 11 digs and seven aces to lead visiting Oswayo Valley to a 3-0 (25-11, 26-24, 25-8) win over Northern Potter.
Madison Miller ran the offense for the Green Wave with 21 set assists while Mackenzie Kerr had seven kills and four aces.
Ashley Kunselman paced Northern Potter with five kills and seven digs with Jenna Hyde adding six digs and six assists and Kalie Cowburn seven digs.
COUDERSPORT 3, AUSTIN 0
AUSTIN, Pa. – Shaylyn Black and EmmaRae Easton each had eight kills to help Coudersport to a 3-0 (25-9, 25-11, 25-11) road win over Austin.
Black chipped in 10 digs with Easton adding eight seven digs and two aces. Adrian Page chipped in seven kills, seven digs and two aces, Joplin Osgood had 16 digs and six aces and Haley Keck added 27 set assists, three kills, six digs and an ace.
Jordan Brewer paced Austin with kills and eight set assists. Taylor Brewer added two aces, two kills and five set assists and Sydnee Shupe had two aces and four digs.
BRADFORD 3, SHEFFIELD 0
BRADFORD, Pa. – Despite 15 set assists from Mya Grubbs, 12 digs from Taya Bailey and five kills from Lexi Lyon, visiting Sheffield dropped a 3-0 (25-17, 25-15, 25-20) decision to Bradford.
Bradford stats weren't available.
BOYS' SOCCER
BRADFORD 1, DUBOIS 0
BRADFORD, Pa. – Cadyn Sutherland scored to give Bradford a 1-0 win over visiting DuBois.
Sutherland netted his goal off an assist from Colton Swanson. Evan Schmidt made nine saves to record the shutout in goal including stopping a penalty kick in the 46th minute.
CLARION-LIMESTONE 5, REDBANK VALLEY 2
STRATTANVILLE, Pa. – Behind a Braden Peters hat trick Clarion-Limestone dispatched visiting Redbank Valley, 5-2.
Ty Blake and Beau Verdill also had goals for the Lions with Blake adding two assists.
Corben Beamer had a pair of goals for Redbank Valley.
ST. MARYS 5, KANE 1
ST. MARYS, Pa. – Nathan Schneider scored twice to lead St. Marys to a 5-1 win over visiting Kane.
Caleb Barackman, Jackson Lindemuth and Darryn Agosti also scored for the Dutch.
Aiden Zampogna netted Kane's lone goal.
GIRLS' SOCCER
FOREST AREA 3, KANE 0
KANE, Pa. – Glory Wagner and Mackenzie Bauer scored to help visiting Forest Area, which also scored on a Kane own goal, defeat the Lady Wolves, 3-0.
Abbey Gatesman had 13 saves in goal for the shutout.
CLARION 2, KEYSTONE 0
CLARION, Pa. – Alexa Hannold scored twice to give Clarion a 2-0 win over visiting Keystone.
Wendy Beveridge and Cait Murtha combined on the shutout in net for the Lady Cats.
RIDGWAY 5, DUBOIS CENTRAL CATHOLIC 0
DUBOIS, Pa. – Visiting Ridgway got a pair of goals from Cassidy King to get a 5-0 win over DuBois Central Catholic.
Madeline Cowan, Rylee Casilio and Amanda Williams also scored for the Lady Elkers.
EISENHOWER 2, PORT ALLEGANY 1
RUSSELL, Pa. – Patricia Bortz and TerriLee Talasky both scored as Eisenhower topped visiting Port Allegany 2-1.