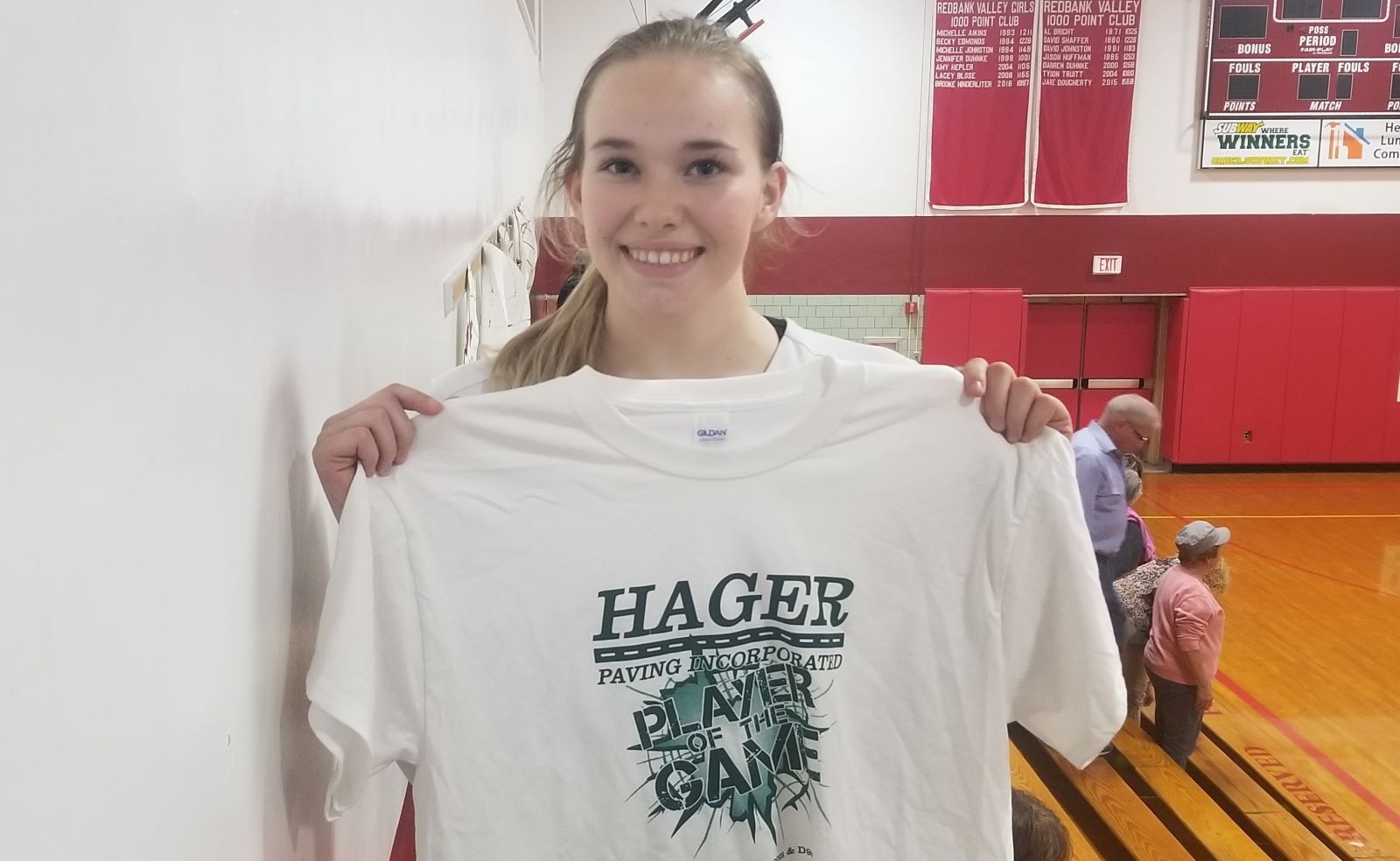 Oct. 10 volleyball and soccer recaps.
(Photo: Taylor King of Redbank Valley was the Hager Paving Player of the Game in the Lady Bulldogs 3-1 win over Keystone)
VOLLEYBALL
REDBANK VALLEY 3, KEYSTONE 1
NEW BETHLEHEM, Pa. – Behind 17 kills and a block from Taylor King Redbank Valley beat visiting Keystone, 3-1 (25-19, 18-25, 25-17, 25-18).
Relisten to the match:
Montana Hetrick added seven kills with Becca Kunselman recording six kills and four aces and Kianna Shreckengost four kills and four set assists for the Lady Bulldogs who also got four kills from Alivia Huffman and two kills and three aces from Lauren Smith.
Tara Hinderliter ran the offense for Redbank Valley with 35 set assists, while Brooke Holben added five set assists and three aces.
King talked about the victory.
For Keystone, Alyssa Dunlap had seven digs, five kills and two aces, while Ceayra Altman added four kills, five digs and three aces, McKenna Kaye 11 digs, three kills and six set assists and Jozee Weaver four kills and two aces.
CLARION 3, UNION 0
RIMERSBURG, Pa. – Kait Constantino recorded 16 kills, six digs and five aces, as Clarion overcame a slow start to pick up a 3-0 (25-22, 25-7, 25-14) win at Union.
Korring Burns added six kills, five digs and an ace for the Lady Cays who also got four kills apiece from Maddie Scholl and Payton Simko to pick up their second win in as many days after the epic 3-2 win over Maplewood Wednesday.
Schill also had two blocks with Simko adding a block.
KK Girvin had a team-best 10 digs, and Brenna Campbell ran the offense with 26 set assists while adding seven digs and an ace. Aryana Girvin chipped in three kills and a dig.
For Union, Drew Davis and Dominika Logue each had three kills with Logue adding two aces. Hailey Kriebel chipped in a pair of kills.
OSWAYO VALLEY 3, NORTHERN POTTER 0
SHINGLEHOUSE, Pa. – Oswayo Valley picked up a 3-0 (25-16, 25-14, 25-16) victory over Northern Potter on the road.
Macy West led the Green Wave with seven kills and five blocks. Avaree Kellert had five kills, 15 digs and two blocks while Johanna Dickerson added three kills and two digs.
MONITEAU 3, FOREST AREA 0
TIONESTA, Pa. – Moniteau used 11 aces and four kills from Aslyn Pry to beat Forest Area, 3-0 (25-9, 25-19, 25-6), at West Forest.
Also for the Lady Warriors, Ivie Scott added four kills and six aces with Logan Barnhart running the offense with 13 set assists and two aces. Samantha Broerman chipped in six kills and two blocks.
CAMERON COUNTY 3, SMETHPORT 0
EMPORIUM, Pa. – Cameron County used six kills and five blocks from Mallory McKimm to beat Smethport, 3-0 (25-20, 25-9, 25-18).
Also for the Lady Raiders, Morgan Lorenzo added six kills and eight digs with Reggie Goodrow running the offense with 18 set assists and five aces. Kaelee Bresslin chipped in eight digs, seven kills and five aces.
ST. MARYS 3, SHEFFIELD 2
SHEFFIELD, Pa. – Saige Heigel and Meghan McGonnell each had six kills with Heigel also adding five blocks to lead visiting St. Marys to a 3-2 (25-16, 16-25, 25-14, 23-25, 15-13) win over Sheffield.
Lindsey Reiter ran the Lady Dutch offense with 18 set assists, and Allison Schlimm paced the defense with 49 digs.
Annabel Sheldon had 14 kills and 12 digs to pace Sheffield with Lynzie Grubbs adding eight kills and four blocks. Megan Johnson ran the offense with 30 set assists and added 15 digs.
COUDERSPORT 3, PORT ALLEGANY 0
PORT ALLEGANY, Pa. – Coudersport swept Port Allegany, 3-0 (25-17, 25-17, 25-17).
Lauren Stimaker led the Lady Falcons offense with 24 assists and 10 digs. Paige Watson added 10 kills while Mikayla Gunn had a team-high 45 digs.
Shannon Curfman paced the Lady Gators with seven kills and seven digs. Maleah Anderson added two kills and seven digs while Madison Preston had nine digs.
OTTO-ELDRED 3, AUSTIN 0
AUSTIN, Pa. – Emmalee Sheeler racked up 31 set assists and led visiting Otto-Eldred to a 3-0 (25-6, 25-21, 25-12) victory over Austin.
Jadelyn Spinney had 16 digs and six kills for the Lady Terrors while Morgan Dalton added five kills, eight digs and a block.
Kylie Welsh and Taylor Brewer each had five kills to pace the Lady Panthers.
ELK COUNTY CATHOLIC 3, KANE 2
ST. MARYS, Pa. – Taylor Newton had 15 kills and a pair of blocks as Elk County Catholic rallied to defeat visiting Kane, 3-2 (25-14, 23-25, 20-25, 25-14, 17-15).
Julia Aikens had seven kills with Brooke Bauer adding two kills and six aces for the Lady Crusaders. Madyson Dellaquila chipped in six kills and three blocks while Ellie Fledderman had 28 set assists.
Audri Marconi led Kane with 12 kills with Kalen Johnson added 10 kills, four aces and 24 digs.
Ronnie Costanzo, who took over at setter for an injured Moria Stanisch who left in the second set, ran the offense with 24 set assists while chipping in three aces and two blocks, and Emma Ely had 23 digs.
DUBOIS CENTRAL CATHLOIC 3, BROCKWAY 0
BROCKWAY, Pa. – DuBois Central Catholic used seven kills and two blocks from Bella Mangiantini to beat Brockway, 3-0 (25-17, 25-23, 25-12).
Also for DCC, Hannah Holdren added five kills and two blocks with Maia Cogley running the offense with 22 set assists while adding 12 digs and three aces. Jordy Kosko chipped in four kills and three aces, while Shay Gulvas recorded 22 digs and five aces.
Avery Sickeri led DCC with six aces.
BROOKVILLE 3, CURWENSVILLE 0
BROOKVILLE, Pa. – Lauren Hergert had 13 kills, two blocks and an ace, as Brookville swept visiting Curwensville, 3-0 (25-21, 25-10, 25-22).
Morgan Johnson added seven kills and two aces for the Lady Raiders with Leah Kammerdeiner chipping in five aces and two kills.
Cameron Weber had four kills and two blocks for Curwensville with Raylee Suderlin adding a kill and four blocks and Emma Caldwell three kills.
DUBOIS 3, PUNXSUTAWNEY 2
PUNXSUTAWNEY, Pa. – DuBois prevailed in a five-setter, 3-2 (25-23, 22-25, 25-18, 11-25, 15-13), on the road at Punxsutawney.
Katelyn Griebel led the Lady Chucks with 18 kills and a block, while Elliott Ferrent added eight kills, three aces and 20 digs and Lizze Neal five kills and five blocks. Bella McDivitt paced the Punxsy defense with 26 digs, and Grace Hall ran the offense with 33 set assists while adding 19 digs.
DuBois stats weren't available.
CRANBERRY 3, FRANKLIN 1
FRANKLIN, Pa. – Ava Ferringer had 14 kills, 16 digs and five blocks as visiting Cranberry earned a 3-1 (19-25, 25-23, 25-23, 25-15) victory over Franklin.
Emily Duncan ran the Berries offense with 25 set assists while adding six kills and seven digs. Maddie Cornelius had a team-high 30 digs while Jillian Plummer added 15. Abby Hanna and Mikayla Wenmoth each had four kills with Maria Anderson chipping in seven.
A-C VALLEY 3, VENANGO CATHOLIC 0
FOXBURG, Pa. – Mia Sherman had 10 kills, 11 digs and three aces to help A-C Valley to a 3-0 (25-9, 25-13, 25-15) win over visiting Venango Catholic.
Andrea Meals added eight kills, 14 digs and an ace for the Lady Falcons, while Emily Wetzel had nine set assists, four digs and two kills and Meah Ielase five kills, nine digs and three aces. Tarra Stefannacci also contributed 17 digs, seven set assists and Rachel Cullen had eight digs, two kills and four set assists.
For Venango Catholic, Emmy Ekis had three kills and 10 digs, Chenoa Rudder added 14 digs and Hope Winger had four kills and two blocks.
RIDGWAY 3, BRADFORD 2
RIDGWAY, Pa. – Ridgway rallied from two sets down to beat visiting Bradford, 3-2 (7-25, 14-25, 29-27, 25-21, 15-6).
For Bradford, Alix Ordiway had 15 kills and Erica Marshall had 10 kills with Laney Kahle setting them up with 37 set assists.
Ridgway stats weren't available.
BOYS' SOCCER
GALETON 7, NORTHERN POTTER 3
SHINGLEHOUSE, Pa. – Behind three Joseph Brumbach goals, visiting Galeton defeated Northern Potter, 7-3.
Jake Cochran found the back of the net twice for the Tigers with Alura Fuller and Levi Evans each chipping in for a goal.
The Panthers got goals from Ryan Langworthy, Erza Sprow and an own goal from Galeton.
PORT ALLEGANY 1, BROCKWAY 0
BROCKWAY, Pa. – Behind a goal from Howie Stuckey Port Allegany beat Brockway, 1-0.
Simon Burleson had assists from Port Allegany.
Ty Guilds had 11 saves for Port Allegany while Lewis Painter had three saves for Brockway.
BROOKVILLE 3, KANE 2
BROOKVILLE, Pa. – Goals from Logan Oakes, Hayden Kramer and Zakk Wolfe lifted Brookville to a 3-2 win over visiting Kane.
Josh Greville and Aiden Zampogna scored for Kane with Alec Huckabone making five saves in goal.
Darius Sorbin made six saves for Brookville.
CLEARFIELD 5, BELLEFONTE 1
BELLEFONTE, Pa. – Andrew Lopez's hat trick helped visiting Clearfield to a 5-1 win over Bellefonte.
Luke Winters added a goal and an assist for the Bison, while Seth Visnofsky also scored
Shea Chapman had the goal for Bellefonte.
Graeson Graves made eight saves in the win in net, while Quin Tooker had 14 saves for Bellefonte in the loss.
COUDERSPORT 6, ST. MARYS 5
COUDERSPORT, Pa. – Behind two goals from Jonathan Barroqueiro and Christan Furman, Coudersport beat visiting St. Marys 6-5.
Aristotle Smith and Ethan Ross also scored for the Falcons, while Rosalyn Page made 10 saves.
PUNXSUTAWNEY 9, CLARION-LIMESTONE 2
PUNXSUTAWNEY, Pa. – Punxsutawney made short work of visiting Clarion-Limestone, 9-2.
Paul Leonhardt and Beau Verdill each had a goal and assist for C-L.
Punxsutawney goal scorers weren't available.
REDBANK VALLEY 2, KEYSTONE 1
KNOX, Pa. – Kolton Kline and Anthony Baileys scored to lift visiting Redbank Valley to a 2-1 win at Keystone.
KARNS CITY 13, DUBOIS CENTRAL CATHOLIC 0
DUBOIS, Pa. – Dakota King scored five times to lead visiting Karns City to a 13-0 win at DuBois Central Catholic.
Owen Colwell and Nate Rondinellu added two goals and two assists each for the Gremlins with Kaden Scherer, Chase Beighley, Robby Rumbaugh and Nate Boyden each tallying a goal of their own. Brayden Christie had three assists, and the shutout went to Malik Metcalfe.
GIRLS' SOCCER
CLEARFIELD 4, CURWENSVILLE 0
CURWENSVILLE, Pa. – Elle Smith notched three goals to lead visiting Clearfield to a 4-0 victory over Curwensville.
Lydia Brown also netted a goal for the Lady Bison that was assisted by Riley Ryen. Emma Hipps assisted the first Smith goal.
Hayley Moore made two saves to earn the shutout for Clearfield while Maura Bunnell made 17 for the Lady Tide.
BROCKWAY 8, KANE 1
KANE, Pa. – Chanell Britten and Morrigan Decker each scored a pair of goals as Brockway earned an 8-1 victory over Kane on the road.
Morgan Lindemuth, Delaney Wineberg, Mackenzie Overbeck and Paris Stern also netted goals for the Lady Rovers. Britten added helpers on two goals while Lindemuth, Danielle Wood and Stern each assisted on one goal.
Rachel Buhl scored the lone goal for the Lady Wolves.
REDBANK VALLEY 4, KEYSTONE 0
KNOX, Pa. – Behind a pair of goals from Raegen Beamer, visiting Redbank Valley earned a 4-0 victory over Keystone.
Brooke Eberle also added a goal for the Lady Bulldogs while Rhiannon Laughlin scored off a free kick.
BROOKVILLE 7, PUNXSUTAWNEY 0
PUNXSUTAWNEY, Pa. – Madison McAninch recorded the hat trick to lead visiting Brookville to a 7-0 win over Punxsutawney.
Emily Karmer scored twice for the Lady Raiders with Alayna Haight and Megan Mealy also finding the back of the net.