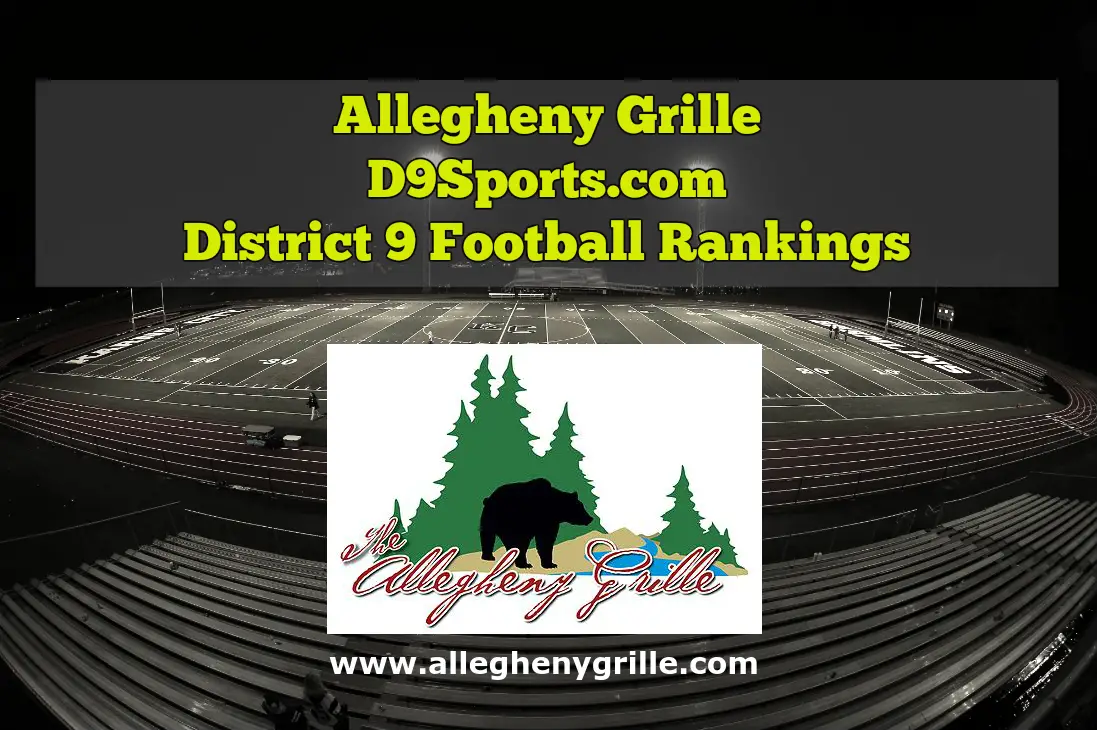 SHIPPENVILLE, Pa. – While the top three stays the same, there was a lot of movement in the next seven spots of the Oct. 10, 2017, Allegheny Grille of Foxburg D9Sports.com Football Rankings including Otto-Eldred breaking into the Top 10 at No. 10.
The Terrors (4-3) are looking for their second straight AML North title and can take a huge step towards that with a win over unranked Coudersport (4-3) Friday night.
The winner of the AML North will get the AML South champion in the AML Title Game, and the front-runner for the AML South title is the No. 1 team yet again, Kane (7-0).
Clarion (6-0) holds tight at No. 2 and Brookville (6-1) is firm at No. 3 while Curwensville (6-1) moves up from No. 5 to No. 4 after beating previous No. 4 Ridgway (5-2), which drops to No. 7. Brockway (6-1) gives Class 2A four teams in the Top Five at No. 5 after being No. 6 a week ago.
Karns City (5-2), winners of five straight, come in at No. 6 followed by Ridgway then Clearfield (4-3) at No. 8 with the Bison up two spots from a week ago. Bradford (5-2) drops two spots to No. 9.
Key games involving ranked teams include Clarion hosting Karns City, Ridgway at Kane and Brockway at Bradford.
The Allegheny Grille is a restaurant situated alongside the Allegheny River in Foxburg with breathtaking views, stellar service and fine cuisine. It's open daily at 11 a.m. and on Sunday's features the "Best Brunch in Town" from 11 a.m. to 4 p.m. Not only that, come on Monday's for Burger Night, Tuesdays are all about Taco, Thursday's are Wing Night featuring their soon-to-be-famous Pun sauce (and 10 other great choices) and Friday's is Fish Night. Also, don't forget about their 10 under 10 menu Monday through Thursday. The Allegheny Grille is the perfect spot for your luncheons, dinner, meetings, wedding or anything your heart desires. For more information or to make a reservation, call the Allegheny Grille at 724-659-5701 or visit it on the web at www.alleghenygrille.com or follow them on Twitter at @GrilleAllegheny.
| | | | |
| --- | --- | --- | --- |
| RANK | TEAM | RECORD | LAST WK |
| 1 | Kane | 7-0 | 1 |
| 2 | Clarion | 6-0 | 2 |
| 3 | Brookville | 6-1 | 3 |
| 4 | Curwensville | 6-1 | 5 |
| 5 | Brockway | 6-1 | 6 |
| 6 | Karns City | 5-2 | 8 |
| 7 | Ridgway | 5-2 | 4 |
| 8 | Clearfield | 4-3 | 10 |
| 9 | Bradford | 5-2 | 7 |
| 10 | Otto-Eldred | 4-3 | NR |
| | | | |