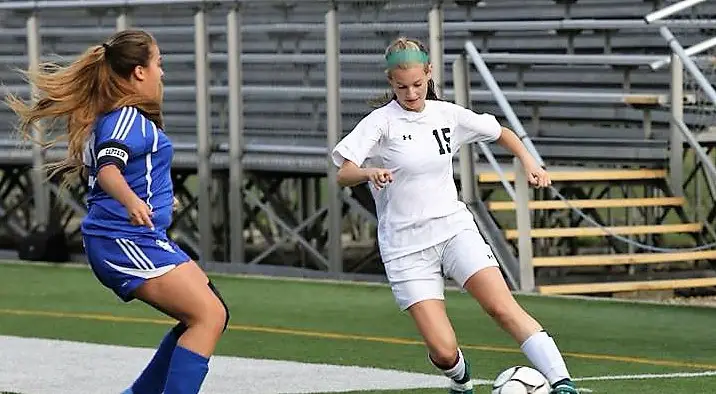 Oct. 11 soccer recaps.
(Cover photo of Brockway's Chanell Britten)
GIRLS' SOCCER
BROCKWAY 11, PUNXSUTAWNEY 2
PUNXSUTAWNEY, Pa. – Leah Lindemuth and Chanell Britten each scored twice to lead visiting Brockway to an 11-2 win at Punxsutawney.
Mogan Lindemuth, Morrigan Decker, Emily Botwright, Delaney Wineburg, Lily Sysko, Katie McMeekin and Taylor Little also scored for the Lady Rovers.
Leah Lindemuth, Britten, Little and Callie Barber all had helpers for Brockway.
CLEARFIELD 1, BALD EAGLE 0
HYDE, Pa. – Brooke Cline's second-half goal lifted Clearfield to a 1-0 win over visiting Bald Eagle.
Hayley Moore made four saves to get the shutout for the Lady Bison.
Charlee Harris had 14 saves for Bald Eagle.
BOYS' SOCCER
BROCKWAY 4, PUNXSUTAWNEY 1
PUNXSUTAWNEY, Pa. – Hunter Allenbaugh's hat trick lifted Brockway to a 4-1 win at Punxsutawney.
Allenbaugh also assisted on a Carter Adams goal for the Rovers, while Anthony Esposito and Angelo Inzana also had helpers.
Robin Wagner netted the lone goal for Punxsutawney.
NORTH PENN LIBERTY 2, NORTHERN POTTER 1, 2 OVERTIMES
ULYSSES, Pa. – Visiting North Penn-Liberty scored twice in the second half to rally past Northern Potter, 2-1 in double overtime.
The home-standing Panthers took a 1-0 lead on a first-half goal by Dawson Coates, but the visitors got the equalizer in the second half from Cooper Baumgartner who then provided the game-winning goal in the 96th minute.