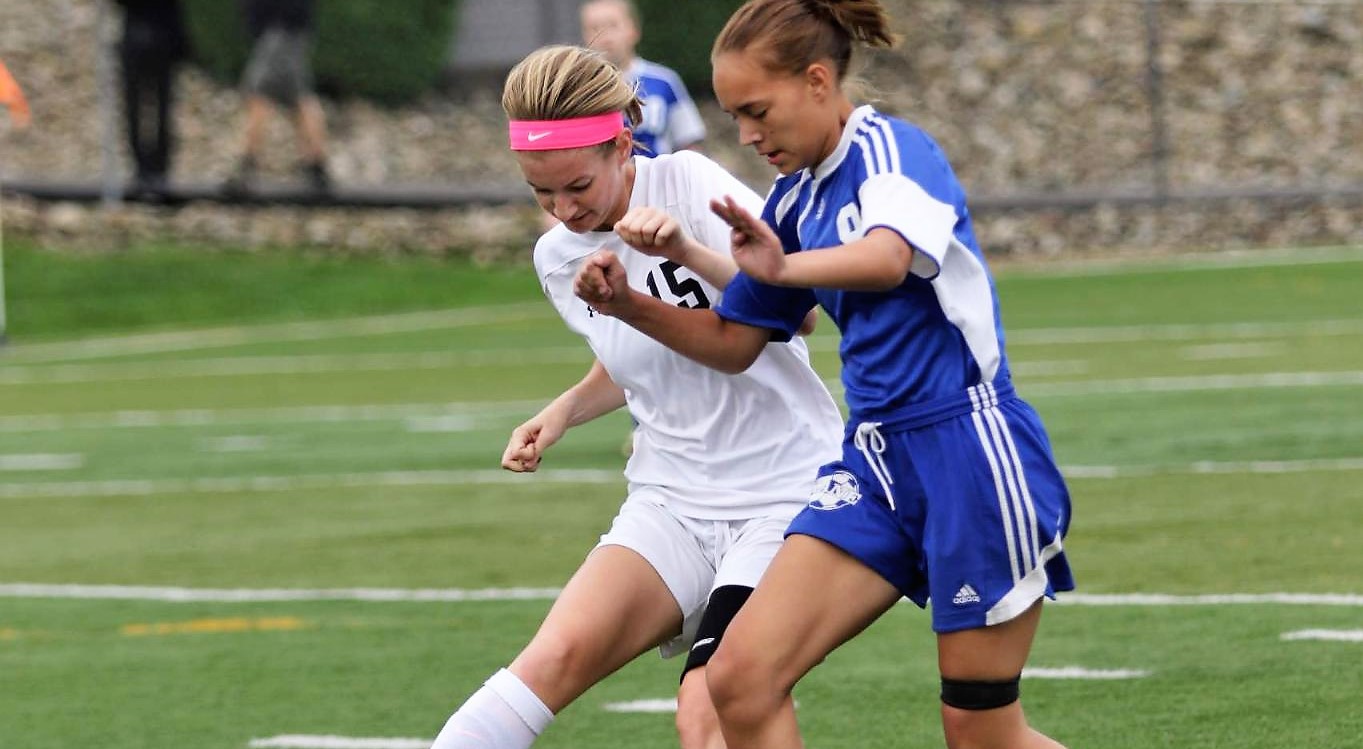 Oct. 11 volleyball and soccer recaps.
(Chanell Britten (in white) had three goals and three assists to lead Brockway past Kane Thursday. Photo by Tom Weible)
GIRLS' SOCCER
BROCKWAY 9, KANE 0
KANE, Pa. – Chanell Britten scored three times and added three assists, as visiting Brockway rolled past Kane, 9-0.
Danielle Wood and Morrigan Decker added a pair of goals for the Lady Rovers, while Morgan Lindemuth and Katie McMeekin each had a goal and an assist. Bailey Allison and Callie Barber chipped in assists.
Mackenzie Overbeck and Barber combined to make 12 saves for the shutout.
RIDGWAY 2, CURWENSVILLE 1
RIDGWAY, Pa. – Cassidy King and Amanda Williams each scored to lift Ridgway to a 2-1 win over visiting Curwensville.
Emma Rebar netted the lone goal for the Lady Tide.
REDBANK VALLEY 2, KEYSTONE 0
NEW BETHLEHEM, Pa. – Brooke Eberle scored twice to lead Redbank Valley to a 2-0 win over visiting Keystone.
Gabby Dinger had an assist for the Lady Bulldogs.
VOLLEYBALL
CLARION 3, UNION 0
CLARION, Pa. – Seven kills and a block from Dorothy Kalinowski helped Clarion sweep visiting Union, 3-0 (25-13, 25-12, 25-7).
Kait Constantino added five kills and four digs, while Brenna Campbell had 25 set assists to run the offense.
Dominika Logue led Union with four kills with Bryn Yoder adding three.
A-C VALLEY 3, VENANGO CATHOLIC 0
OIL CITY, Pa. – Led by seven kills, five digs and six aces from Olivia Boocks, A-C Valley picked up a 3-0 (25-5, 25-5, 25-9) road win at Venango Catholic.
Andrea Meals added four kills, four aces and 10 digs for the Lady Falcons with Kaylie Merwin chipping in nine assists and three digs.
For Venango Catholic, Chenoa Rudder had 14 digs.
BROOKVILLE 3, CURWENSVILLE 0
CURWENSVILLE, Pa. – Brookville picked up a 3-0 (25-14, 25-7, 25-19) road win over Curwensville.
Lauren Hergert and Mikayla Aikens each had seven kills for the Lady Raiders with Cheyenne Gotwald adding four kills and Maggie Mackins three kills. Hergert added three blocks.
Emma Caldwell led Curwensville with eight assists, two kills, a kill and an ace with Raylee Sunderlin adding an ace, three kills and six digs and Liz Mathews an ace, a kill, three digs and three blocks.
CLARION-LIMESTONE 3, MONITEAU 1
STRATTANVILLE, Pa. – Rachel Greeley had 10 kills, 11 digs and five blocks to pace a 3-1 (25-22, 20-25, 25-21, 25-18) Clarion-Limestone win over visiting Moniteau.
Emma Smith added five kills for the Lady Lions with Madi Craig adding three kills. Keara Henry ran the offense with 20 assists, while Sadie Mahle had 17 digs and four aces and Kate Dailey seven digs.
For Moniteau, Samantha Broerman tallied four kills and Abby Regal had three kills.
AUSTIN 3, OSWAYO VALLEY 2
AUSTIN, Pa. – Nine kills, 13 digs and 11 assists from Angelina Watson helped Austin defeat visiting Oswayo Valley, 3-2 (25-15, 25-14, 7-25, 20-25, 15-13).
Cerissa Glover tallied six kills and four aces for Austin while Taylor Brewer chipped in with nine kills and four blocks.
For Oswayo Valley, Naomi Cook had nine kills, four assists and 13 aces.
CRANBERRY 3, OIL CITY 0
SENECA, Pa. – Maliah Schreck went off for 16 kills and 19 digs to help Cranberry defeat Oil City, 3-0 (25-14, 25-18, 25-18).
Emily Duncan ran the Berries offense with 30 assists, an ace and six digs while Ava Ferringer tallied 10 kills and nine digs. Abby Hanna had eight kills, and Kaylee Bruce chipped in for five digs.
COUDERSPORT 3, SMETHPORT 0
SMETHPORT, Pa. – Shaelyn Black had 14 kills and two aces to help visiting Coudersport to a 3-0 (25-16, 25-15, 25-21) win over Smethport.
Erica Williams also tallied four aces and six kills for the Lady Falcons, and Mikayla Kavounas had a game-high 10 assists.
KANE 3, ELK COUNTY CATHOLIC 0
KANE, Pa. – Another big night from Ella Marconi helped Kane to 3-0 (25-21, 25-19, 26-24) win over visiting Elk County Catholic.
Marconi had 13 kills, 18 digs and four blocks, while her sister, Audri Marconi, added eight kills and six digs.
Hannah Buhl ran the offense with 28 assists while adding six kills. Sierra Hillman and Sarri Swanson both chipped in three blocks apiece.
DUBOIS 3, PUNXSUTAWNEY 0
DUBOIS, Pa. – Kelli Hoffer and Sydney Kaschalk combined for 21 kills, as DuBois beat visiting Punxsutawney, 3-0 (25-13, 25-4, 25-16).
Hoffer had 11 kills with Kaschalk adding 10. Kaylee Sadowski led the Lady Beavers defense with 11 digs while adding four aces. Cate Gregory ran the offense with 31 set assists.
REDBANK VALLEY 3, KEYSTONE 0
KNOX, Pa. – Carissa Rearick had 24 assists and two aces to help visiting Redbank Valley to a 3-0 (25-14, 25-12, 25-19) win over Keystone.
Taylor King led the Lady Bulldogs with six kills while adding a block. TL Nelson had five kills, Jordan Milliron added four kills and an ace, Hope Spence had 16 digs and Kristen Shaffer added nine digs.
For Keystone, McKenzie Hovis had five kills, six digs, a block and an ace, while Emma Weaver added eight set assists and Mandy Wingard nine digs.
OTTO-ELDRED 3, CAMERON COUNTY 2
DUKE CENTER, Pa. – Reilly Raught's 15 kills, three blocks and three aces led Otto-Eldred to a come-from-behind, 3-2 (20-25, 22-25, 25-18, 25-22, 17-15) win over visiting Cameron County.
Veronica Benini added 14 kills, 24 digs and two aces with Haley Cousins chipping in 10 kills and 13 digs and Morgan Dalton nine kills, 24 digs and an ace.
Cameron County was led by Mallory McKimm's 12 kills, while Morgan Lorenzo added seven kills and 10 digs and Alyvia McKimm 15 assists and 13 digs.
DUBOIS CENTRAL CATHOLIC 3, BROCKWAY 1
BROCKWAY, Pa. – Alyssa Bittner had 11 kills and two blocks to help DuBois Central Catholic to a 3-1 (25-16, 25-10, 17-25, 25-17) road win over Brockway.
Jordy Kosko added seven kills for the Lady Cardinals with Shay Gulvas recording 28 digs to go with five aces. Ashley Wruble ran the offense with 17 set assists.
Mikayla Duffalo paced Brockway with nine kills and five digs with Abby Alford adding seven kills, six digs and six aces.
GALETON 3, PORT ALLEGANY 2
GALETON, Pa. – Marika Lechler had nine kills, nine digs and three aces to help Galeton to a 3-2 (12-25, 26-24, 25-16, 24-26, 15-10) win over visiting Port Allegany.
Erin Cimino added seven kills and a block for the Lady Tigers, while Cara Parsell had eight assists, four digs and four aces. Makensa Shuemaker (14 assists, 8 digs, 1 ace) and Kate Kulish (8 assists, 4 digs, 4 aces) ran the offense, Brielle Kalacinski added 11 digs, four aces and two kills and Alexis Johnson had four digs, two aces, two kills and a block.
BOYS' SOCCER
KARNS CITY 1, DUBOIS CENTRAL CATHOLIC 0, OVERTIME
KARNS CITY, Pa. – Dakota King's goal with four minutes left in overtime lifted Karns City to a 1-0 win over visiting DuBois Central Catholic.
Jake Weckerly recorded five saves for his ninth shutout of the season.
BROCKWAY 4, PORT ALLEGANY 1
PORT ALLEGANY, Pa. – Zane Puhala's hat trick lifted visiting Brockway to a 4-1 win over Port Allegany.
Santino Inzana also scored for the Rovers, while Garret Park made one save to get the win in net.
Kylar Carpenter scored the goal for Port Allegany. Brandon Peterson made nine saves in net for the Gators.