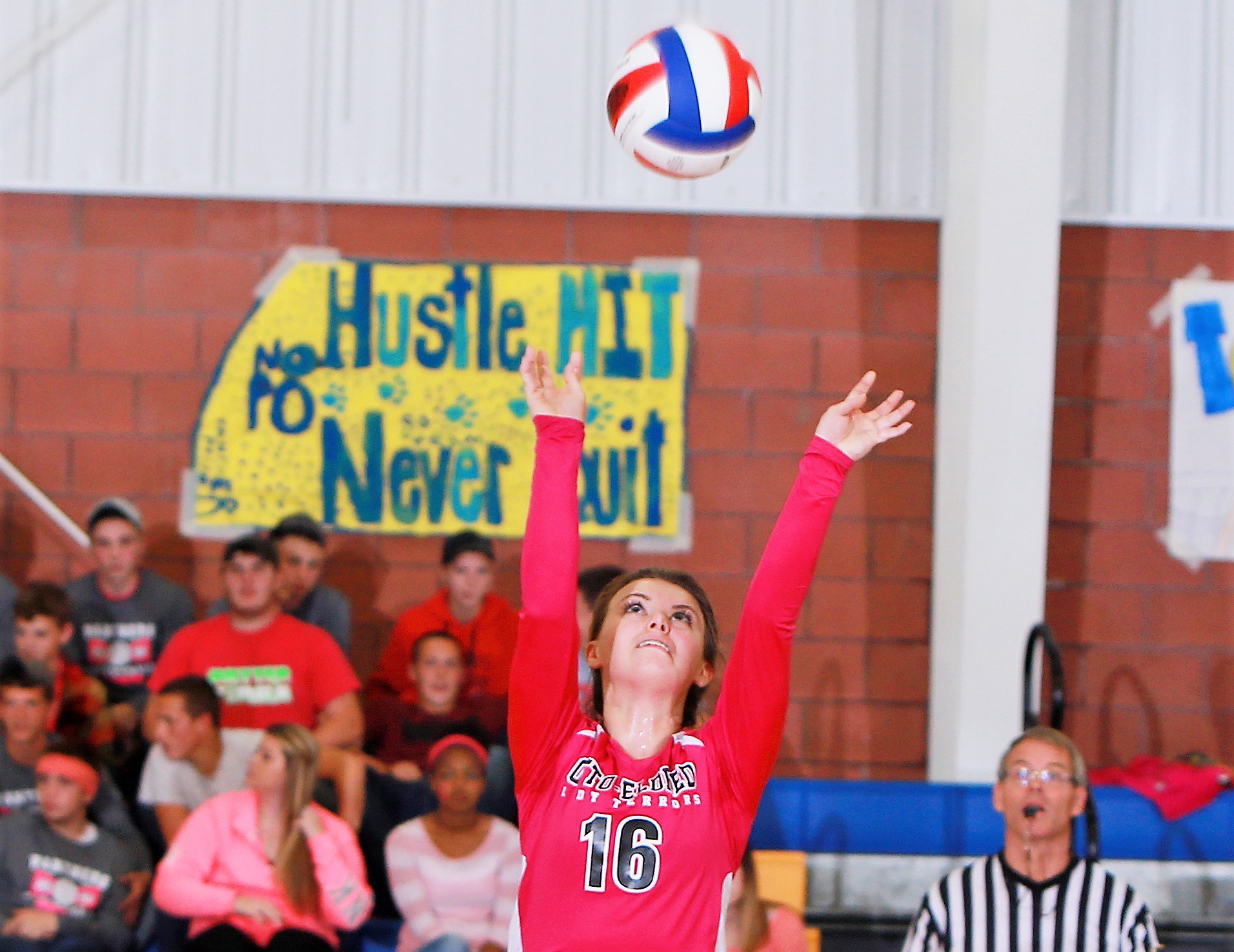 Oct. 12 volleyball and soccer recaps.
(Cover photo: Emily Smith of Otto-Eldred. Photo by Paul Burdick. Check out more of Burdick's work here)
VOLLEYBALL
OTTO-ELDRED 3, COUDERSPORT 0
COUDERSPORT, Pa. – Otto-Eldred took a big step towards a North Tier League title with a 3-0 (25-16, 25-20, 25-18) win at Coudersport.
Camryn Thomas and Allison Cousins each had 12 kills for the Lady Terrors with Thomas adding five blocks and Cousins an ace. Alyssa Shelander chipped in six kills, three aces and a block with Harlee VanScoter adding five kills, five blocks and five aces and Emily Smith 31 set assists and two aces.
With four NTL matches left Otto-Eldred holds a two-game lead over second-place Coudersport, which it swept.
CLARION 3, REDBANK VALLEY 0
NEW BETHLEHEM, Pa. – Maya Thornton, Maddie Schill, Sydney Kiser and Kaitlyn Constantino combined for 21 kills to lift visiting Clarion to a 3-0 (25-19, 25-18, 25-19) win at Redbank Valley.
Thornton had a team-high six kills with Schill, Kiser and Kaitlyn Constantino each coming away with five kills.
Alexis Constantino paced Clarion's defense with 18 digs with Lexi Lauer and Thornton each adding 13 digs. Brenna Campbell ran the offense with 22 set assists and added seven digs.
Emily Gourley paced Redbank Valley, which held an 11-4 Set One lead and a 10-0 Set Three lead only to watch Clarion rally in both, with 11 kills and six blocks. Josie Rupp added seven kills, two blocks and an ace while Torrilynne Nelson had four kills and two blocks.
CLARION-LIMESTONE 3, VENANGO CATHOLIC 0
OIL CITY, Pa. – Erika Hetrick had four kills and Rachel Greeley added five aces and two blocks to help visiting Clarion-Limestone to its second straight victory, 3-0 (25-10, 25-12, 25-11), over Venango Catholic.
Emma Smith also had five aces for the Lady Lions with Keara Henry chipping in four aces. Maddi Griffith had four set assists and two digs and Kate Dailey had four digs.
Hope Winger paced Venango Catholic with three aces and a kill.
BROOKVILLE 3, CURWENSVILLE 0
BROOKVILLE, Pa. – Twenty-two aces helped Brookville to a 3-0 (25-9, 25-13, 25-12) win over visiting Curwensville.
Madison Johnson paced the Lady Raiders with eight aces with Kira Powell adding six aces and four kills and Morgan Johnson four aces. Olivia Pearson chipped in seven kills and two blocks with Cheyanne Gotwald contributing four kills.
Tarah Jacobson had a kill and four digs for Curwensville with Elizabeth Mathews adding a kill and three aces.
DUBOIS 3, PUNXSUTAWNEY 1
PUNXSUTAWNEY, Pa. – After dropping the first set visiting DuBois rallied for three straight set wins to beat Punxsutawney, 3-1 (24-26, 25-10, 26-24, 25-15).
Kelli Hoffer led the Lady Beavers with 12 kills and 27 digs with Lexi Ray adding seven kills, seven blocks and two aces and Sydney Kaschalk 10 kills and six blocks. Kylee Bundy ran the offense with 37 set assists.
ELK COUNTY CATHOLIC 3, KANE 1
ST. MARYS, Pa. – After winning just three times in its first nine matches, Elk County Catholic picked up its second straight victory, 3-1 (25-20, 25-23, 23-25, 25-22), over visiting Kane.
Taylor Newton had 15 kills and five aces to pace the Lady Crusaders with Josie Smith adding 10 kills and Jenna Weisner eight kills. Brianna Weisner ran the offense with 12 set assists.
Trinity Clark and Ella Marconi combined for 23 kills and 17 digs for Kane with Clark leading the way with 12 kills and adding seven digs and an ace and Marconi chipping in 11 kills, 10 digs and four blocks.
Kenda Udovich also had five kills and seven digs for the Lady Wolves with Audri Marconi contributing four kills and five blocks, Alexi Woods 13 digs and Hannah Buhl 25 set assists, seven digs, three aces and a block.
CRANBERRY 3, UNION 0
RIMERSBURG, Pa. – Erin Merryman had 39 set assists, five digs and four blocks to help visiting Cranberry beat Union, 3-0 (25-21, 25-14, 25-15), on Hope for Your Future Cancer Night in Rimersburg.
Malliah Schreck (14 kills), Ava Ferringer (12 kills) and Lauren Conkle (10 kills) led the Berries offense with Schreck also adding 21 digs and Conkle four blocks. Ellie Kahle paced the Cranberry defense with 30 digs, Ally Young added 18 digs and Emily Duncan 11 digs and six kills.
Hannah Atzeni had 19 set assists for Union with Frankee Remmick leading the offense with 11 kills. Bryn Davis chipped in six kills and eight digs and Marli Hawk had five digs.
KEYSTONE 3, KARNS CITY 0
KNOX, Pa. – Makenzie Byerley, McKenzie Hovis and Alyssa Dunlap each had six kills to help Keystone to a 3-0 (25-18, 25-20, 25-21) win over visiting Karns City.
Byerley added two aces and Hovis chipped in four blocks and an ace. Jenny McConnell had a strong defensive game with 42 digs and added a kill, Danica Hurrelbrink had six set assists, five kills and two blocks and Danae Hurrelbrink added four kills and two blocks.
Emily Hegedus paced Karns City with nine kills while Alyssa Stitt had 18 set assists.
FOREST AREA 3, TIDIOUTE CHARTER 1
TIONESTA, Pa. – Behind 24 kills, six blocks, five digs, four aces and 11 set assists from Bianca Hetrick Forest Area toppled visiting Tidioute Charter, 3-1 (25-9, 25-12, 22-25, 25-21).
Makiya Bellotti added five kills, 15 set assists, four aces and three digs for the Fires with Shawna Carbaugh contributing three digs, two kills, two aces and 12 set assists, Jasmine Ginnery eight kills, five blocks, an ace and a dig and Aimee Haslet five kills, four digs and an ace.
PORT ALLEGANY 3, NORTHERN POTTER 0
PORT ALLEGANY, Pa. – Hannah Lathrop had 14 kills and five blocks to help Port Allegany sweep visiting Northern Potter, 3-0 (25-16, 25-15, 25-17).
Kenzie Burr added seven kills and 12 digs for the Lady Gators who also got 26 set assists from Jenna Sprankle and 24 digs from Erin Stauffer.
Ashley Kunselman had five digs and five kills for Northern Potter with Kalie Cowburn adding three kills and 1 digs and Jenna Hyde three kills and 14 set assists.
SHEFFIELD 3, ST. MARYS 0
SHEFFIELD, Pa. – Thanks in part to 17 digs and 12 set assists from Mya Grubbs Sheffield took down visiting St. Marys, 3-0 (25-17, 25-20, 25-20).
Taya Bailey chipped in seven aces for the Lady Wolverines who also got six kills and four blocks from Lexi Lyon and five kills from Eliza Davidson.
OSWAYO VALLEY 3, GALETON 0
SHINGLEHOUSE, Pa. – Thanks to 11 kills and 14 digs from Shayla Bickel Oswayo Valley topped visiting Galeton, 3-0 (25-15, 25-15, 25-6).
Madison Miller ran the show for the Green Wave with 36 set assists while adding nine digs, Jayden Snyder had a team-high 18 digs and Naomi Cook added 12 digs.
DUBOIS CENTRAL CATHOLIC 3, BROCKWAY 1
DUBOIS, Pa. – Despite eight kills and 14 digs from Kaitlyn Morelli visiting Brockway dropped a 3-1 (29-27, 15-25, 25-17, 25-12) decision to DuBois Central Catholic.
Mikayla Duffalo added eight kills for the Lady Rovers with Morgan Rendos chipping in 13 set assists and five aces.
DCC stats weren't available.
BOYS' SOCCER
CLARION-LIMESTONE 11, FOREST AREA 1
STRATTANVILLE, Pa. – Behind four Braden Peters goals Clarion-Limestone topped visiting Forest Area, 11-1.
The win moves the Lions to 9-1 on the year with a home game against Karns City Saturday to close out the regular season.
Kyle Schonbachler also scored twice for the Lions with Ben Murtha, Ty Blake, Nick Cyphert, Beau Verdill and Marshall Powers also scoring goals.
Seth Berlin had the lone goal for Forest Area.
BRADFORD 2, WARREN 0
BRADFORD, Pa. – Cadyn Sutherland and Brent Kennedy scored to lift Bradford to a 2-0 win over visiting Warren.
Mike Bosworth and Alex Marron had helpers for the Owls, while Evan Schmidt made 10 saves in recording the shutout.
Seth Harrington made 10 stops in net for Warren.
BROCKWAY 6, PORT ALLEGANY 0
BROCKWAY, Pa. – Zane Puhala and Angelo Inzana each scored twice to give Brockway a 6-0 win over visiting Port Allegany.
Nate Long and Hunter Allenbaugh also scored for the Rovers with Puhala and Anthony Esposito each recording two assists and Carter Adams adding a helper.
Austin Moore got the shutout.
KARNS CITY 5, DUBOIS CENTRAL CATHOLIC 3
DUBOIS, Pa. – Nate Rondinelli found the back of the net twice to help visiting Karns City achieve a 5-3 win over DuBois Central Catholic.
Austin Rumbaugh, Dakota King and Clay Garing also scored for the Gremlins.
BROOKVILLE 2, KANE 0
BROOKVILLE, Pa. – Behind goals from Bryce Kunselman and Rory Hoffman Brookville topped visiting Kane, 2-0.
Darius Sorbin got the shutout for the Raiders needing to make one save.
NORTHERN POTTER 5, TOWANDA 4
TOWANDA, Pa. – Carter Anderson's second goal of the game in the 76th minute lifted Northern Potter to a 5-4 road victory over Towanda in a back-and-forth affair that featured three goals in the final 10 minutes alone, two by the Panthers.
After falling behind 3-2 in the second half, Anderson's first goal tied the game at three and then Foster Kosa gave NoPo the lead on a tally in the 70th minute.
But Towanda was awarded a penalty shot in the 74th minute, and John Schrader buried it to tie the game at four setting up Anderson's heroics.
Northern Potter rallied from a pair of one-goal deficits to win the game.
Down 2-1 late in the first half following a pair of Towanda tallies, the Panthers tied the game before the break on a penalty shot goal by Dawson Coates.
Damian Adams' second goal of the game for Towanda put the home squad back in front, 3-2, before Anderson's first goal tied it.
Rick Kunselman gave Northern Potter an early 1-0 lead before goals by Adams and Zack Smith put Towanda in front for the first time in the contest.
GIRLS' SOCCER
RIDGWAY 3, PORT ALLEGANY 2
RIDGWAY, Pa. – Cassidy King scored twice – once in each half – to help Ridgway rally from an early 1-0 deficit to beat visiting Port Allegany, 3-2.
Emma Fox gave the Lady Gators a 1-0 lead before Madeline Cowan tied the game at one for the Lady Elkers. King then scored her first goal giving Ridgway a 2-1 halftime lead before adding to the lead with a second-half tally.
Port Allegany's second goal came on an own goal by the Lady Elkers.
KARNS CITY 4, SLIPPERY ROCK 1
SLIPPERY ROCK, Pa. – Hannah Knoll scored twice to lead visiting Karns City to a 4-1 win over Slippery Rock.
Hunter Dittman and Brooke Stahlman also scored for the Lady Gremlins.
Kayla Daugherty scored for Slippery Rock.
BROCKWAY 6, KANE 1
KANE, Pa. – Chanell Britten and Leah Lindemuth each scored twice to give visiting Brockway a 6-1 win over Kane.
Callie Barber and Morrigan Decker also scored for the Lady Rovers with Barber, Lindemuth and Taylor Little picking up assists.
CLEARFIELD 6, BROOKVILLE 2
BROOKVILLE, Pa. – Alayna Ryan scored a goal and added two assists to give visiting Clearfield a 6-2 win over Brookville.
Kylie Mitchell added a pair of goals for the Lady Bison, who also got tallies from Brooke Cline, Sarah Snyder and Jessica Mulhollan.
Hannah Peterson and Madison McAninch scored for Brookville.
REDBANK VALLEY 1, KEYSTONE 0
KNOX, Pa. – Brooke Eberle's goal five minutes into the game was the difference in a 1-0 Redbank Valley win at Keystone.